It's been more than a year since I walked out of the slot track for the last time.
I saw the writing on the wall and was fed up with the track owner and the politics and the fact that we couldn't generate any interest in anything other than flexi racing. I love building more than racing so I quit.

Shortly after that, track owner at Edgewater Raceway broke up the track, and sold it. He moved in a screen printing T-shirt press to replace the road course while continuing to hold drag races every Wednesday evening on the sole remaining slot car appliance.

A year later I am writing an article about surviving Oregon Club tracks and Paul Painter calls me saying that he has a new track built and ready for business.
Not commercial, but yet another club track set on private property.

You see, slot racing never went away in Oregon. It just went "underground" if you will. All the really successful tracks are privately owned and established on private property. Some like Pelican Park Raceway have been in operation since 1979.

At any rate, Paul called and I responded like any good reporter with my pad and pen and camera.
What I was surprised with was the rule book he handed me.
It was direct from the IRRA® rules other than two tiny things which I'll note later.
This was exciting!

I came back on Saturday, the day of an organized race and I got the bug again! One week later I had a chassis: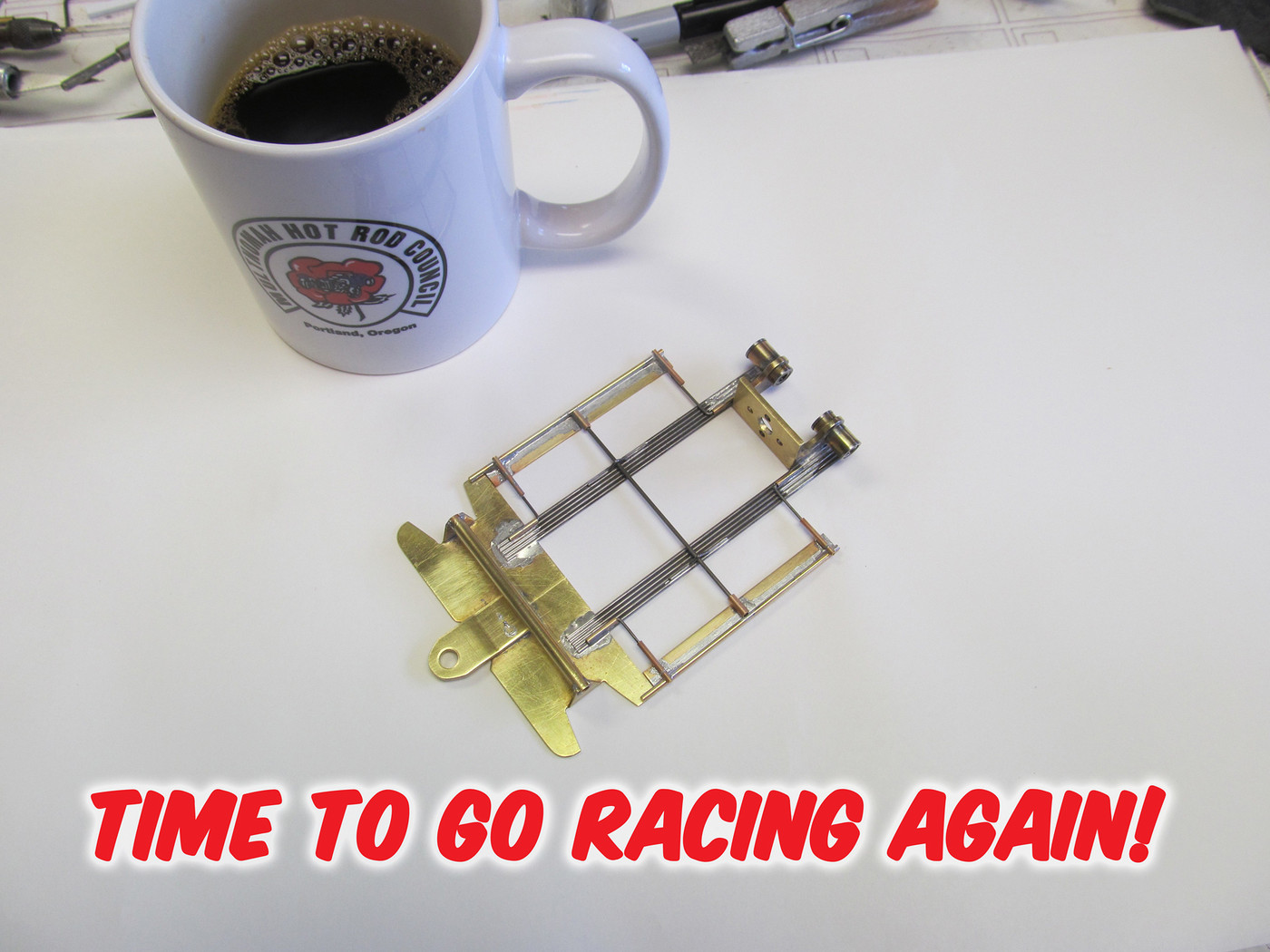 Another week and I had a body painted: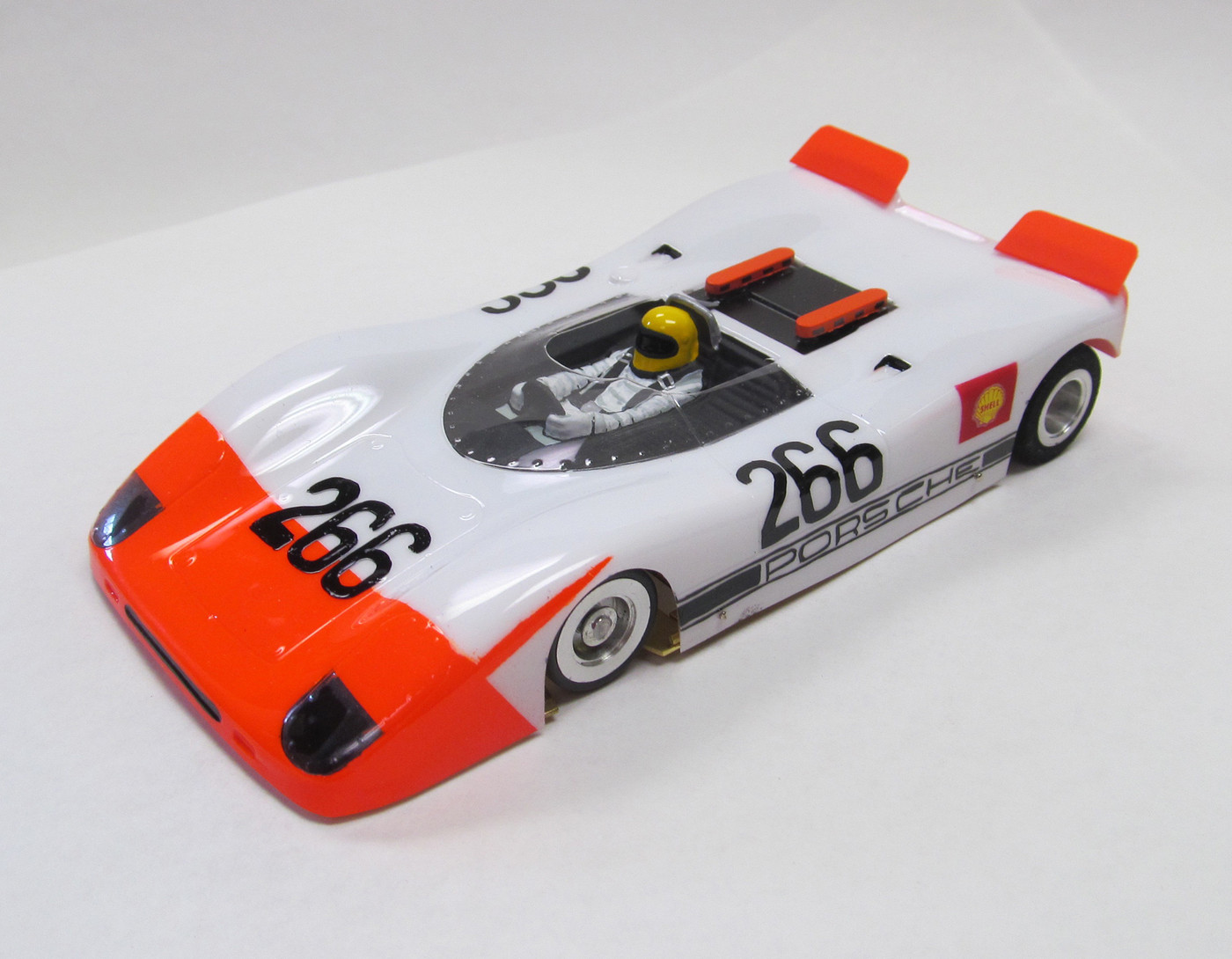 Here are a couple pics under the TrueScale Porsche (Dynamic) 908 body: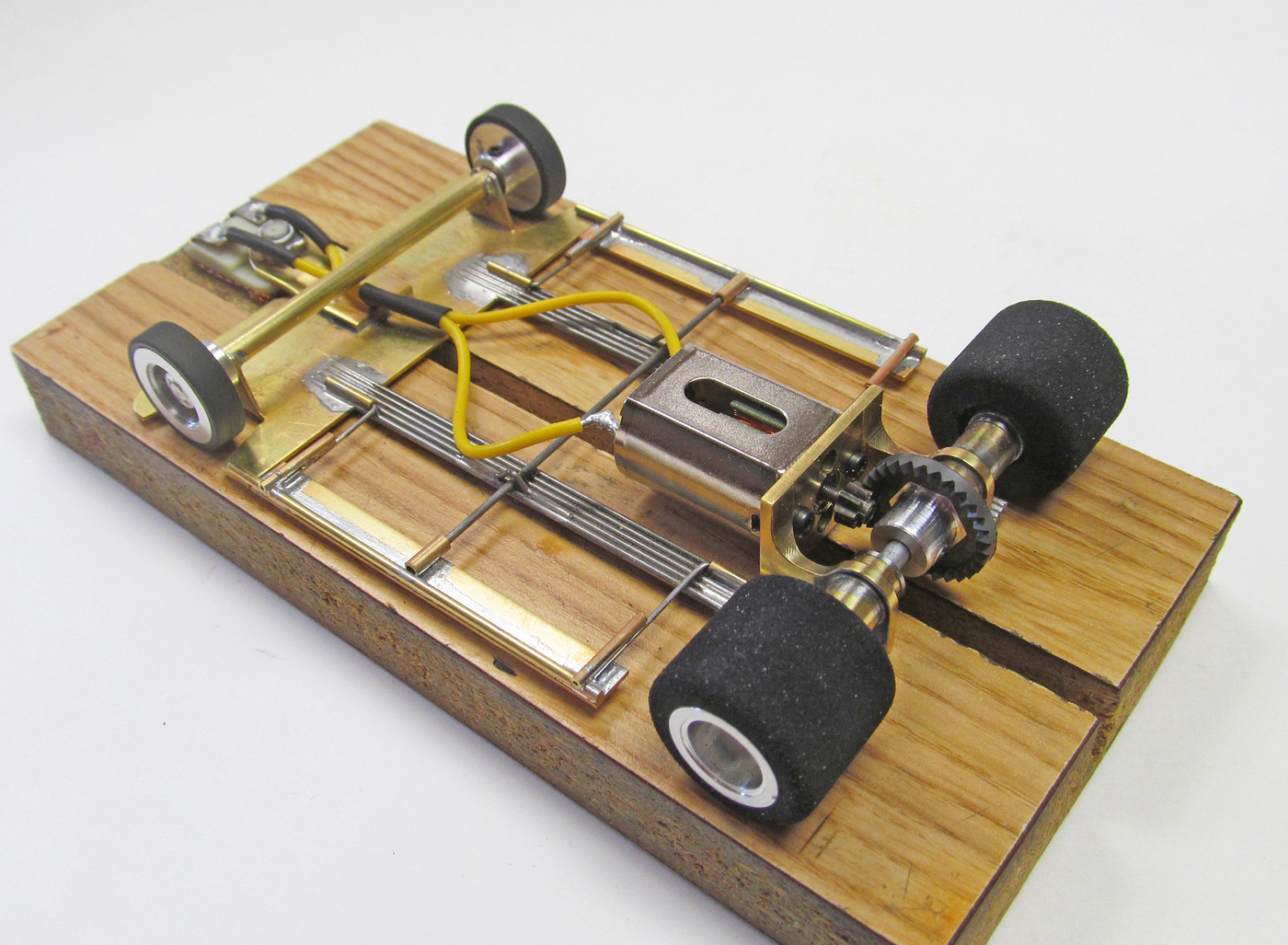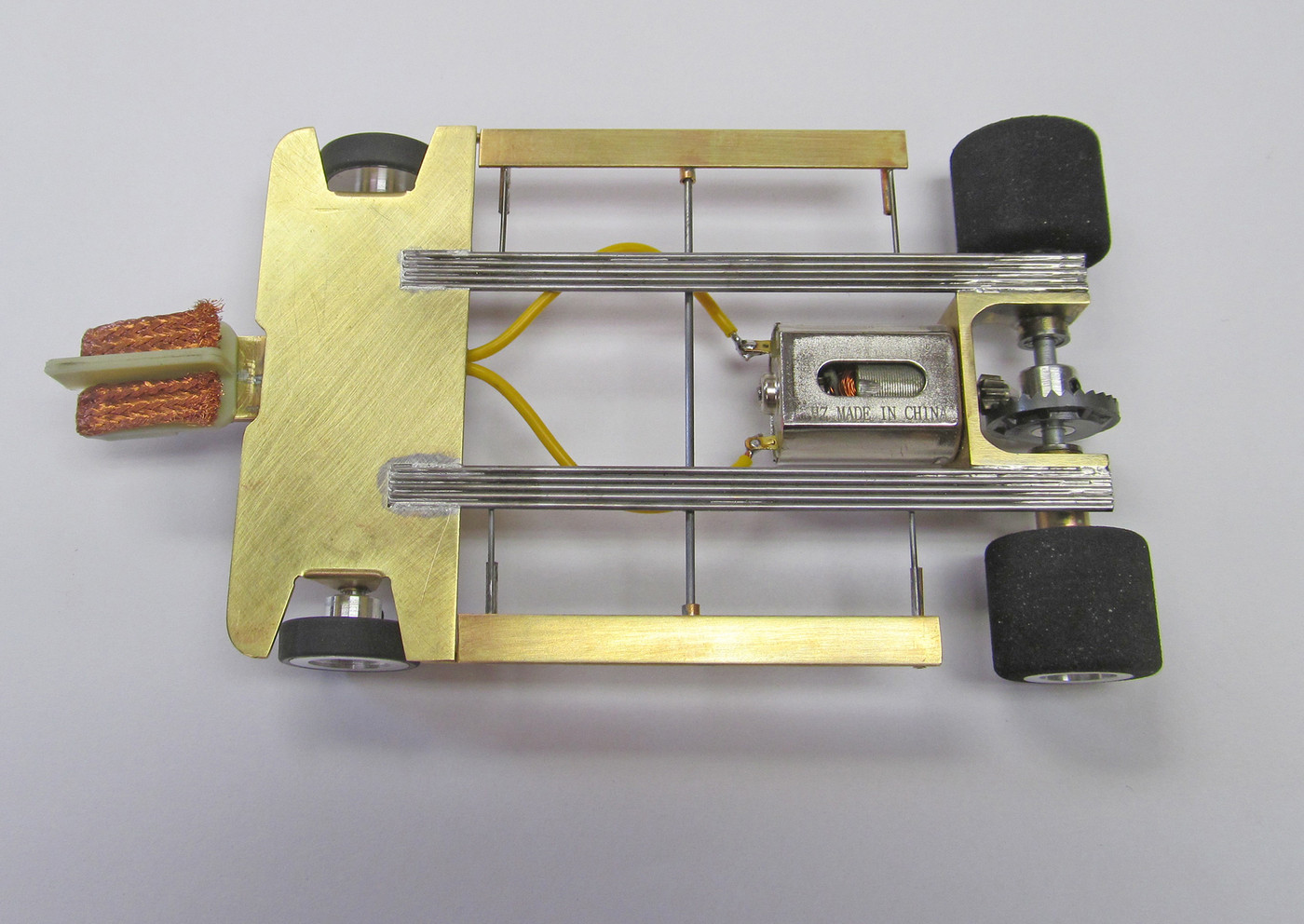 Specs on the car:
Five rails of .039" wire
Wheelbase 3-7/8"
Guide lead 7/8"
Wheels Riggen AA reproductions by DC65X.
Rubber on rear JK natural
Body by TrueScale
Front pan by Bryan Warmack
Bracket by Paul's Slots
Final weight 127 grams
 
The track is a flat track road course 85' long, four-lane routed wood.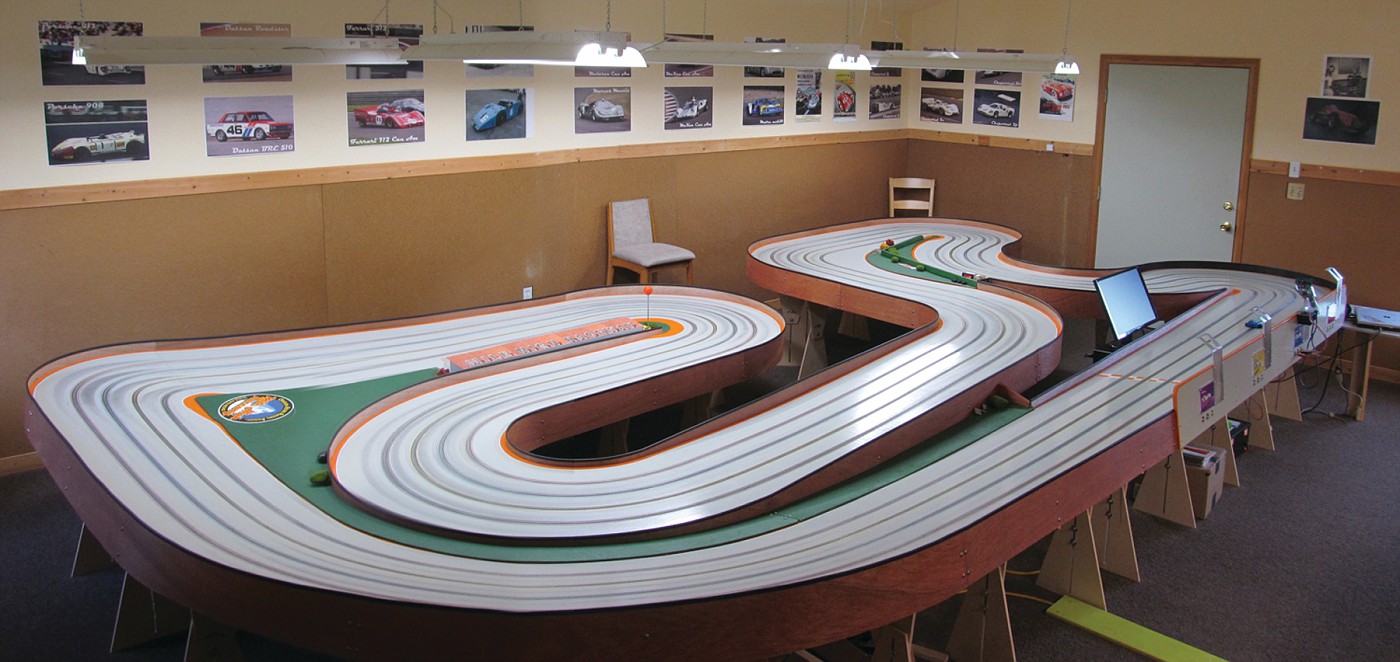 You are probably asking why the beefy 1/8" axles.
Well, Paul is running the voltage at 7.5 and limiting the gear ratio to 8/29 for every car.
The only thing I have to play with for advantage is to lower the rolling inertia.
Thus the four rear ball bearings and a carbon fiber rear axle.  *Shhhhhhhh don't tell anyone.*
I also have a brand new set of plastic hub JK natural wheels to try in practice along with a different motor so I plan to do some tuning.

Front axle is steel with one set screw and a soldered keeper giving the outside tire cClockwise track rotation) the chance to freewheel.

Other than that, the car is pretty basic.

Oh... and I have a back up car with a few more tricks... and it weighs in at 123 grams so I do have options.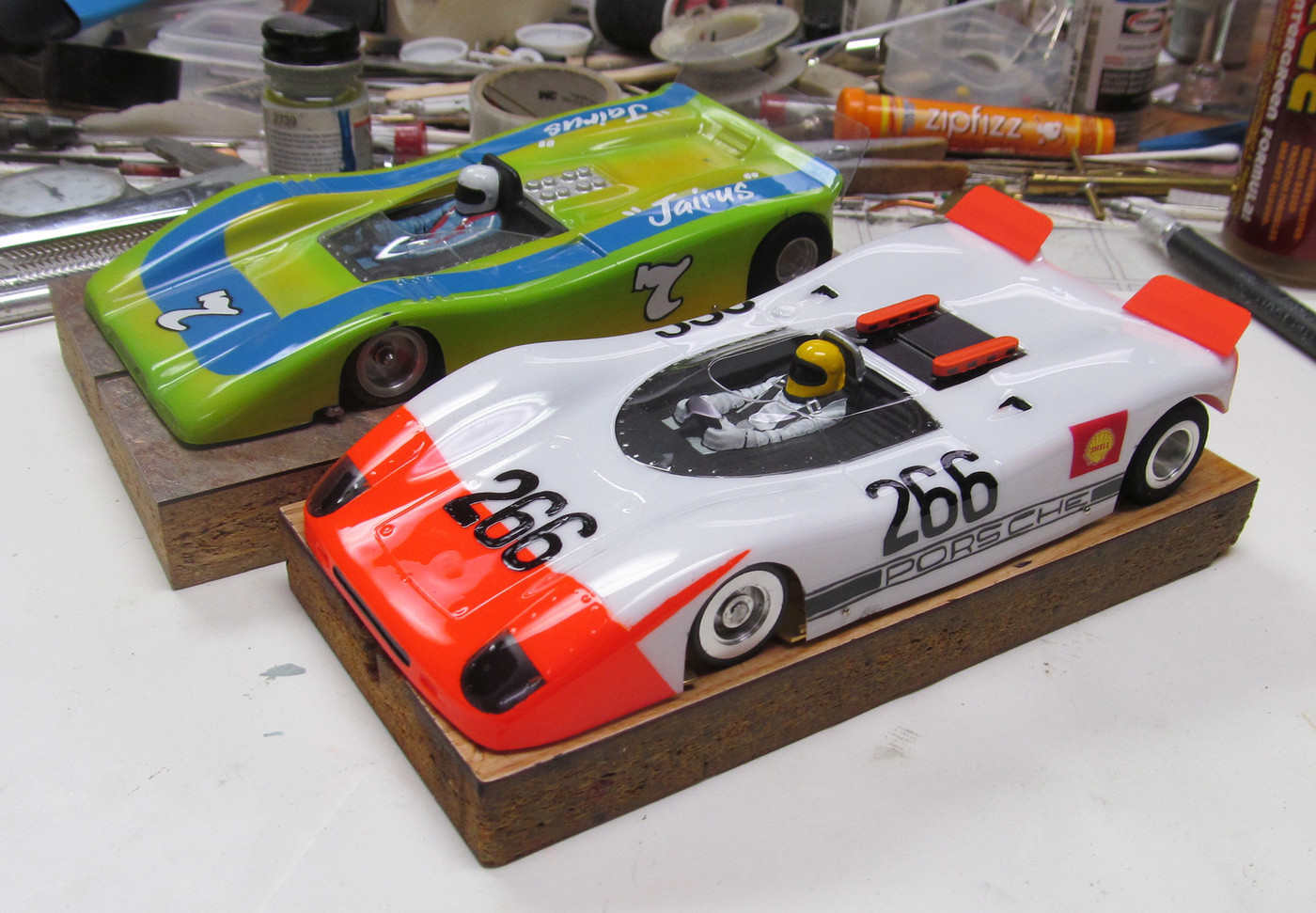 See you at the races!