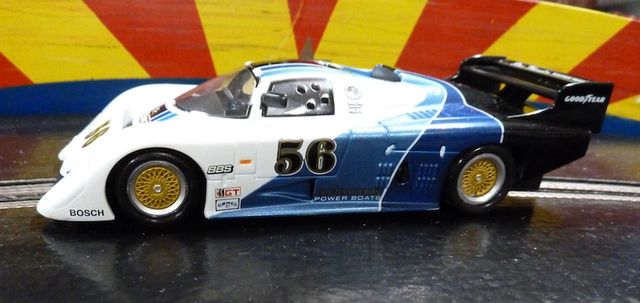 Several years ago Revell-Monogram released the March 83/84G IMSA GTP cars in the Red Lobster, Kreepy Krauly and Blue Thunder liveries. I had to have all three of what was one of my favorite GTP racecars in the early '80's. The body finish and detail was great as were the wheels and other details on the chassis. Sadly, as with most 1/32 manufacturers the rolling stock, axles, weird size gears and wobbly wheels were not round and true. The chassis looks like a nice piece but as I found out when my Lobster got put into a wall by a "friendly" competitor it is really fragile, it broke in half right at the front of the motor pod. That car got a Slot-it HRS chassis and running gear and became fun to drive. The other two have been mostly just sitting on the shelf until recently when Changing Gearz released their 3D printed chassis design through Shapeways.
I had to do it! This was not my first build using their chassis, I had previously converted a Scaly NASCAR and a Fly Ferrari 512S over to the Light Side with awesome results so I knew this would be a blast to build and drive.
The chassis came from Shapeways in perfect condition. If you have used a 3D chassis you know that there is nothing strange or magical about them except that they are FLAT. (!) The secret is that they have simply piled up a bunch of plastic on a nice flat base rather than (So I'm told by manufacturer's reps.) Chinese factories popping them out of molds before they have cooled thus allowing them to warp.
Changing Gearz has also designed a couple of nice features into this chassis, they have designed the front uprights to accept Slot-it spherical bushings and control the height of the front axle using set screws as many of the better cars manufacturers in the market have started doing. This is great but due to scale there is not a lot of material to run the screws through and so they run the bottom screws inboard of the uprights against the axle causing a tiny amount of "stiction"or drag on the axle. I tried moving those bottom screws out and directly under the bushing in the upright on my 512S the way BRM does on their newer 1/24th anglewinders. I got just enough thread for it to hold but it's precarious at best and I may find myself putting those screws back in the stock position. The screws in this March are in the factory bosses.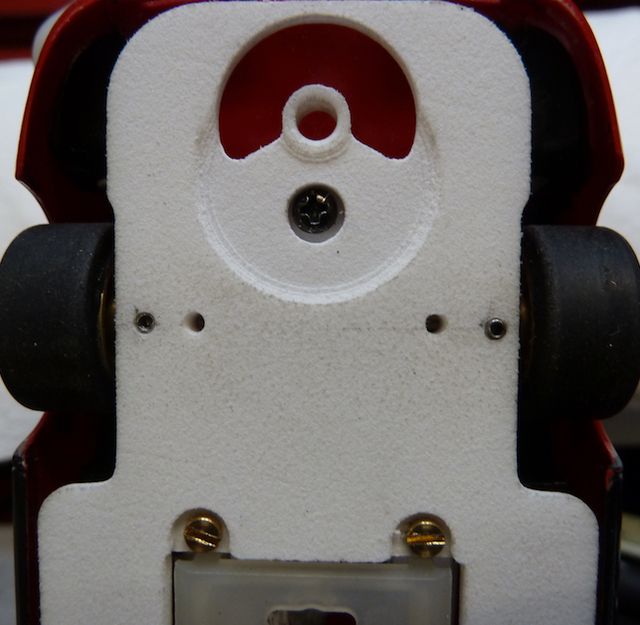 The other problem I've had in this area is with the top screws. I'm kind of ham handed sometimes and I'm not sure I have the best 2mm tap because I've stripped these threads out of a couple of cars by either pushing on things too hard while slipping tires on or some other maneuver that put too much pressure on them. I've tried to get deeper and coarser threads by going to 3mm... and trying to be more careful. So far, so good.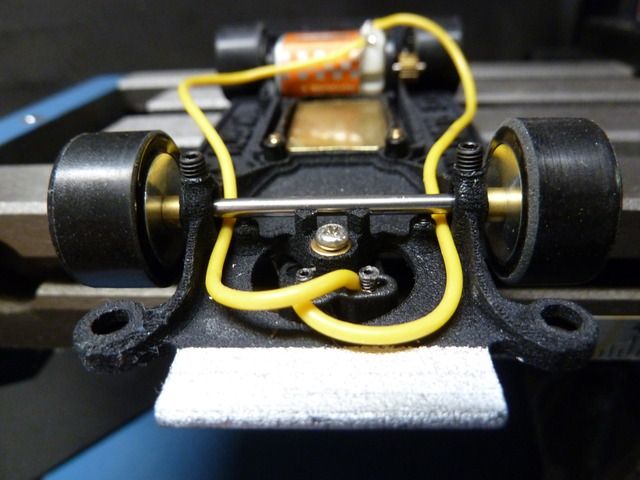 Another nice feature specific to this car is the nice hole through the chassis in the diffuser area to allow the "tranny, suspension" detail piece from the original car. I Shoo Goo'd that part to the back of the wing strut and it fit through the hole but I wanted a bit more body float so I opened up the hole with a tapered reamer and that did the trick.
As with most of the 3D cars and a lot of other plastic car hop ups you need to trim the cockpit or replace with a Lexan piece. With this car's interior it is pretty simple. Just saw off the part I marked in red, taking off part of the seat and the driver's butt and paint a piece of card board aluminum color and glue it on as the new floor and trim to fit.
You may need to glue the drivers butt in too.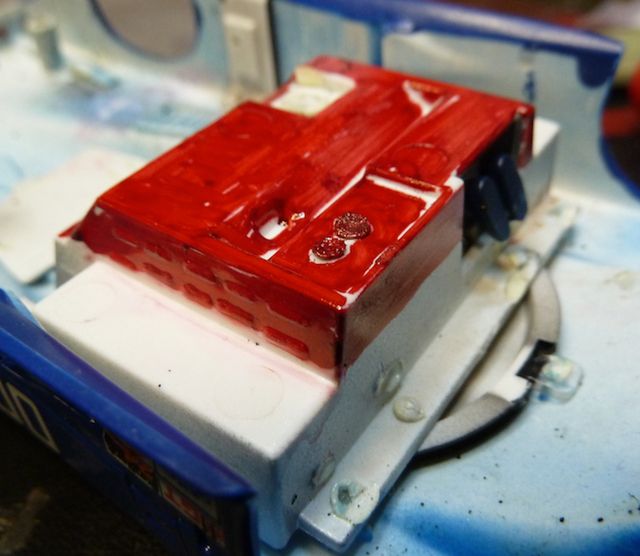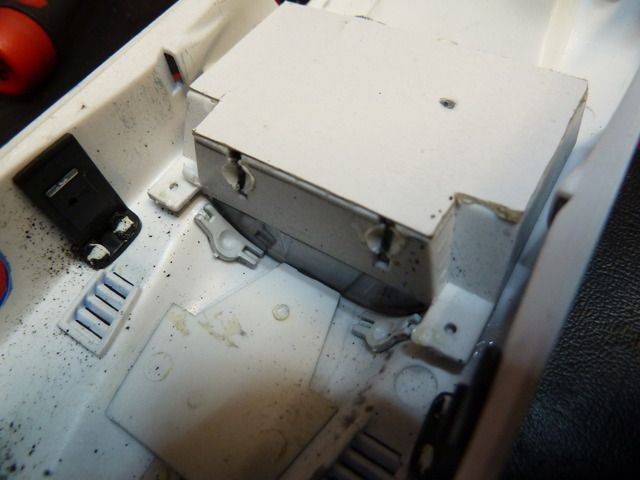 Other than those mods I painted the front section of the chassis silver with a paint pen and then built the car up with the following parts;
Slot-it 1.0 offset sidewinder motor pod with magnet pockets milled out for 1/16th X 3/4 X 1-3/16ths K&S brass weight and Slot-it magnet shaped Tungsten ballast behind the motor / NSR 20,000 RPM motor / Slot-it Gears and Axles / CB Design no hub Insert wheels, Rear = 15 X 10 Front = 15 X 8 / Slot-it Group C BBS wheel inserts / Supertires rear silicone tires and Super Tires Zero Grip front tires. /
Slot-it "wood track" guide with Slot Car Corner lead wires. / Slot Car Corner round end sets screws where they touch the front axle / Slot-it spherical bushings in front uprights.
I think that's all other than various screws and spacers. Thanks for looking.