This thread by Rodney will be his memories of the fun times had at a terrific raceway. It had a my favorite track of all time. It was a large road course with a LONG front straight you could really open up the cars up on.
Take it away Rodney!
SLOT CAR JUNTION VINTAGE DAYS
In the 1990's commercial slot car racing made a big come back.  Our favorite raceway was Slot Car Junction in  South San Francisco. Slot Car Junction held monthly vintage race days. 
THE RACE CLASSES AS I REMEMBER THEM:
Vintage slot cars Basically pre 1967 slot cars.  Started as stock 36D/Hemi powered cars.  The most popular class.
Little Cucarachas American Line Repop 1/32 La Cucaracha kit cars.
American Line Hot Rod kit cars American Line brass frame 36D powered slot cars with hot rod roadster bodies.
Can Am cars with modern flexi chassis
Can Am cars with vintage Riggen Group 22 chassis
Bob Ward 1/32 slot car class.  Dynamic chassis based cars.  Endurance and Can Am bodies.
_______________________________________________________________________
TODAY WE HAVE A COUPLE OF MARK MANION CAN AM LOLA T260 CAN AM CARS
Mark Manion painted both Lolas. When Eric and I saw Mark run one of the Lolas it really caught our attention.  The Lola looked so cool. The Manion Lolas have 3 1/4" wide Lexan bodies that I think are Beta brand.
Small tire Lola (Black velocity stacks):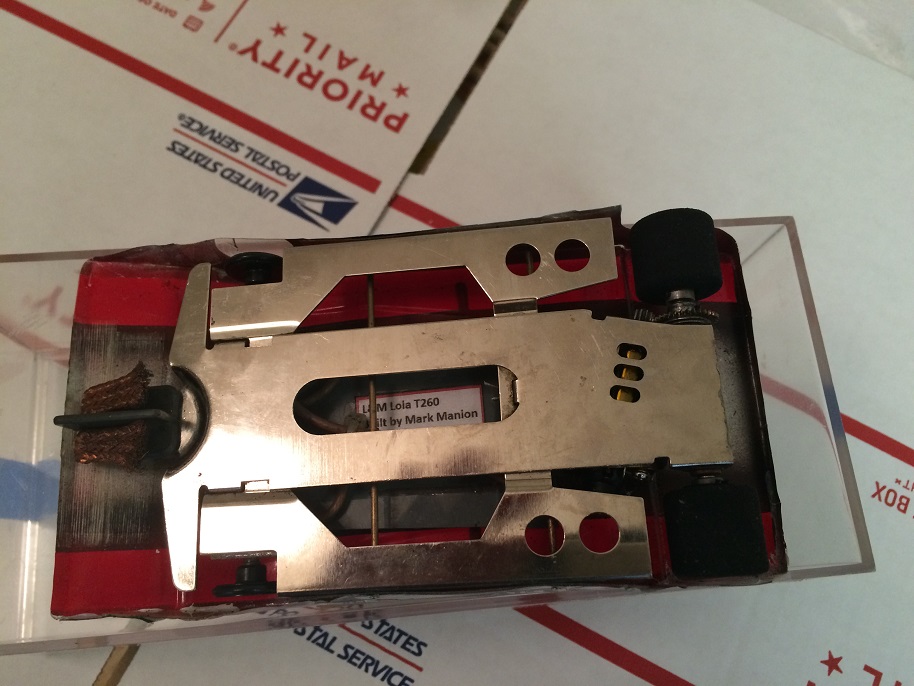 The small tire Lola (black velocity stacks) was built and raced by Mark Manion at Slot Car Junction.  The car was built for the Can Am Flexi car chassis class.  I purchased this car from Mark.  I also raced this car at Slot Car Junction.  I finished around 5th in one of the races.  I had the best looking car in the race.
Mark used soda straws for velocity stacks!  A modern (for back then) Champion chassis is used (lola3 picture) .  This is one of the best driving flexi chassis cars I have ever driven.  The car is powered by a S16D.  Rear tires are .765" Alphas.  The motor currently in the car is not the original one.
Large tire Lola (Silver velocity stacks):
I purchased the painted body from Mark. I built this car to run in the Can Am class with Riggen Group 22 chassis (lola7 picture). I added Lancer chrome velocity stacks, door lines, transaxle detail and home made L&M decals to the body.  As per the rules, a chrome plated Riggen Group 22 chassis is used.  American Line rear tires and RVM fronts were installed.  The car is powered by a Mura A can motor.
The Riggen Group 22 chassis are some of the best driving production angle-winder chassis.  I think the Riggen chassis has more rear tire bite than a standard Group 20 chassis. tail out driving with the Riggen chassis.
I never got a chance to run this car in a race.  I ran a Ken built Lotus 40 in subsequent races.
Lap times for both cars on the road course shown.  The "modern" Champion chassis car is a little faster than the vintage Riggen chassis car.
Next featured cars will be the Ken built Lotus 40 and the Russ Toy "Mirror Image" Riggen chassis Can Am car.  You will find the Russ car be amazing.
Thanks Rodney! We look forward to you next posting.