As mentioned in the previous thread, the No Brainer, the Hybrid and the first two Short-Lights have been very good. The short Hybrid is one attempt to combine the qualities of two different chassis. This is another. All the NB series to date have been built with flat tracks and shorter Hillclimbs, Kinglemans and flattish King tracks in mind. They have all been dependably good, easy to drive and easy to tune. The Short Lights have been very fast but a little harder to find the exact sweet spot with the tires, motor, gearing, and even body choice. So, the Short Hybrid mentioned before was one path to hopefully combine the attributes of two chassis types. This one will hopefully combine the attributes of another two types.
Basic structure:
R-Geo shallow, angled face bracket hacked up for weight reduction.
R-Geo .040 "GVP" nosepiece.
3 7/8 wb X .875 gl and 49 gr bare. About 89 gr. all up/no body.
Single main rail of .078 wire. Pan framework also .078 wire.
Initial plan was for single wire for pan frame but I was afraid it would be too light.
Rear Detail:
Chopped and channeled bracket.
1/16" brass for the outrigger.
Outrigger bracketed fore and aft with .078 wire and "top locked" with .047.
Rear stops are 3/32 box tube w/.047 wire stop rod.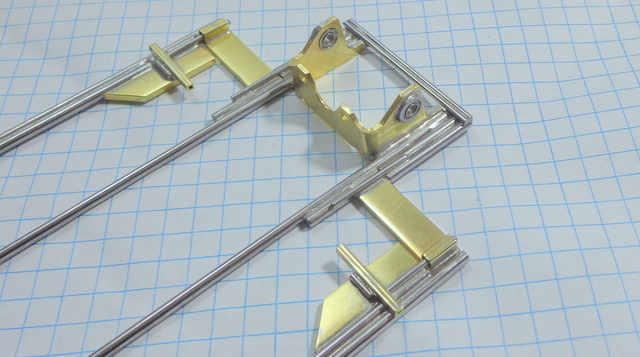 Front detail:
Tuning fork cutout is filled w/040 brass to match the rest of the nosepiece.
S-7 guide tongue on top of stock brass.
Hinge rods are .055 in 3/32 round tubes.
Front wing stops are 3/32" box tube w/.047 wire. Movement is minimal.
Bottom View: