A sad chapter in Rodney's Oakland Speedway tales.......in his own words:
Ben Jones, the Godfather of Slot Car Racing
Good friend Ben Jones passed away last month.  Ben raced slot cars since the 1960's and was a frequent contributor to VSRN and Scale Auto Racing News Magazine and other magazines.  Ben was known as the Godfather of slot car racing.  He was a slot car racer and slot car historian.
Scale Auto Racing News February 1988 Cover Photo:
The caption in the article states:
      This is the workbench of Ben Jones from California.  Ben has submitted several articles in the past about slot tracks on the west coast.  Bob Montgomery says "Ben has class.  All those 'oldies' and red wine to boot."
Ben raced in the Bay Area, which included Oakland Speedway in the 1970's.  Check out the ribbons:
Mission Hobby and Speedway was located in Hayward, California.  Playland Modelcar Raceways was the famous raceway located on San Francisco's Ocean Beach.
Ben's Diamond Chassis Open Class Car
Featured today is one of Ben's open class slot cars from 1973-74: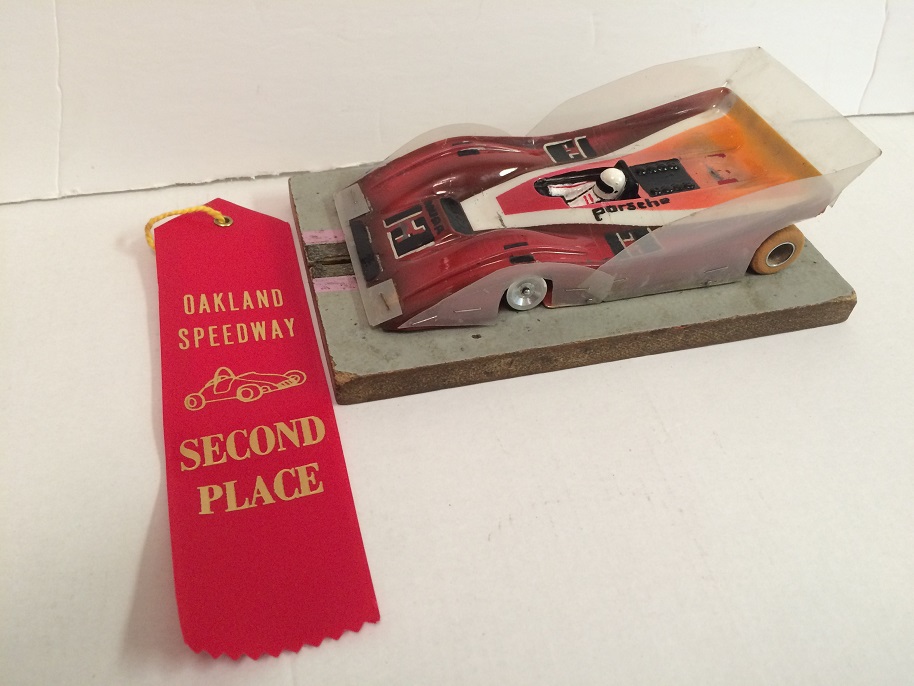 Eric remembered this particular car.  It was one of the last cars Ben raced at Oakland Speedway. About 15 years ago, Eric installed a motor in the chassis so Ben could run it again.  
After Ben's passing, Eric wanted to find the car and have me restore it.  The chassis was not with Ben's main slot car stuff.  We almost gave up hope finding the chassis.  We finally found the chassis in Ben's basement work bench.
The chassis, though driveable, was in poor shape with some crash damage and corrosion.  All damaged bits including floppy pan hinges were replaced.  It took quite a bit of effort to re-align the three-bearing rear axle mount.  After I restored the chassis, I showed it to Eric.  Eric did not recognize the chassis, and asked me three times which chassis it was.  I was pleased with how the chassis came out:
The chassis has a diamond front end, three-bearing rear axle mount and four main rails.  The Mura C-can motor has a 25 single armature and Champion blue dot magnets.  Faas gears are used. 
The body is a M.A.C./Lancer Porsche roadster with a beautifully painted and hand-lettered body. Note the mylar side dam air control.
The body had the cracks glued, and the lettering was touched up: