Taking inspiration from Mike and his neat-o strap motor, I went looking for something I remembered I had.  So I rummaged around my box-o'-stuff and found this setup.  Looks like the can is machined from a billet, and the end bell (along with the can) had gobs of corrosion.  Instead of spending time cleaning the old end bell hardware, I stuck on some Koford stuff just to get an idea of where I'm at.  The can sort of fits a C end bell, although some measurements reveal that a C end bell slightly spreads the can sides by a few thousandths.  Installing a shaft while a C end bell is on there also reveals some misalignment, since the shaft is lightly bound.  When I install the original end bell, the shaft passes through the can and end bell perfectly.  So, even though I am sure I could make a C end bell work, I'd like to keep the original end bell...or a plastic equivalent if there is one that won't require fiddling.  ***The thing is, with both the original hardware, as well as the Koford stuff, I'm sure I'm missing some sort of insulators because the end bell registers a dead short.  The original end bell hardware had some thin brass strips under each side...short.  The Koford stuff came with some similar-looking strips, dead-short also.  So, what's the deal here?  Can I get something to insulate the hardware and/or is there a plastic end bell that will fit?
Oh and, a "regular" set of C ceramic magnets (*somewhere just under .150" thick) gives me a hole of around .517", which is certainly doable with a finished arm OD of anywhere from .495" to .500".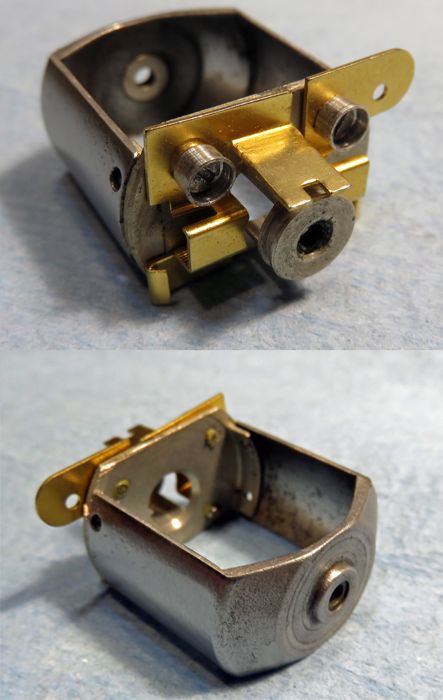 The rust/corrosion was pretty heavy.  I got a good chunk of it off, but there's more to do.  
I wanted to get it at least clean enough for someone to let me know what this thing is, what's the deal with the end bell insulation and/or what is available that might fit.
-john