Here's another project that's been festering at the bottom of a drawer for something like 15 years... 
Many years ago I bought a Classic Serpent repro body from Electric Dreams, and soon found a Gamma Ray chassis to be restored, thinking I'd pair them and nobody would be the wiser! In the meantime, I found a more complete Gamma Ray to restore, and then more recently a couple Serpents. But neither body was in very good shape, so I still figured I'd use the repro body, which is very well done. 
Here's the one I just put together, using the repro body and an all-original chassis except for a homemade body mount bracket and not sure about those rear tires - anybody know what the right color was? A cover photo shows orange, but I've seen a few MIB cars with different colors....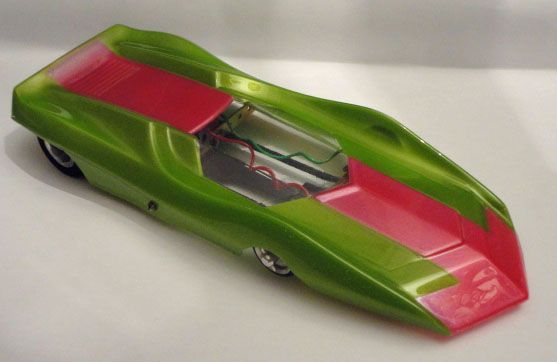 I also used a piece of plastic from the wheel well cutouts to make the rear mount tab, which is merely folded and held in place by pressure - doesn't it make you happy when something you do by eyeball works out the first time? 
Here's a photo of the repro body on the car, surrounded by the two original bodies and a cover photo... actually one could still be used, but on the other the sides had totally curled under, and when I tried using a hair dryer and gently prying one straight, it snapped off! Anybody got any better ideas? This sometimes works on more flexible bodies to straighten sides... 
And a close-up of the magazine cover: 
Don