While I'm still deep into modern D motor territory, I had an "extra" doublewind (a #30) arm I built for one of these laying around, so I built up another of Dave Cummerow's donated ProSlots with an extra detail.

   Having seen (well, "felt") a perceived increase in field using an old Mabuchi Russkit 22/23 type can, I decided to do the opposite of what folks did "back in the day" when they modified cans.  While they most often cut out large chunks, modern cans have already been "hacked" by the factory in an effort to shed weight and get things as compact as possible.  I wanted to add some metal to see if I could get some beneficial extra field strength.  Looking around, I had some thin spring steel (around .011") and cut a couple of pieces.  I figured, how hard could it be?, which is something I often ask myself before I find out it isn't as easy...not near as easy as I had imagined.  


  So, my intention here was to have the end result look at least close to "factory" as possible without covering up my hackery with paint and bondo.  I also wanted to preserve Dave's engraving, as a "tip of the hat" to him for donating the motor to the cause.  I won't bore you with the details, but it was pretty finicky to "git 'er dun", and the magnets needed a slight notch on their flat tops and bottoms to go in aftewards, because the metal hung slightly lower than the old built-in magnet clips I cut out.

  While not up to some of the gorgeous scratchbuilt chassis illustrated right here on SlotBlog, I think it came out pretty good, if I do say so myself: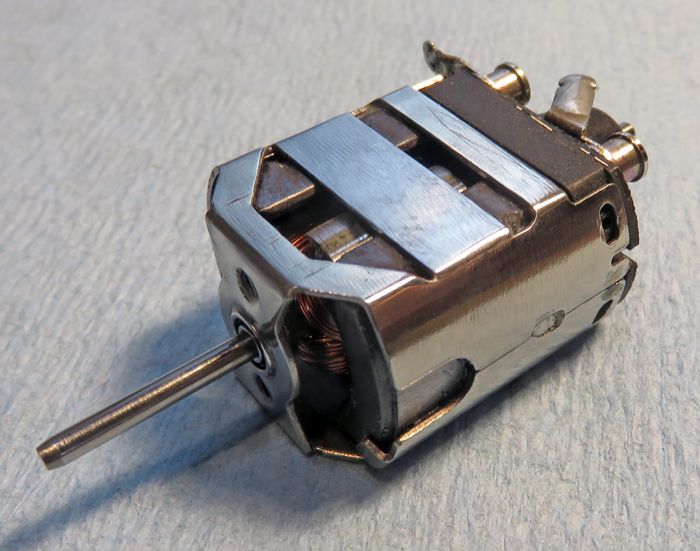 While I was at it, I installed a can bearing just for giggles before installing a set of shims and epoxying-in the magnets.  The hole is set at around .534", so the arm will only get a light "cleanup" or "skin" grind when being balanced.  With a doublewind that's somewhere in the G20 neighborhood to provide the motivation, I think the old girl will sing soprano when she gets her voice back.  
  It will only need some minor stuff done to the end bell/hardware, but it's Thanksgiving, so we're off to the inlaws to eat too much.  Happy Thanksgiving to all!
-john