Thanksgiving Day was great and now here we are, doing this again for the eighth year in a row.
I think it's becoming a tradition!
Every year we've added something to grow or improve the event and this year was no different we just made smaller changes.
Last year I redesigned the track and Cruizin Bob Scott worked his MDF magic and created the "Vortex" track section. We ran one test race and then pressed it into service for Black Friday v.7 and because I can set it up in the garage as three sections we've been enjoying it since then no matter what the weather is like outside.
And we used to call this the "Fair Weather Raceway!"
Starting right after the race last year things started happening, first I finished setting up Race Coordinator in the track computer thanks to Dave Duddy and the Austin Slot Car Club in Austin Texas. They gave Dave their very customized 3 Lane version that has just the bells and whistles we were looking for and David copied and pasted and re-titled things to turn it into a nicely working version for four lanes. I like it a lot! Then as the months progressed I added LED strip lighting under the bridges of the Vortex so we could see the cars better and a new 40" LED screen on the east wall to match the one on the west side for that Sports Bar effect. Next I changed out all of the humming florescent bulbs on the ceiling to Hypeikon LED tubes to improve the light in the garage. I found a big Rubbermaid "gang box" or maybe it's an outdoor toy box at a yard sale for cheap and whatever it is called it holds all of the tent hardware and lighting and anything that won't be damaged by the summer heat, making a lot of space available inside. I added new hooks to the front eaves for connecting the "big top" 24' X 48' tarp more securely and with Stan Ferris hauled the pinchy section of the track out and cut down the right hand side wall so the driver at the new driver station for the yellow lane can see what is happening in this very important section of the track.
Those were all good things but then one day I was on Panjo, a buy and sell site for slot cars and came across this 14" X 18" light box sign...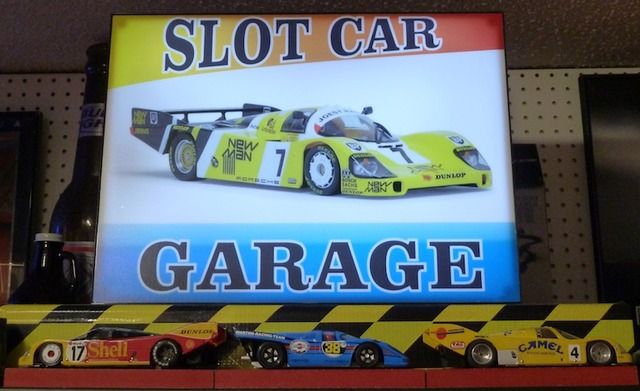 Can you say "Perfect!!!"? I did and it arrived a few days later and I was diggin it so much that it inspired me to make one of my own but kick it up a bunch.
So I made this one.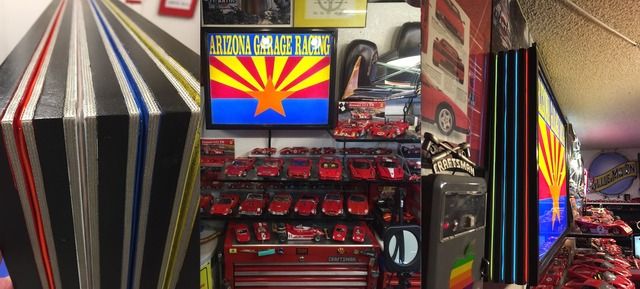 I had just seen a posting on our neighborhood website by a guy who makes lighted edge acrylic signs, I met Sergio Berumen of LIGHTED-EDGE and we worked out a design which he engraved in a 18" X 24" X 1/4" acrylic sheet and painted from behind with transparent paints.
I wanted to make it emulate my track so I routed the "lanes" on all four sides, painted them to match the lane colors on my track and braided each lane with 1/32nd slot car guide flag braid which Slot Car Corner graciously sold to me in bulk. To light the lanes I first tried 3mm side glow fiber optic cable but I could not find an LED or even a laser that was powerful enough to illuminate each 7 .5 ' piece, all the way around the sign without creating too much heat. The solution to that was to try electro lumenescent (EL) wire. I studied up and found that the 2.6 mm wire from That's Cool Wire would work nicely. I had a few issues making it go but they were great and I'm really happy with the Tron like outcome.
So now on to race day. We started building the tent at 6 A.M. an hour earlier than normal in hopes of getting the most racing in. Plenty of racers showed up ready to work and it went really fast and we wound up with the best tent configuration yet. The only problem occurred when I was up on a ladder hanging a 48" florescent fixture and the wimpy zip tie I had used on the first end let go while I was trying to fasten the second one pulling the fixture out of my grip and 12' or so to the ground. I don't know how much coffee Stan Ferris had up to that point but I was working on my second 12 ouncer and we both watched in slow motion as the thing barely missed everyone standing around the ladder and crash to the driveway with dualling bulb explosions. The fixture was shot too but everyone was safe and after a quick clean up I brought out another fixture and we found the stronger cable ties.
Finally the track was up and powered on and we started racing a little after 8. Steve Hill had family visiting but came out early to help set up and we got two races in before he had to get home. Thank you!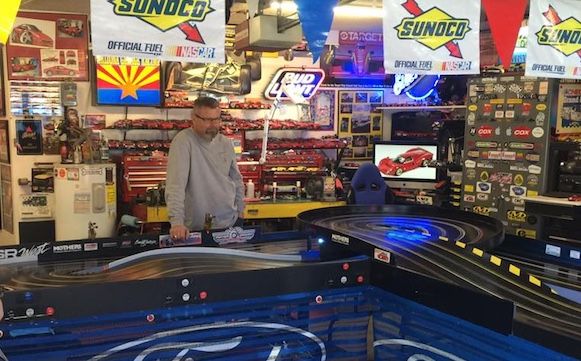 First up was 1/24th Scaleauto GT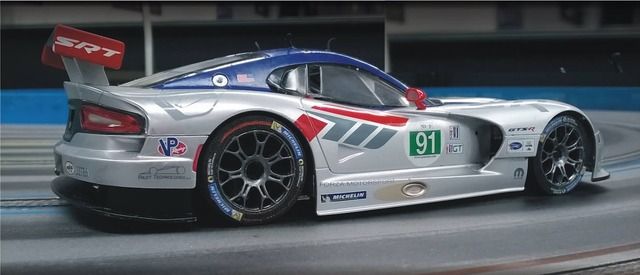 At this point I have to admit that no one (Update ! Well it seems Bob did. They are at the bottom of this  page.) took pictures except of the race results on the screen so I have faked, found, stolen, cropped, edited and uploaded all images.😎
The picture above was purloined from Thunderbird Slot Racing and may belong to Kev Wilson. I hope they don't mind! It's a great shot but the American flag is backward on the car.
Rick Schonfeld won the race and this awesome 1/24th R/C hard body C6R Corvette put up by Roger Gunning.
Rick 121 - Cruzin Bob 116 - Slammin Steve Hill 115
Next up was Racer / Sideways Group5 on Scaleauto SC-2009 tires and wheels Sponsored by Slot Car Corner.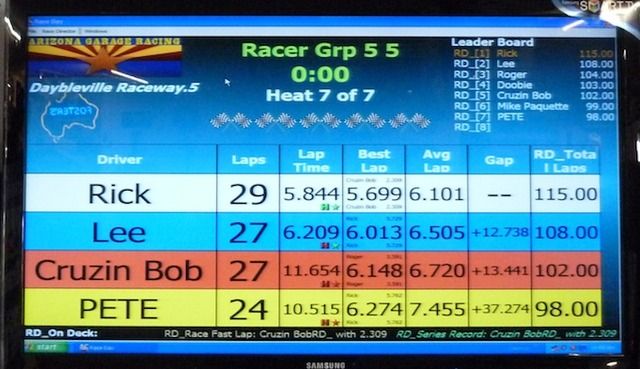 Rick Schonfeld 115 - Lee Bumbalow 108 - Roger Gunning 104
Somewhere in these first two races my sprinklers kicked on which they do on Friday at 9 A.M. in the cooler months... Yes, I had forgotten that little detail.
Unfortunately Stan's pit got a bit wet... Steve Hill ran around to the control box to shut it off and I pulled out some special tire treatment for just this type of occasion.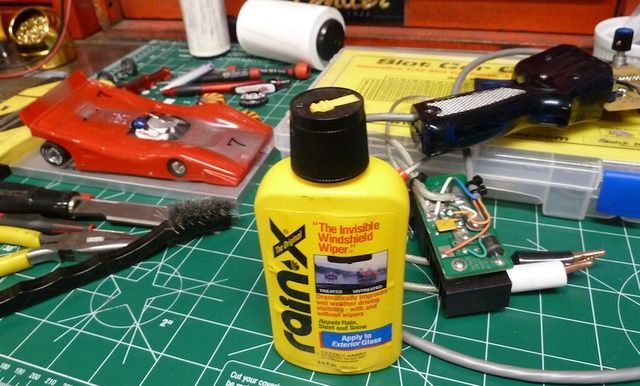 After two races Steve had to go but he left a sponsorship prize for 1st place in 1/24th hard body Can Am. It's still here Steve, only three of eight racers had cars ready for the class. Maybe at the next race?
Last September while at Alan Smith's storied BRM event at Buena Park Raceway, Greg Williams convinced me that it would be fun for the Tribe to run a series of races.
Greg, Greg, Greg! What did you get me into?
We've done this before but at the end there were two plane tickets for the winner and that kept everyone's attention. We don't have them this time and so it's harder to get everyone out for a race. We were going to hold a race once a month at one of the tracks and at the end of twelve you could drop the four worst results. It's been a tough year and then some and this was to be only the sixth all day weekend race we've had since we started the series. I recently asked by email if we should end it but got little response. So when the cars were lined up on the track I asked everyone present if we should just keep this going for however long it takes to complete the 12 races and all agreed so here are the results for the race and standings overall and for make of car as of round 6. Maybe we will find some prizes for this...
Roger Gunning 11 - Bob Scott 110 - Rick Schonfeld 106

Pete Vespender is leading followed by Roger and Rick.
Next is Rick's NASCAR

Looks like a bunch of Scalextrics NASCARS and COTs right? Look again. (Yes boys, they are all my cars. I needed a picture!)
This is our first race in which Scaleys, Carrera and SCX NASCARS competed on an equal footing thanks to Slot-it for their HRS chassis and Changing Gearz (CG) for the awesome 3D chassis for each of the brands and a universal chassis for 4 hole Scalys and SCX COTs and so many other cars.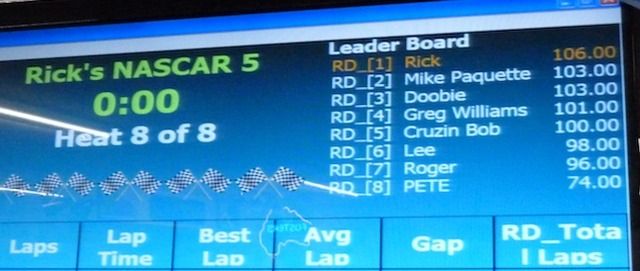 Rick Schonfeld won his namesake race with a Scaly/Slot-it HRS with 106
Mike Paquette was second with my SCX/CG with 103+
I was third with my 2 hole Scaly/CG with 103
Greg Williams (in spite of a controller problem) was 4th with my Carrera COT/CG with 101.
And Bob Scott was 5th with my stock chassis 4 hole Scaly
All cars run Super Tires and 21K Slot-it or Piranha motors all other running gear and weight are open.
I sponsored the race and Rick won a new GB Track 917 Spyder slot car.
Speaking of GB Track and Fly (Car Model)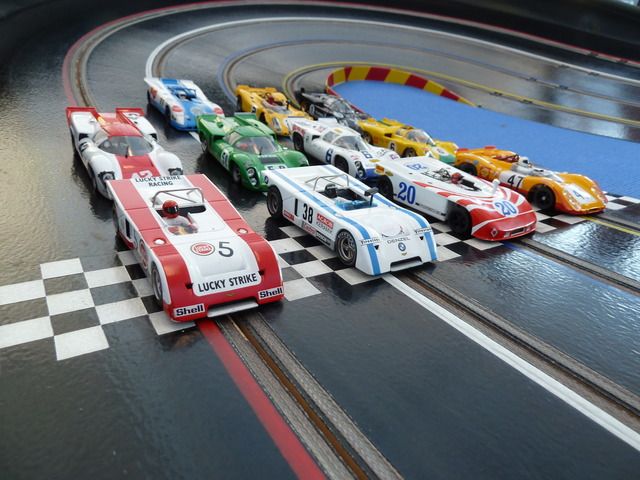 It was time to Run Fly Classics. Please ignore the Chevrons on the front row of this stock photo. They are light and became too dominant and were banned. As of this weekend Changing Gears and National Racers are releasing somewhat different 3D chassis for them through Shapeways and they will now run in AZGR Sidewinders.
Roger Gunning and I have had a competitive blast building these over the years and lately he's on top again!
Roger 112 - Mike Paquette 102 - Rick 100
Rick put up a BIG race prize for Roger...A $50 Amazon card!
Next.. JK Indycars! The Indycars that LOOK like Indycar's DW12 (So named for Dan Wheldon. R.I.P.)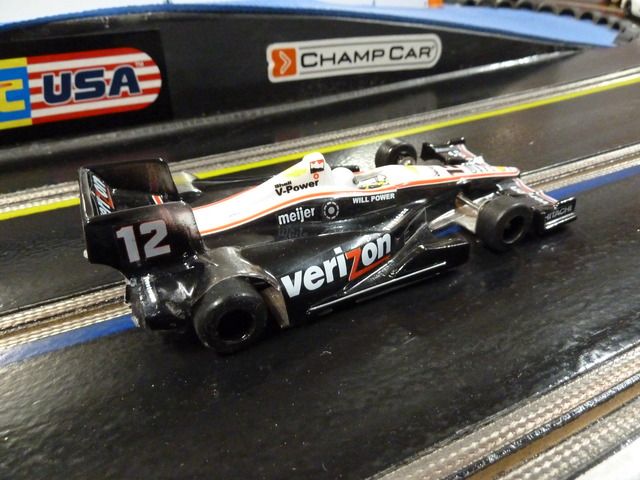 And then all Hell broke loose! And Stan got more excited than when the light exploded at his feet!
These are a raceway Flexi type 1/24th with a Lexan body and a 31,000 RPM S-can motor. We Silicoate®️  😎 the tires and brace the chassis but otherwise they are stock. And FAST! We had to turn down the power to 11.5 v.
And I won. I can't remember the last time I won a race on my own track on Black Friday...
Doobie 138 - Rick 134 - Lee 127
Lee presented me with a gift card to Chili's. Honey we're going out to eat!
Time for Slotworx.com.au V8 Aussie Super Caas (It's not a typo it's a dialect!)
These are a badass blast! A combination of a Scaleauto style chassis and a Lexan body on excellent foam tires. Just add big power and a narrow timber track and watchout!
Thanks to Roger for working with Slotworx proprietor Cam Nielson and importing the cars and Ed Cicoria for ordering the decals and stickers from Pattos and also to Leon Gerhing for supplying the motors.
(I wish we raced with trailers like Harry Wise and Co. do!)
Rick again with 122 - Pete 120 - Roger 119
Rick picked up a gift card for Golden's Coffee from sponsor Stan Ferris
So... AZGR Sidewinders!!!
Little 1/32nd scale rocket ships w/o magnets!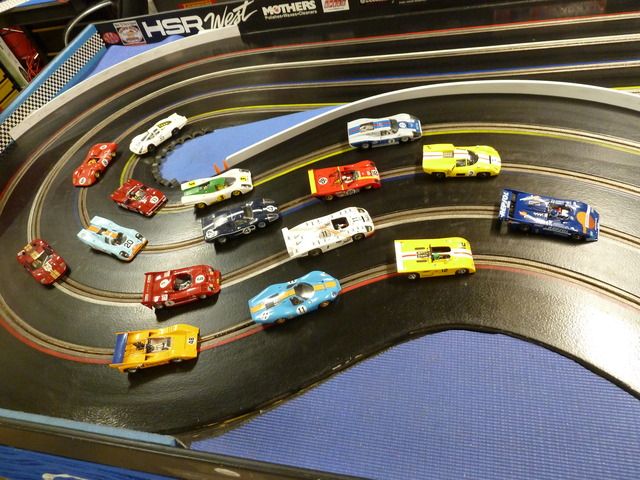 Various NSR, Slot-it and Thunder Slot cars on their own chassis and Sloter, Fly, GB Track, Spirit, Power Slot and SRC cars on HRS or 3D printed chassis makes for a very diverse field.
Rick [AGAIN!] with 116 - I had 113 and Roger had 113 and I don't remember which of us was ahead. Probably Roger.
Rick won another nice hat from Slot Car Corner.
I wasn't sure what I was going to run. I have recently built a Powerslot Lola T-298 on a National Racers 3D chassis and a Sloter Lola T-290 on an Olifer 3D chassis but then I have also been trying to develop the new Thunder Slot Lola T-70 ... It's a Lola thang.
I decided on the Sloter/Olifer because it handled the best so I gave our one race guest driver, Dave Franson the Thunder Slot. It didn't work too well for him so I gave him the Powerslot to run and he seemed to like it.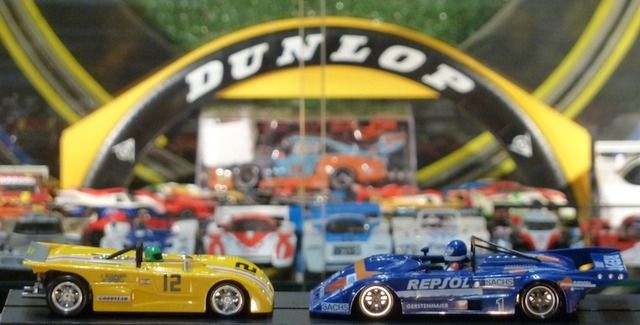 Sloter and Powerslot Lolas
Last up (Race 9 0f 13 proposed.)
AZGR Retro Can Am
Now before purists from both coasts start jumping up and down about rules and motors, etc. let me just say that we're just over here off center and having fun with old stuff and a whole bunch of leftover Scaleauto  22k "Endurance" motors which calm things down on our narrow club tracks. Any legal or previously legal or potenially legal chassis and body and running gear from any sanctioning body alive or dead with said mo and the afore mentioned Silicoated©️ foam raceway tires.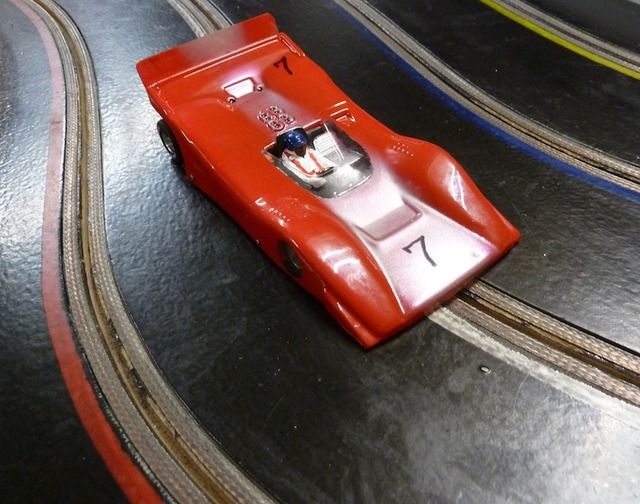 Wide cars on narrow tracks and now it's Roger [AGAIN} !!!
Roger 133 - Pete 129 - Doobie 128
Roger won the Scaleauto tires he put up as a race prize and I took a picture of him with them but last I saw of him he was headed to Rick's pit to possibly trade for one of the SCC hats...
So Rick came up from Tucson and took home 5 race wins! (Not the first time, he's that good!)
Roger finally came to grips with my track and took 3
And I didn't get skunked at home, I got a win too!
AZGR "Regular" Racers were Steve Hill, Cruzin Bob Scott, Lee Bumbalow, Rick Schonfeld, Anthony Peter Vespender (Pete), Stan Ferris, Roger Gunning, and myself. Mike Pyska also came by but couldn't stay to race.
Special Guest Racers were Brandon Morris, Mike Paquette who I didn't throw out of my store, (don't ask.) Dave Franson and one of my long time mentors Greg Williams.
We also had another group of Special Guest with new AZGR noobie Ronald Spannraft displaying some of his excellent racing photography and Dan Sundstrom, Edward "Frenchy" Gouvier with the gift of beer and the ever awesome Herb Morris otherwise known as Brandon's Grand Paw, great friends and brothers in arms from many auctions at
Barrett-Jackson.
Somewhere in there was lunch, visits from neighbors and an Amazon driver who used to race.
Tear down was fast and furious and no racers were harmed by falling light fixtures or anything else.
Oh and Rick and I were going to sample some of the craft beer my daughter Erin worked on at Arizona Wilderness Brewing Co. A Thanksgiving Special "Pecan Pie Brown Ale". (YUM!!!) Well he was too busy winning so I gave him a bottle to take home. I hope he liked it!
Special Thanks go out to Bob and Steve at Slot Car Corner for sending me posters and caps
I don't think it was their original plan to sponsor races, they were just being generous. I suggested the sponsorship because theirs is a company that always has provided me with great service, has the special and trick parts that I need and have always stood behind what they sell if something goes wrong. Good guys!
Wait! Breaking News! This Just in!
My email just buzzed with new pictures of race day stoof just as I'm about to sign off..
A minute to download upload please...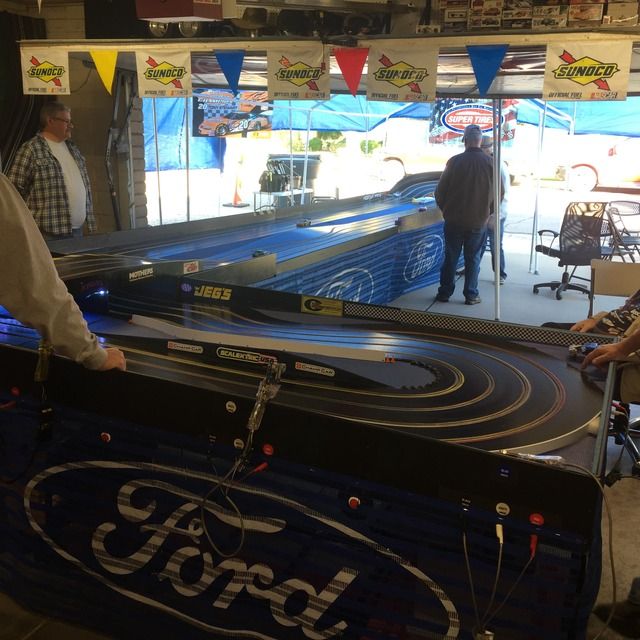 Early morning racing. Notice the track wall cut out where the lanes pinch.
Awesome Aussie Super Car Line Up.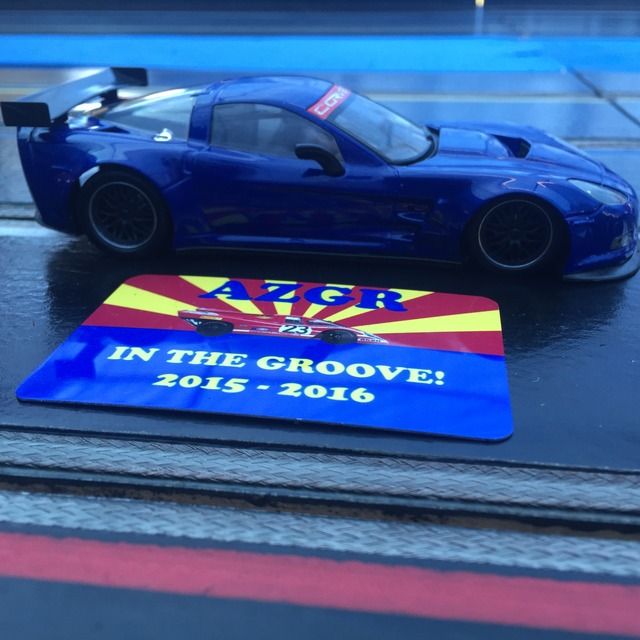 AZGR NSR GT3
Thanks Bob!!!
If I forgot something post it below.
Dayble Media Worx.
Adios