I've built a boatload of these things over the years, and documented the builds for better or for worse

right here. The Mabuchi can is still an excellent choice for a D motor build, even when it's not going to be 100% "correct." It's very lightweight (the can metal is much thinner than the modern D motor can metal), it's plenty strong (the old cans were formed from a single/seamless piece of metal), well-formed with pretty straight/true sides and ends, and makes for a good/strong magnetic field.  
The endbells were made from garbage plastic, and there's no way of knowing that *even* a #29 wind won't result in it melting and all the nasty biz that entails. To make matters even worse, these were all endbell drive, and this one doesn't even have the "heat sinks" (Russkit 22 type). It's like they said to themselves... how can we make a toy motor not designed for anything but a really cheap/slow.. .er... "toy"! Of course, Mabuchi couldn't care less about what the tiny slot car community wanted, and what they wanted was to go faster than the guy in the next lane.

Back on the can, these ones (Russkit 22/23 type) had one big problem that could easily be fixed, that being the blind bushing. First, the bushing itself was not a good/tight fit to the shaft. Result... slop. Second, the armature didn't end-space properly. Without being very careful about setting the magnets, the arm was bound to be too far north or south, and with these things being churned out, being "very careful" with assembly wasn't what they were all about.  
The later rotating bushing with the humongous brass bushing carrier was something of an improvement, but those had their issues as well.  Now, if you had an extra endbell with a new/unworn bushing, you could remove the blind bushing and install one of those. Today, having a clean NOS endbell is becoming pretty rare, wasting an entire endbell for the bushing seems like a painfully bad idea, but there are better options that are "in the spirit" of the time.  
For building the rest of the motor... armature, magnets, end bell etc., there are lots of other options, too. A lot of these options are "in the spirit" as well, and the resulting motor may not be 100% correct for the period, but pretty close. Steve Okeefe recently started exploring this whole "build-ethic," and I like the concept (duh!). You can do these sorts of builds with less frustration locating perfect/clean parts and avoid some of the limitations of the motor's weak areas.

The subject here leans a little further towards the "vintage" end of the "vintage style" spectrum, but it will get lots of vintage style touches. Superficially, it may look more "vintage," but it's definitely not going to be 100% correct.
Here, it's one of the older type Mabuchis without the metal "brush tubes" or "heat sinks" as they were euphemistically called. It's a very clean example, but even here, the endbell is (of course!) still cracked right around the bushing. No matter... it will get tossed, it must get tossed!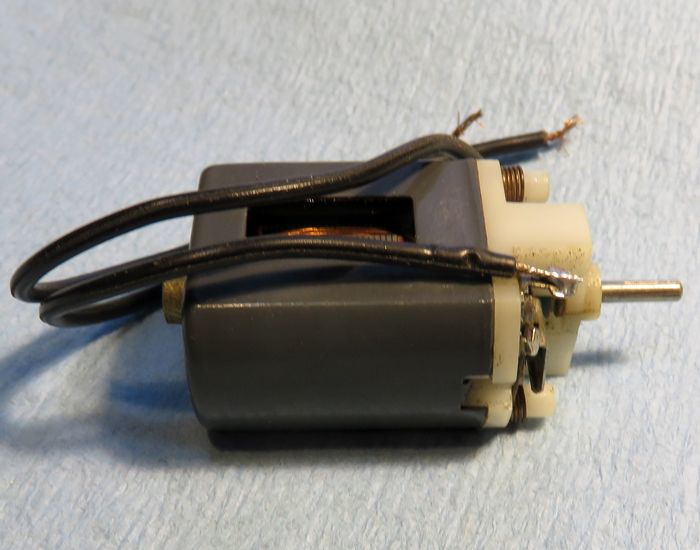 -john