I got the call to do an FJ13UO-based Walnut, so I went digging through my "box-o-stuff" and came up with this little guy: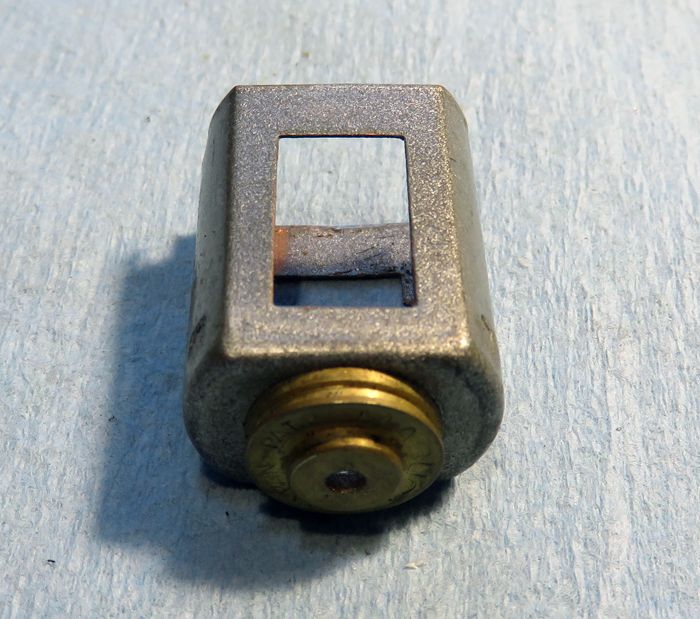 The big-honkin' bushing carrier was already missing the rotating bushing, which made it a good candidate for getting the full treatment.  In this case though, the "full treatement" would not mean just reaming that out to install a fixed bushing or bearing.  The actual can without the carrier is about the same length as a C can, and with it...significantly longer.  So, if I'm doing a modern "vintage style" interpretation of a peanut and looking to make the little guy as compact as possible for an anglewinder installation, getting rid of the bushing carrier makes sense.
Soooo, here's the can after a whole buncha fiddlin'.

*After stripping, the bushing carrier got the axe, which leaves a HUGE hole in the back end of the can...like ginormous.  One way to fill that hole is to use the bushing strap from a C can, but there's a bunch of figuring-jigging involved with centering that so it can be fixed to the can.  After the fiddling, I silver-soldered it in place to test out some no-lead 4% silver solder I got.  Since I avoided breathing/twitching/blinking and slowed down my heart rate...the procedure went off successfully


The can also got shortened by just the length of the end bell tabs, which leaves about the same metal on both ends of the can holes.  That makes the can a bit shorter than a C can, and the bushing or bearing is now slightly recessed, so there's even a little less projection on the "business end".  Since the "13" is also very narrow, mounting anglewinder with a good angle shouldn't require a can notch.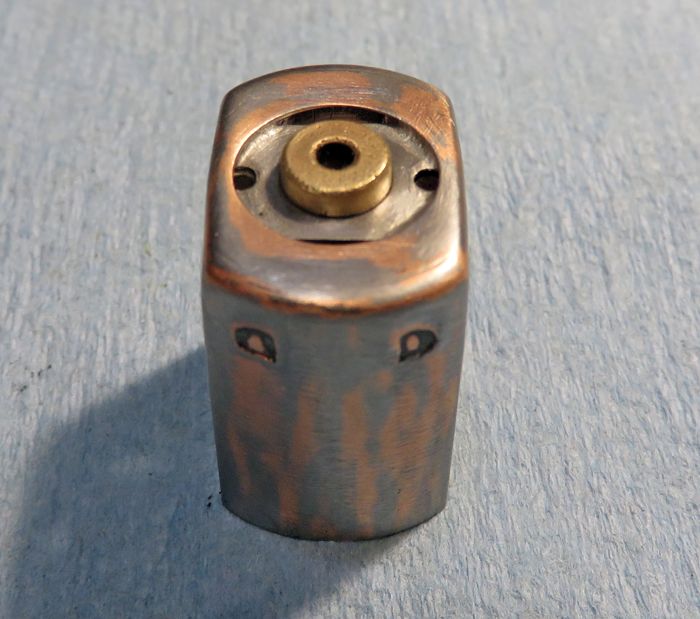 I also flattened the magnet-stop dimples, which turned out not to be necessary, but it sure ain't gonna to hurt N-E-Waze!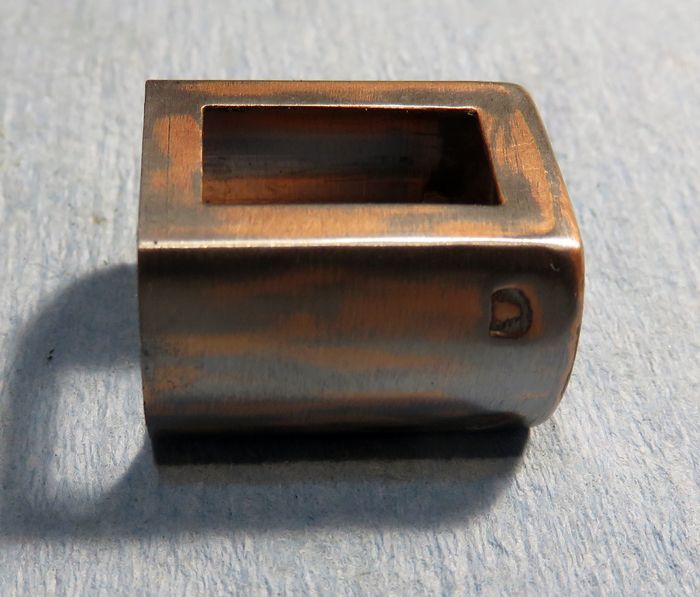 Of course, the motor's going to need a set of magnets, and instead of sourcing cobalts or something, "vintage style" makes things easier and cheaper to boot.  I just removed a set of the "poly neos" from a rusted old Falcon.  These need about .025" removed from both of the flats to get them to fit in the can.  The material is very soft, so the safest way to not have chunks fly off of them is to simply hold them by hand and play each one against a piece of (in my case) 220 sandpaper stuck on my glass table.  Checking/measuring as I go to see that I'm working fairly "in-square" and not removing too much, the process doesn't take THAT long, but working slow allows you to make little corrections as you go.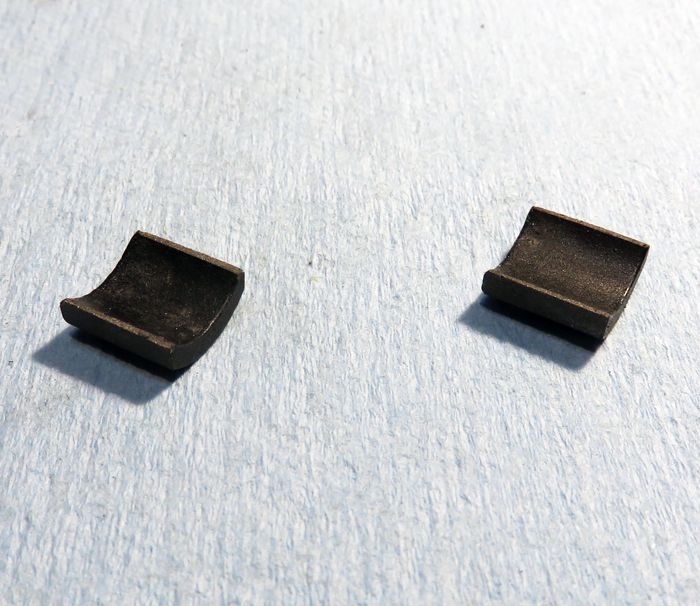 Once the setup is done, I called my favorite armature dood, and went a little hotter than I normally do, and did me up a #27 wind (37/27) on a .400" long stack with a shortened com.  It's an easy fit in the Walnut, the magnets are plenty strong-enough and it will make for a heckuva stout  little motor!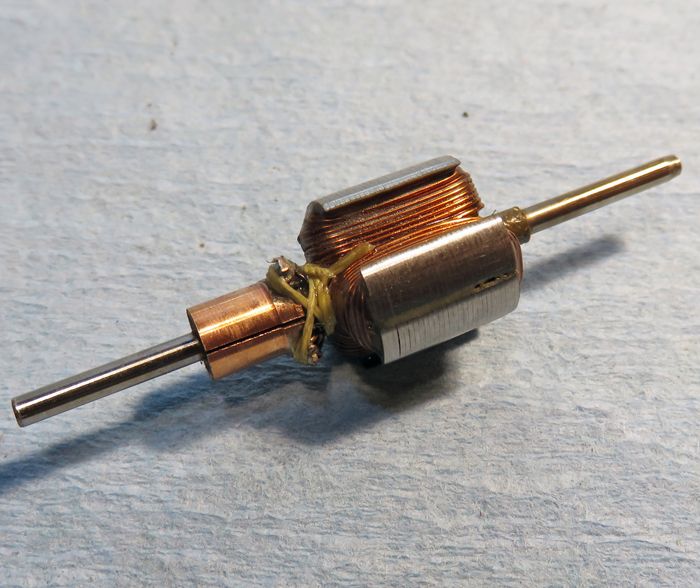 Some spit and polish, along with an end bell (a PS minican end bell) that needed to have material removed from all four sides to fit and...a Walnut is born!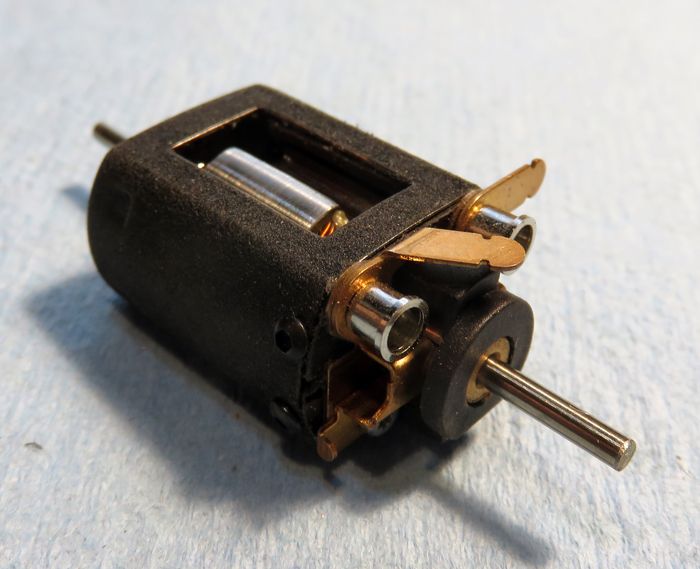 ...in this case, I also switched out the 2mm x 6mm bushing for a bearing: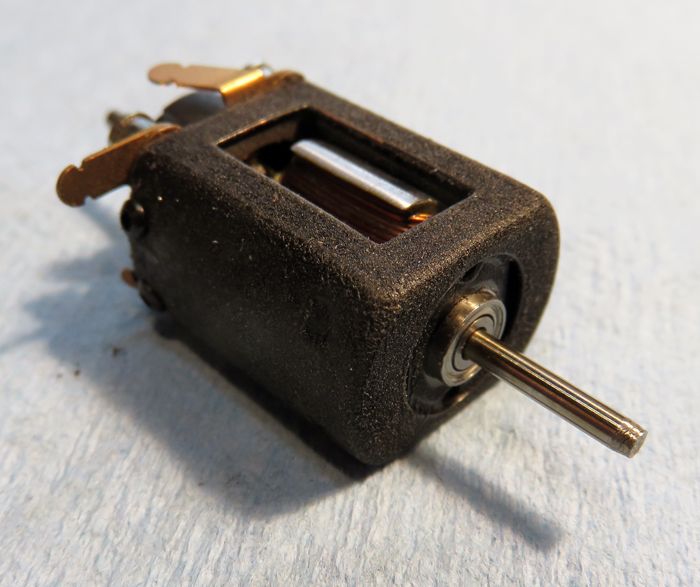 Of course, the arm needs to go out for grinding and balancing, but I can almost hear the "WHEEEEEEEE" of the motor spinning up already!
-john