Sooo, by now everyone is painfully aware of both the limitations and the temptations of the good old Mabuchi FT16D.  The limitations include (*but there are others) awful end bell material, awful end bell hardware and bushing, awful can bushing in an awful bushing carrier, awful magnets, awful tolerances, awful brush springs, awful end bell fixing (tabs).  That's a lot of "awful" in one motor!  Still, the motors could be made to run faster...for a while, and their lifespan, which wasn't all that great "stock" got shorter the faster they were made to go.  Racers made them go faster, but then they had to hope they would at least last for a race...or even a heat.  No biggie for them, the team guys could get as many motors as they needed, and blowing up a bunch was just part of racing.  ***So the motors were slow, and you wanted to make them go faster, but making them go faster only underscored just how awful they were.  

Fast forward to today, and nothing has changed.  It's easy to drop a #25 wire arm in an FT16D, but even with all the typical upgrades, you might get a hot lap or two out of the motor...maybe.  Looking back at these things, there were a lot of pretty hot single and double wind arms routinely put into these things...a 28/29 double wind is (given the rest of the motor) ridiculous, but people did stuff like this.  Sooo, what to do TODAY when building-up a Mabuchi?  Do you make a blistering hot motor that you know in good conscience is doomed before it ever gets installed?  Do you do a 55/29  or maybe tempt fate a little and go with a 45/28?  Do you only do a 70/30 for a nice/quick motor that will last reasonably well?

This all brings me to this motor.  The one I have here is a plated oval hole Mabuchi.  While it may look a little like a Champion, this one is of the thinner Mabuchi metal, unlike the chrone Champions with that heavy metal that no one with anything less than a ball peen hammer and drift pins could even think about bending the tabs on...even though it still had tabs.  The bushing carrier is aluminum, but still of the same shape and size as the Mabuchi brass ones, unlike the larger weird Champion ones.  I drilled the end bell for cooling holes, and opened up the side holes for better "breathing", but it's a regular Mabuchi, not a Champion cycolac (or whatever that stuff is) end bell, and has the small Mabuchi bushing.  Of course, there's a crack in the end bell material at the bushing as most all (even many NOS) examples have today.  For magnets, I installed a set of those with their shim from what I believe were originally in a DynaRewind that are close to "Arco" strength, and I also think that there were Dynas that used the same can type...so there's at least some reasoning behind what's going on here

 I also installed a set of bulletproofing plates under the brush tubes/"heatsinks" (*as they were euphemistically called), and modified the end bell to accept them.  Of course, it also got a set of spring post sleeves, and I drilled the can for fixing-screws.  I also clearanced the inside of the end bell a bit to be sure there were no issues with using a larger diameter com.

So, if YOU were building this motor, how hot would you go?  Keep it "sane", or go with "stoopid fast", with all the problems that involves as far as longevity?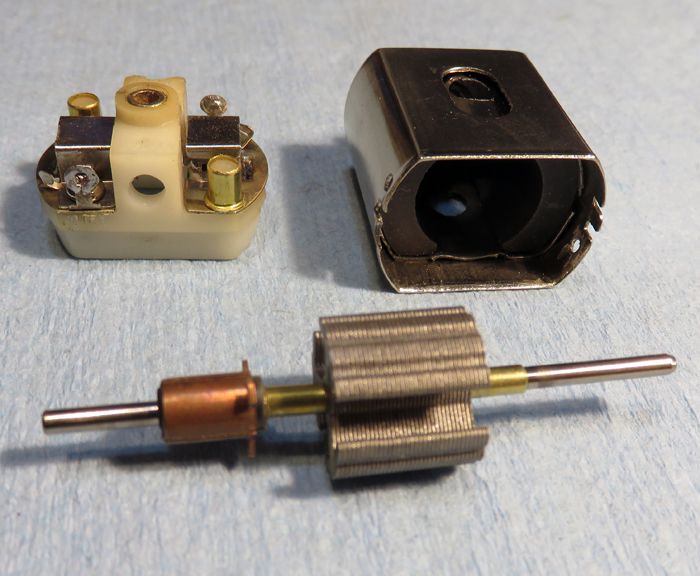 -john