You heard of the English invasion of Rock & Roll during the early 1960s. Well, how about the American invasion of 1969?
The British slot car racing hobby petty much existed in a bubble due to the great distance from America. The same can be said for the West coast vs the East coast of the US which were likewise separated by vast distance. Some technology was of course shared by travelers, racing teams, and the various publications on both sides of the pond, but details of the cars construction remained pretty much jurisdictionally related.
For instance, the West coast completely ignored the sidewinder, but East coast racers dabbled with it while British racers did marvelous things to the motors and chassis to create some of the best sidewinders ever raced!  
At any rate a young Bob Emott, who was already a successful East coast racer by 1969, flew himself over to North London U.K. in order to compete at the Tottenham Open. Not only did he race that September, but he won the day! This made a huge impression on British racers and a whole write-up of the race can be read in the pages of November 1969 "Model Cars" magazine. Model Cars was a British publication during that era and back issues are still available on eBay. Each one packed with ideas, great period advertising, and great tech ideas still viable today.
But it was the following December issue that shows Bob building another chassis similar to the Tottenham car with photos and drawings that inspired me years ago to build one of these cars.
Actually, I believe I have built more than a few based on his design… but this split pan steel (BEE) center section car is the best one I've done so far.


Before I go further, I suggest you, dear reader, click the link and see the post of the car I am replicating. It was constructed by Bob sometime in early 1970 or so utilizing a new steel center section instead of the wire frame center he used at Tottenham but the chassis is based heavily on the architecture of that winning car... so that is why I mention it.
The original car became a part of the Russell Sheldon collection eventually. Russell sent in a few pictures to the Scratchbuilt.com site about 2004 and that is where I first saw it and began collecting parts to build one for myself about 10 years ago!  
After contacting Russell in October of 2016 about some details, he informed me that the car now resides in the LASCM. I posed the same questions to Philippe, who didn't know exactly the answer to my questions but did provide some better photos of the chassis.  
At any rate… onward to the stars!
http://scratchbuilt....gallery047.html
That is that car that I plan to replicate in this thread.
Among the bits acquired for this project is the very important Brady/Emott spring steel center section here-to-fore known as a BEE .  Purchased this off eBay long time ago and held onto it hoping to acquire the rest of the bits. Brady and Emott sold these in the early '70s and unfortunately are quite rare these days. 
The second most important part to be found was the motor made up from a Certus can, Mura endbell and, since I didn't have a "Kean wound arm,"  a Certus 26 single CCW arm would have to do. 
The motor has been stored for years in the very box the arm came in and any and all tests on the bench demonstrate smooth power and cool running.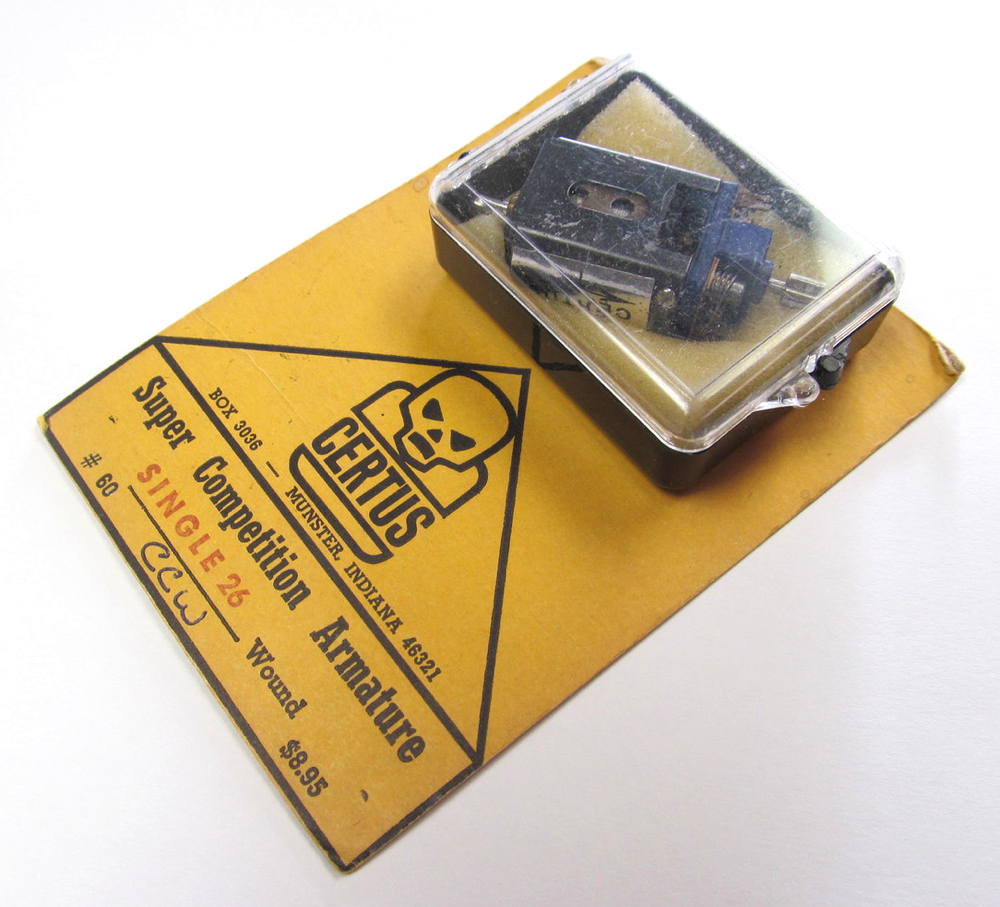 The last important bit was finding the RVM front wheels. Those took me years to identify and find a good set. Of course they were covered with the normal white powder found on other magnesium products, so a quick spin with some 000 steel wool worked wonders to clean them up.
Not convinced I'll paint the inside black like Bob did. Not sure why he did that other than to keep the corrosion in check.  
While Russell says both front and rear wheels are Associated, I am not convinced. They look more like RVM in the front and your basic aluminum tube rears which could be Associated, but there are no telescoping rings so… I'll probably just use a set of generic (probably early Parma or Champion) rears because the wheel flange matches the fronts better. 
Of course orange donuts will be used.
Body is a Lola T160, but it's most likely a M.A.C. instead of the Lancer body Bob mounted (or is that the other way around?).
At any rate, pretty sure the body and interior came from Electric Dreams.


Stay tuned.