(In my best Rod Serling) "Imagine if you will, a world where people race with wild abandon. This is a place where racers feverishly build the night before the big race, not knowing if their efforts will pay off, or result in violent destruction. You're about to enter that world... a world that reaches from the pit of your deepest fears to the limits of your imagination, a place we call "The Big Wire Zone."
OK, that was stupid, but after years of typing about this stuff, I get a little goofy sometimes looking for new angles.   
The subject here is a pretty ordinary C motor. The can was one of the unwelded RJR cans I got from Bill Bugenis. I clamped and brazed the seams shut, then cleaned off all the brazing crusty-goop the process leaves behind. I epoxied-in a fresh 2mm x 5mm bushing and sprayed a coat of a deep green hi-temp auto paint. 
These cans produce a hole about 4 or 5 thousandths smaller than many others that I've used that are already welded at the seams. I'm not sure why, but it must be that most cans when welded aren't held tightly closed, as these are when I braze them.   
Whatever the reason, the hole with the magnets installed is around .525", which is pretty nifty. A regular Mura endbell tops off the setup... again, nothing "special," but I like them. They're beefy and just plain "work."
Hey, wait a minute. Those coils visible at the back end look awfully heavy-freakin'-duty! OK, cat's out of the bag. The heart of the beast is a 19t/24 on a longish .475" stack, with a comm from Dan Miller.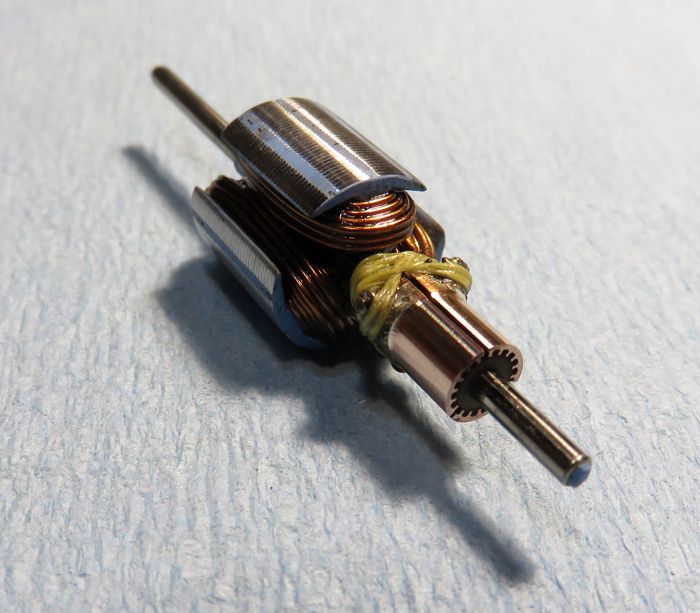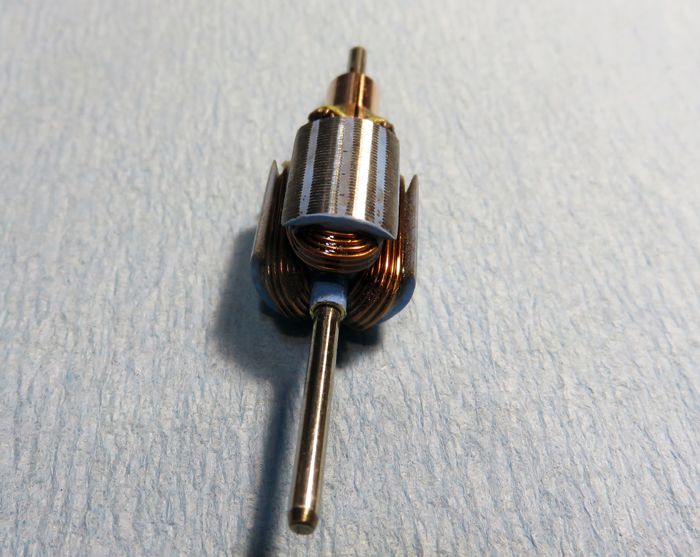 No doubt, this will be a violent motor; there's no other way to put it. 
 With the arm coming in at .038 ohms, we're pretty close to dead-short territory... current coming in pretty much just leaves, but not before converting a lot of amps into a lot of rotational force, or something like that.
While I doubt whether shunts are necessary in many cases. I think this motor will get a pair. With all it's glorious excess wrapped in an ordinary-looking package, I call this one "Cheep Thrillz."  
-john