This one is an FT16D based on a later/oddball can and a Tradeship endbell. I've gotten a few of these cans over the years and they were always plated, instead of painted. While they seem like a Mabuchi piece from the can metal and forming, they have a few odd features.  
For one, they have a fixed can bushing that's reminiscent of the later Champion type, but smaller. They also have top and bottom screw holes for endbell mounting, the top hole being larger and countersunk and seemingly intended for a rather large flat head type screw, the bottom smaller hole being just drilled and not countersunk. Whatever the make (I checked Steve Okeefe's can-spotter's guide, but didn't see it listed), they seem to be of a slightly later vintage.
I installed a set of very blunt tipped magnets that I also have infrequently come across, and used what I believe was that odd "basket" type one-piece retainer that had a hole at the rear to fit over the can bushing's interior flange. They measure pretty strong, so in they went.  
I used a set of thin/flimsy shims that were pretty bent up, after flattening them best as I could.
The magnet/shim assembly had to go in as "one piece" and I had to gently install them with a press after epoxying the whole shebang.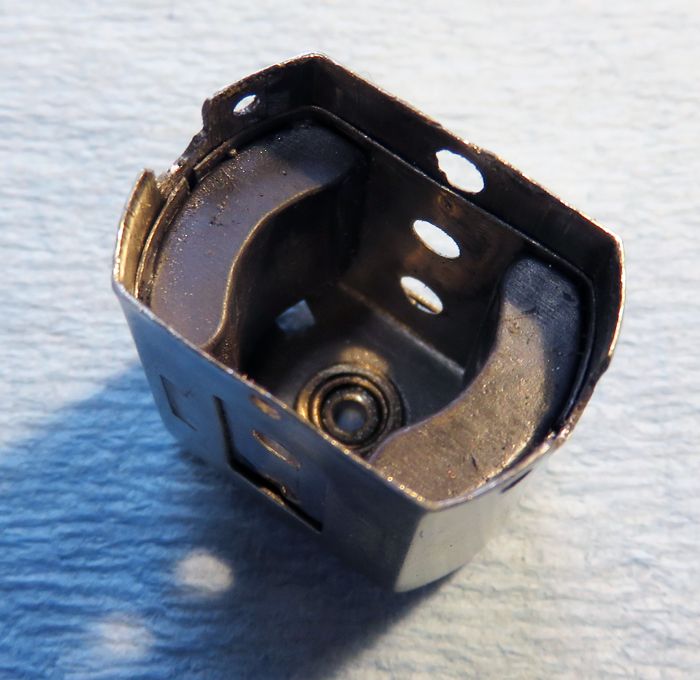 The now-familiar Tradeship endbell got cleaned-up, the bushing faced on both sides, and drilled for cooling/inspection. I finished off the hardware with a set of brass post sleeves. These endbells were not familiar to me from my vague memories as a kid, but they must (?) be from the general period, as they're of the typical FT16D design/type, but with the improved "pent roof" hoods. Probably slightly later as well.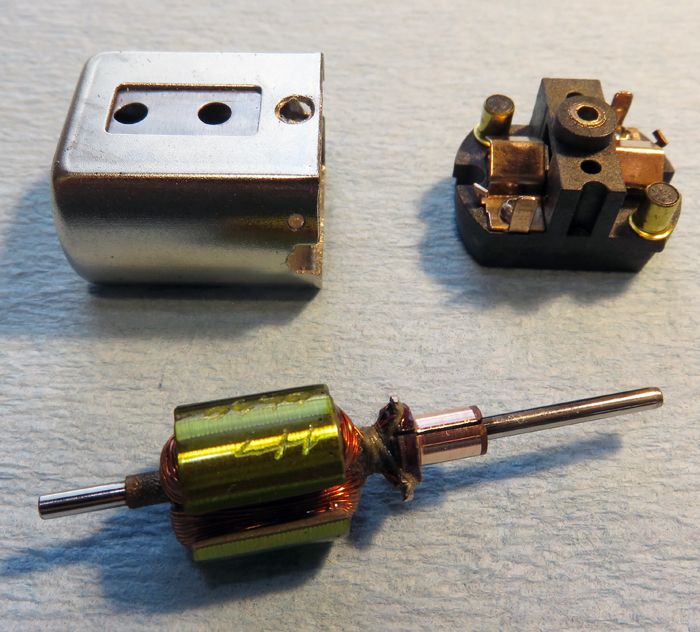 To go with it all, I did me up a 65t/30 arm spaced for endbell drive, low-timed to run CCW, and with a Tradeship commutator. The comms are a good fit function-wise for the small interior of the endbells and the small sized brushes. You have to be careful using them, though, because they have about 10-15 degrees of CW advance built-in (Tradeship also did this with their 36D-sized comms).
So, in order to time the arm to run CCW, you have to twist them much further, by looking at the tab positions, than you would normally do. It's not a problem, but makes winding more fiddly since the tabs wind up closer to the tallest parts of the coil-tops. Definitely always use the comm slots for timing and not the tabs. That way, when you come up with a comm like this, you won't wind up with any surprises.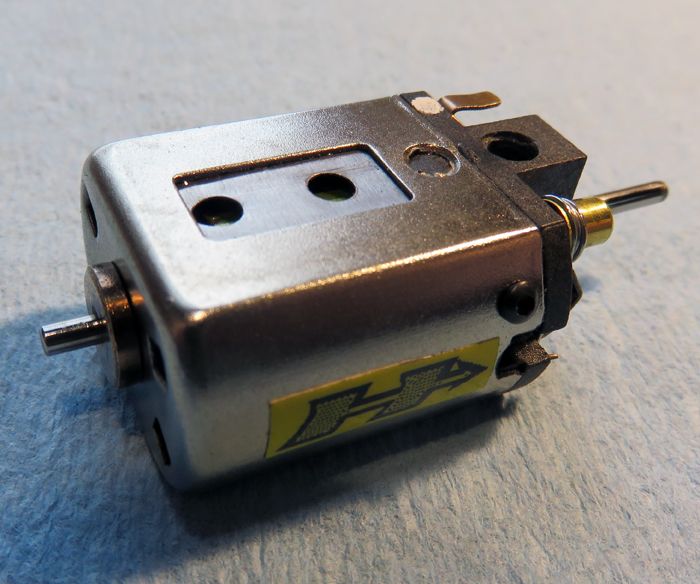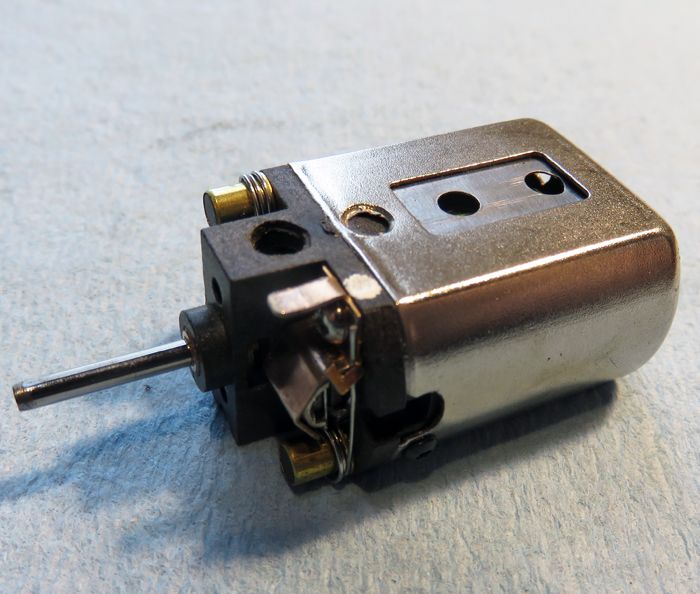 A lot of work went into what looks like a not-too-unique motor, but the result is a very smooth and fast motor that runs cool and is particularly efficient... only drawing about .3 of an amp at 6VDC and .4 of an amp even all the way up at 12VDC. So, it's all a generally slightly later (?) than second gen FT16D, but still vintage... except for my armature.
-john