For this project, I'm having another whack at an odd motor I haven't done in a few years. The motor is apparently a Johnson, made in Hong Kong, and the stock motor doesn't fit neatly into any of the familiar "size-families"... being smaller in most dimensions than either the 26D or the 16D, but taller (from bottom flat to top flat) than the 16D. Inside, there was a short stack arm using 26D-sized lams (.590" OD) and a set of very strong ceramic magnets measuring at or beyond "Arcos." 
The endbell is made from a very strong and quite heat-tolerant material that appears to be the same as what the Hong Kong Mabuchis were made from, but with an odd hardware and spring arrangement that's basically the same as the older Mabuchi FJ13UO, but with "vertical" brushes. To make things even weirder, there was a large brass rotating bushing carrier just like the Mabuchis, but with no groove for circlip mounting. Can material is thick, like the chrome 16D/26D Champions, but with what appears to be a gold zinc/chromate plating. Like I said, a very weird motor.
Here's a shot of the motor with the stock endbell. In this shot, I also turned the can sides on the lathe to clean them up. Why?... just because I wanted to see what that would be like. It's
not
something I will routinely do, now that I've tried it... but still, I got out alive.  
 I also flattened the top, bottom, and rear on my glass work surface with some 220 and then 400 paper.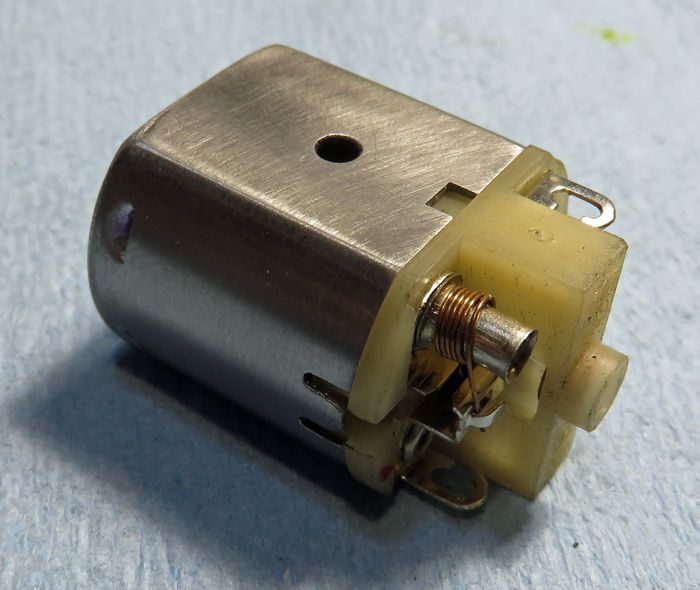 I then made up another "doo-dad" bearing/bushing adapter for the can end, and finished it all off flush after soldering-in the doo-dad. This leaves about the same interior space as the stock motor had, and a
much
more compact exterior motor.  You can also see that the can came with some nice beefy threaded mounting holes, so this bad boy will definitely go "can-drive."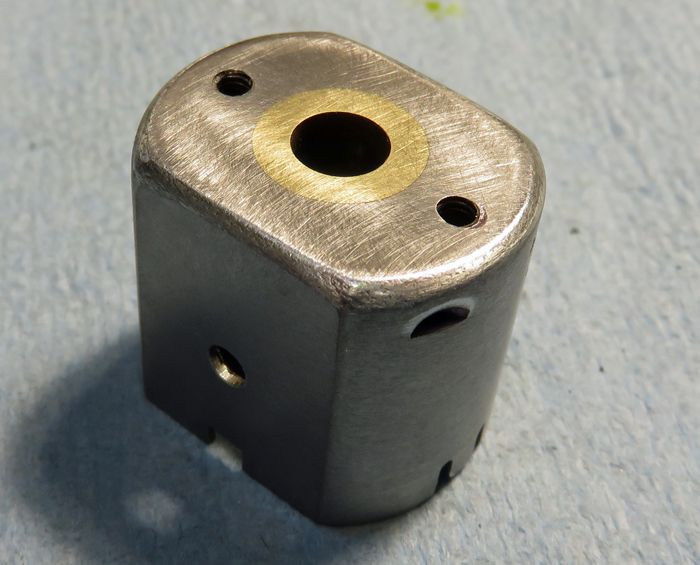 On the inside, you can see that there's plenty of depth for mounting screw thread engagement, as well as the doo-dad soldered in place.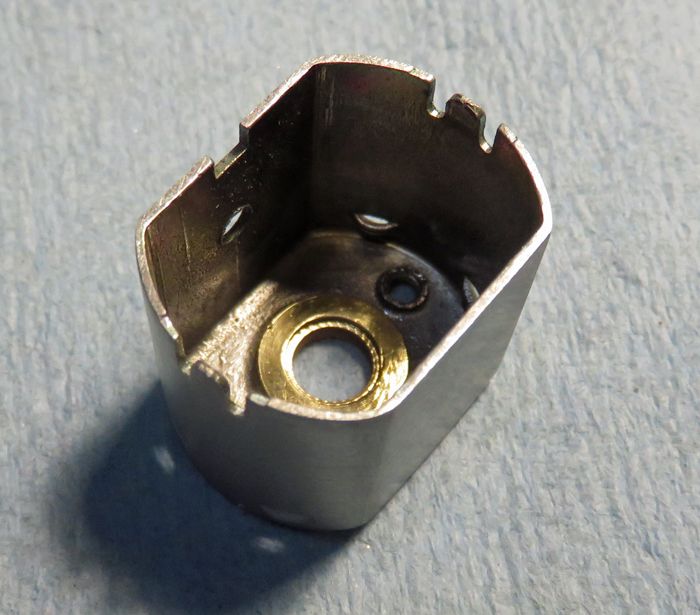 Here's a shot for size comparison with the Johnson in the middle, a Mabuchi 26D on the left and a Mabuchi 16D on the right. You can also see that I tossed the stock endbell hardware. I was able to get some Parma 16D hardware to fit after trying several options and that proving to be the closest to working of what I have. So now the motor is double overhead (or... double underhead
), and will use standard-sized horizontal brushes.
Here's a shot of the can sides after turning on the lathe. Like I said, this isn't something I would routinely do, but the stock bushing carrier was
just
large enough for me to chuck the can. Taking really light cuts, the can proved to be pretty darned nicely formed and didn't take much to get it all smooth, even and neat-o.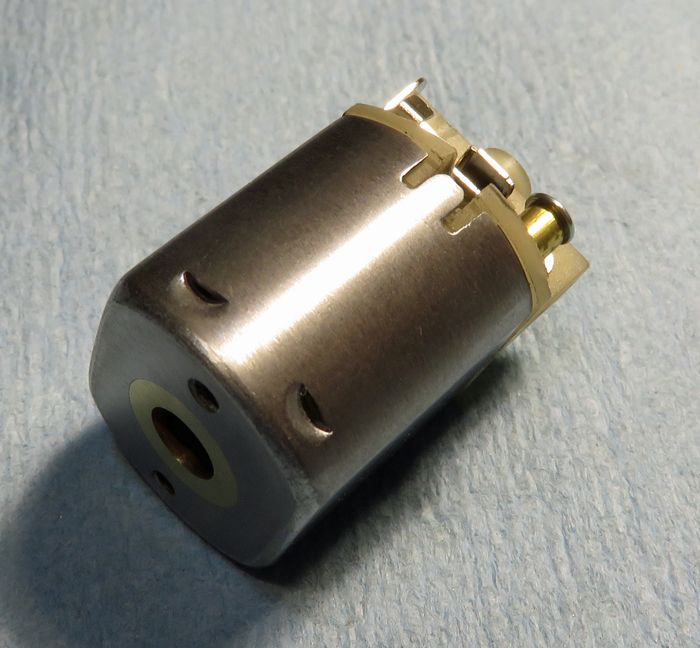 With the very strong magnets sized so I could actually use 26D lams, I'll probably use the slightly smaller .560" D motor lams for less rotating mass. That will mean shims and epoxy, a fidgety and messy job, but I think it all will result in a better motor.  
Last, with only the one small hole on the one side only, I'll probably open up the two can flats with some more holes. The magnets are plenty strong, and the increased ventilation can't be a bad thing the way I see it. For a wind, on a short stack like this one (I'll have to experiment to see what length stack I can comfortably use here), I'm not going to go too hot, and probably will add some extra turns for whatever gauge wire I end up using, than I would use on a longer stack. I
think
the stack will be not too far off from the stock length of a 26D stack minus the fiber end insulators which don't do anything for the armature, other than avoid shorts.
It will all add up to a lot of work, but for a (hopefully) unique and fast motor built for slots, rather than whatever application it was originally intended for. 
-john