A group of Mabuchis coming together nicely.  
The front four are of the Russkit 22/23 type and have had their blind bushings removed, with the holes reamed out to accept 2 mm x 5 mm through-bushings, with the cans also having been drilled for endbell mounting.  
For the color, I shot a coat of VHT yellow, and then immediately overshot a coat of the VHT "Universal Gold" on top of the wet yellow to brighten it up some. The VHT gold is quite dark, so this helped to give it a little more "pop." When that was cured, I shot two coats of the VHT Hi-Temp gloss clear, because the gold has a flat slightly rough finish like #600 sandpaper sort of. The clear doesn't have that much holdout over the gold to give it a good finish, hence the second coat. The good news is that the clear will flash quickly and then become dry-to-the-touch in minutes, so I could back up the first clear coat in no time. Over paint (as opposed to bare metal), the clear has an almost lightly frosted/slightly "milky" look to it when air-dry, but final-cures to a smooth gloss after oven-curing.  
Anyway, the final effect is pretty nifty-looking and way better than typical rattle-can gold which is really fragile and easy to mar. Then again, even the original Russkit gold was probably the least durable of all the old Mabuchi colors. This still isn't as bright as the old Russkit gold, but should prove to be better able to stand up to handling and just plain old "use."
In the background, I dug out a Cox FT16D can and put the shine to it, and to finish off the group, there's an NOS "Olsen" FT36D. These will all be wound to be what would have been nice, but not "stoopid" period type motors, making for a group of "nifty old Mabuchis"!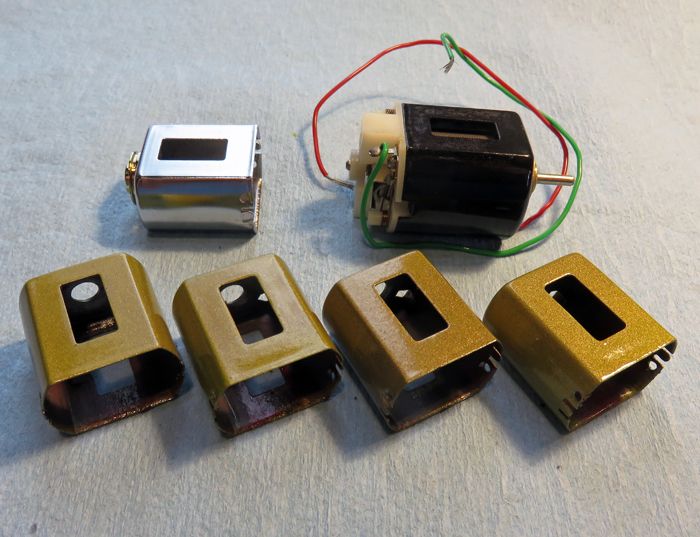 -john