We had some great racing on the Vortex track here at "Daybleville" Wednesday evening, we even had a couple of firsts. Rick Schonfeld and I had the first ever race in Arizona with the Marco Guerrieri Nonno Slot lexan F-1 cars and Steve Hill won our ArizonaGarageRacing Sidewinder Class with a SDI Benchworks prepared Thunder Slot Lola T-70. And if that wasn't cool enough Mr. Stan Ferris shot this cool video of an exhibition run of our 1/24th scale Can-Am class. Nice work Stan!!!
Stan always adds the upgrade!
Rick Schonfeld came up from Tucson for a day partly of work and partly racing. I knew he was going to be earlier than our normal 5 P.M. start time so I asked our crafty Mr. Ferris to swing by in the morning and help me assemble the track. We did that and even worked on one of the joints that needed fixing.
So when Rick arrived at 3 ish I had been to the store for snax and ice and had some adult beverages chilled and we tuned and practiced and caught up on the latest until I asked him if he'd like to race our new Nonno Slot lexan F-1 cars.
These babies were fresh from the boxes basicaly, we each had run a few laps and he had trued his rear tires but they were pretty much stone stock.
We've never had cars come out of the box better than these!!!
This was the first First
He had two minor problems, a wire came out of the guide and he had a slightly bumpy front tire Nothing major at all.
I had a slightly better motor and managed to get a win which rarely happens against Rick.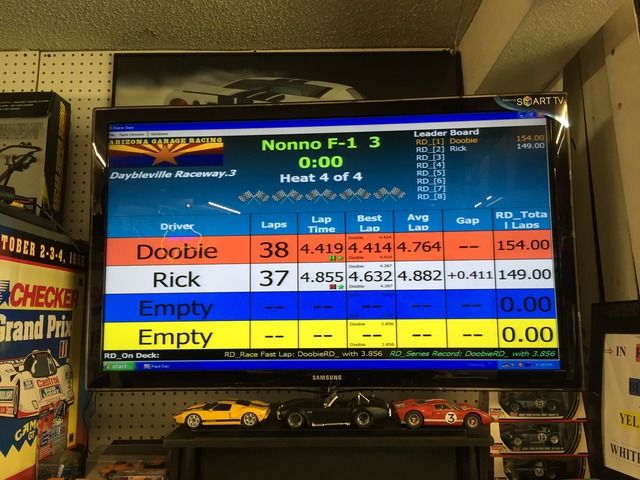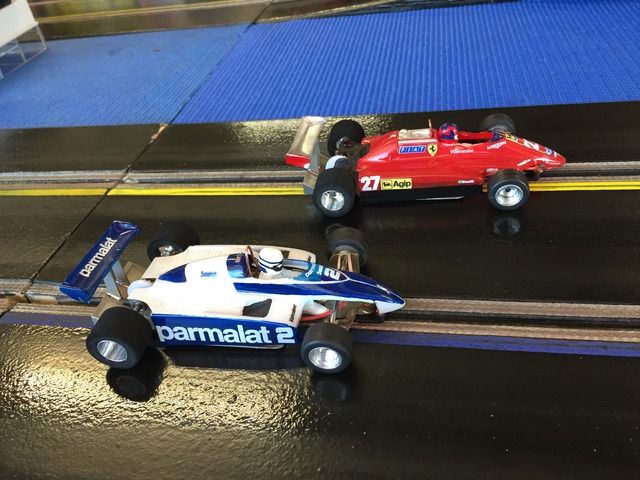 Pretty soon we had a bunch of racers show up and we decided to race 1/24th Aussie V8 Super Cars from Slotworx in where else? Austrailia Mate!
It was a crazy fast and wild race on my tight little track but Rick and I again battled and it was his turn to take the win by one over me followed with Slammin Steve Hill not far behind.
After that one and running the Can Ams for Stan's video we lined up our Sidewinder class and had another close race with Slammin Steve taking the First ever win for a Thunder Slot Lola T-70 here in AZ. I had a feeling they were going to be good in this class and he did the work and had a great race!
I managed another 2nd and Mike Paquette took a a close third.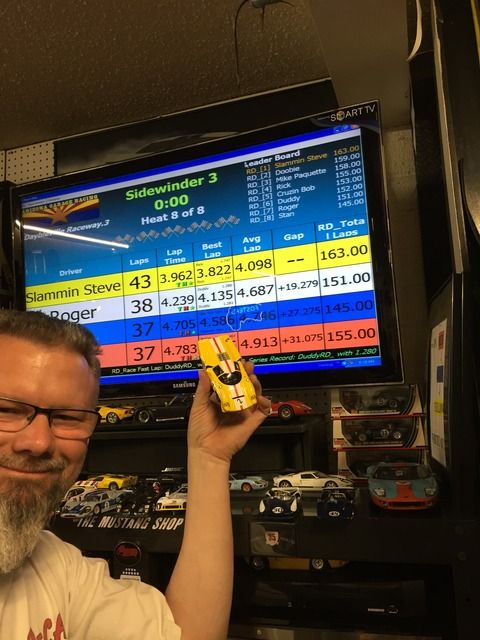 Last race of the night was Rick's 1/32 NASCARS. These are Scalextrics, SCX and Carrera cars running 3D printed chassis and mostly Slot-it parts. The controlling factors are that they must run Super Tires silicones and they must run a 21.5k motor. Oh and no cutting stock bodies and interiors... I put all four cars out and we run an IROC type race and this time I think I got the cars perfectly matched  to the lanes. Just look at how close it was! Too bad Rick and Stan had to leave!
Dave Duddy got me by a few feet and then behind us everyone lined up just like the computer says with 148 and even Steve with the 147 was not too far from the counter.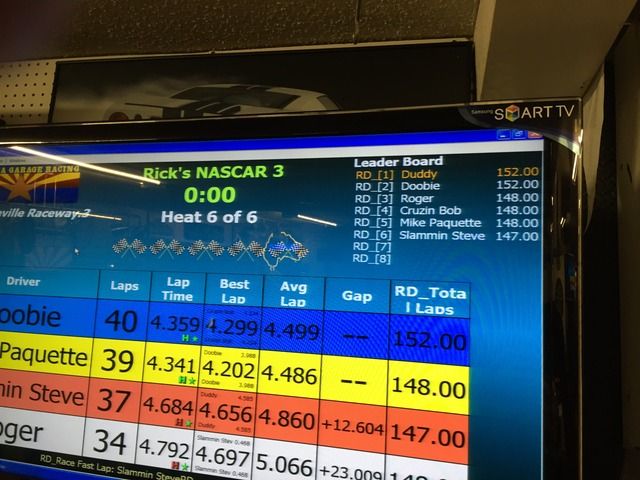 What a great night with good friends!