Here is my '55 I built awhile back. It was not built to any specs or rules for scale drag racing. I have never built a drag car or ever raced them in scale models (only the real cars 

). 
It is somewhat both 1/32 and 1/24 scale. The tires/wheels are oversized for a true 1/32 as well as the hood scoop and exaggerated wheelie bars. I just wanted to build something that resembled the American Graffiti/Two Lane Blacktop car "gasser" look  and resembled something "Rat Fink" would be seen driving around sticking out the roof with a shifter in hand.


 
I made the chassisout of a piece of aluminum square tubing (because it was different). It was laid out using a chassis jig. I made and hand-sawed it out with a coping saw and a narrowed down steel hacksaw blade. It was a matter of measuring the frame rail height with digital vernier calipers and scribing the cut lines with a set of dividers, cutting with the coping saw and hacksaw blades, then finishing off with both a Dremel sanding drum and hand files. The motor mount is removable and a bit of a pain to build as I remember. Wheelie bars are adjustable and easily removed if desired?
 


 
I used a Classic brand drop arm to help fab the car, then replaced it with a longer one I handmade to fit the chassis. I had it anodized after it was fabbed. I did it in a gray anodize to kind of reflect my love of the Classic Industries car chassis. 
 


 
The body is out of an old Monogram 1/32 scale "snap-together" kit. I started on that body 30 years ago! It has the added hood scoop to resemble the one in Two Lane Blacktop.I t is a 1/24 "Grumpy Lump" made famous by Pro Stocker Bill Jenkins. The rear wheel wells were radiused to do the rounded wheel wells seen from the '60s gasser era complete with the slicks sticking beyond the wheel wells to complete the look.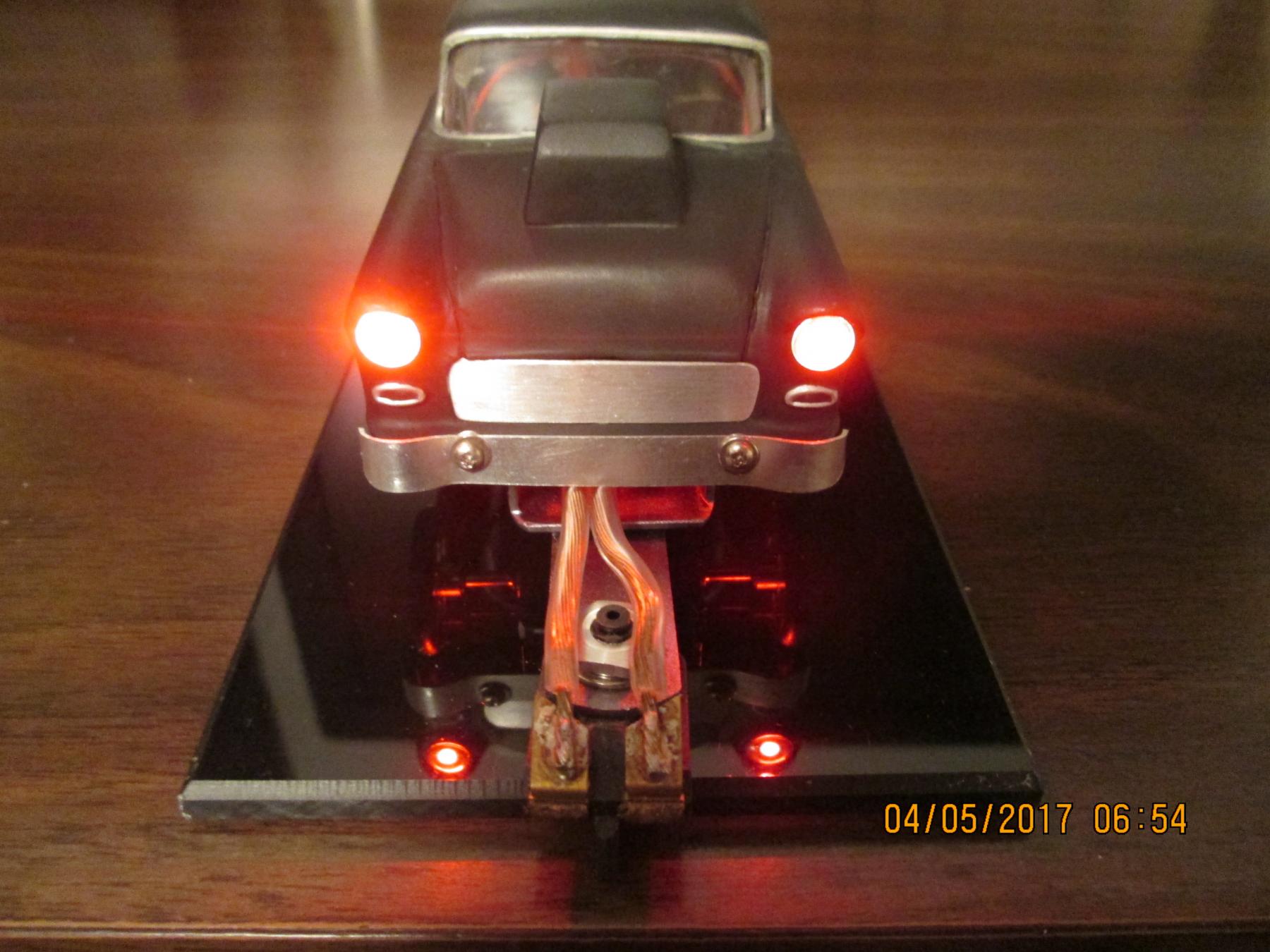 It has working headlights also. Head light lenses were sourced from HO scale train replacements. The bumpers and grill insert I made out of .020" sheet aluminum. I thought the solid grill looks better than the kit plastic one and more '60s era "race." It is a complete car minus a motor. Was never able to figure out what to buy for a good motor to drag this thing?? (I still wouldn't know what to buy for a motor????Gearing either??? 
  )   I really don't even know how good this car would even run? Still do not know what the chassis weighs either.?
 
I know it is not a Parma Edge, JDS, WRP, etc. chassis... it is just something I wanted to do.