Actually I don't mind paying reasonable taxes so long as they are spent to Keep America First!
(This may not be the opinion of the entire group.)
Last years race was pretty awesome and I decided to make it a major yearly event to be the open garage season ending bookend to the season opening Black Friday Blowout which is now going on 9 years in 2017.
Steve Hill and I started setting up the tent at 6A.M. and by 7 most of the crew had arrived and we set up the Vortex track using all 5 sections.
I had not really planned this in advance and a lot of the group had already made plans or had work scheduled.
Those able to attend were Pete Vespender, Steve Hill, Stan Ferris, Myself, Rick Schonfeld and Roger Gunning.
Bob Scott and Mike Paquette were working on the drag strip and the big flat track for Roger's soon to open Speed and Sports Hobbies at 9333 E. Main St. in Mesa AZ.
Look for it to open soon!
So the track was up and running by 8 and we relaxed and settled into a pretty good pace running 9 races in 10 hours.
First was 1/24th BRM. This was scheduled to be a mixed race with any cars by BRM it turned into a 917/512 race except for my Toyota GTP because my 512 threw a tire in practice...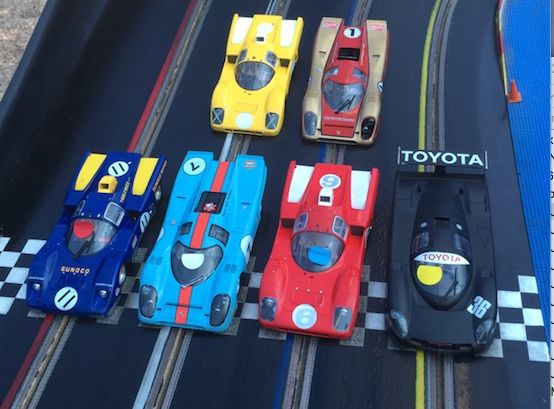 Rick smoked us with that gorgeous red and gold 917. I followed with my Toyota and Stan passed Roger on the last lap for a podium finish.
Next was 1/24th Can-Am
Photo by Rick Schonfeld
These are Tamiya slot bodies or model kits mounted on "nut and bolt" chassis such as Scaleauto, Plafit and Slotting Plus with 25,000 RPM motors and silicoated tires.
They look great and they're pretty quick.
Rick nailed this one too and left something for Roger and me...
We moved right into Fly Classics. One of our favorite classes.
Photo by Steve Hill
Rick did it again! Followed by Roger and Stan.
My car broke, Steve's car REALLY broke!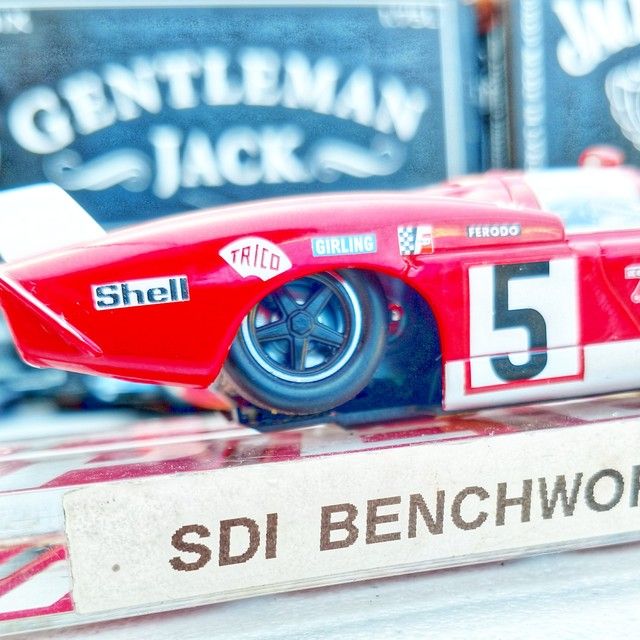 So... Will Rick win ALL day?...
We jumped into Racer/Sideways Group5
And Stan, Steve and Roger were having none of that!!!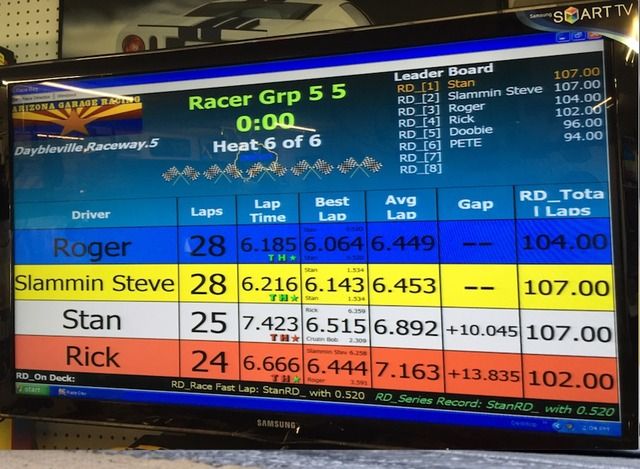 Next was Slot-it "Foams". Slot-it GTP/Group C cars with no magnets and Scaleauto SC-2009 rear foam tires.
I didn't get a picture of the field but here is my newest riding on a 3D printed Pip Slot SL-84 chassis.
Well Rick won again but Steve and I were not making it easy...
It was right around this time that we took a break for pizza and BS when the hair popped up on my neck and I saw this old gal riding by...
That's when all hell broke loose and I thought we were in Kansas! Our perfect 80 degree day decided to fart in our general direction and at one point three corners of the tent were in the air! Canvas was flapping and 1" X 10' steel poles were falling and Stan was walking the deck like an old Swedish Sea Dog.
I grabbed ropes and weights and we anchored the now somewhat differently shaped structure down and the wind turned into a nice gentle breeze again.
Thank the Gods that no one was hit by a pole. They will always be bolted in place from now on.
So we finished eating and fired up our H&R Sportscars.
With all the excitement I didn't get a picture of the lineup but here's the screen and look, Rick got this one too. Man he's good!
Steve and Roger finished second and third and my poor 917 ran it's last race with this body and rear tires missing chunks of silicone...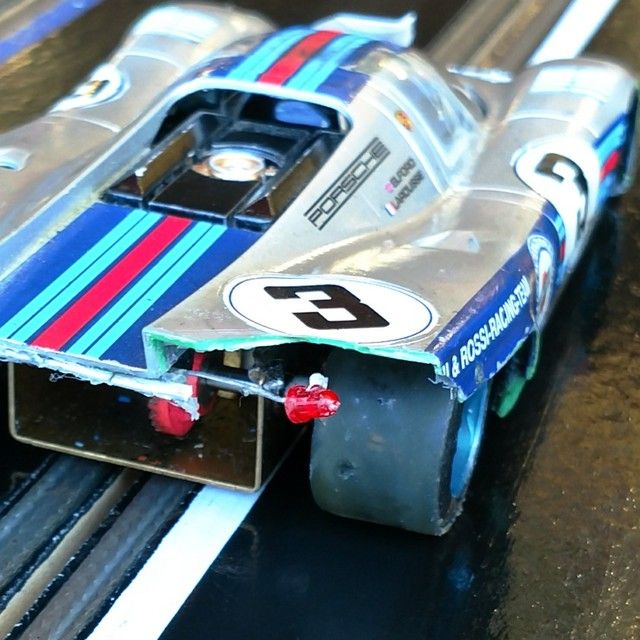 Photo by Steve Hill
JK Indycars next!
These are one of my favorites and I've had some really good races lately...
They are Raceway style 1/24th Flexi chassis with Lexan bodies and look more like modern Indycars  (2012 DW-12) than anything else running.
We allow normal, basic Flexi tricks like bracing the axle uprights and soldering the bushings in but other than that and silicoating the rear tires they are stock chassis, motor and gears. And mines pretty fast and handles great. This race put me three for three! Roger's is fast too and he was half a lap back followed by Rick in third.
Next : Aussie V8 Super Cars
If you aren't racing these you're missing a ton of fun. They're a lot like the real thing.
Great adjustable chassis and a lexan body by Cam Neilson in Australia. He calls them Slotworx.
Rick did it again with Steve 2nd and Pete in third.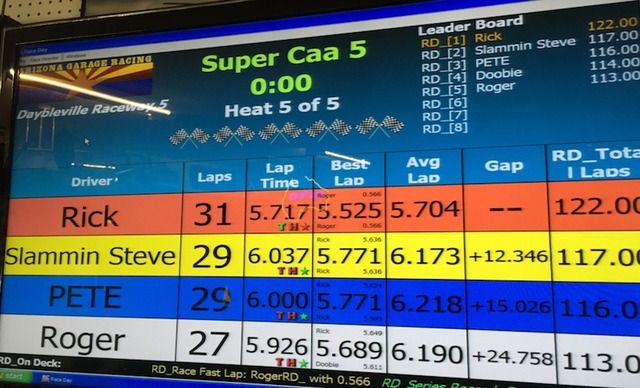 So it was getting late, My feet said so and we were going to Run our wild and crazy 1/32nd NASCAR class but Roger wisely suggested something that would require less marshaling and so we broke out our 1/24th Scaleauto GT3 cars and had a great race.
Steve got this great shot of Rick's Viper launching off the top of the Vortex on it's downhill run into "The Valley of the Shadow of Death".
Rick took his final win (I've lost count!) while Steve and I did our best to keep him from kickin our butts!
What a great day for Mr. Rick! Congratulations !!!
So it was getting dark and everyone pitched in and helped put the track and the tent away (Thanks!!!) and made the trek home.
It was a really nice day of racing!
Adios.