Mark's Model World in Canton, OH, was host to the round 2 of the FNRS on June 2-3, 2017. A total of 34 different drivers from eight different states came to do battle in Northeast OH. Track records were established for all classes on the MMW's beautiful and fast Gerding King track. We had a total of 78 entries for the three classes raced.
A packed house on Friday night had racers testing and tuning many different combinations between the three classes. Over 13,000 laps were logged from opening time on Friday until closing time. Lots of racers helping other racers on their cars, tuning, and ideas and there was lots of benchracing taking place.
Saturday morning had several more racers showing up and the track was full from opening time until tech opened promptly at 10:10 AM for the LMP class. Qualifying for LMP got underway about 11 AM. with 27 entries which was split into four mains with six in the D and seven each in the C ,B, and A mains.
LMP Concours winner was George Spry.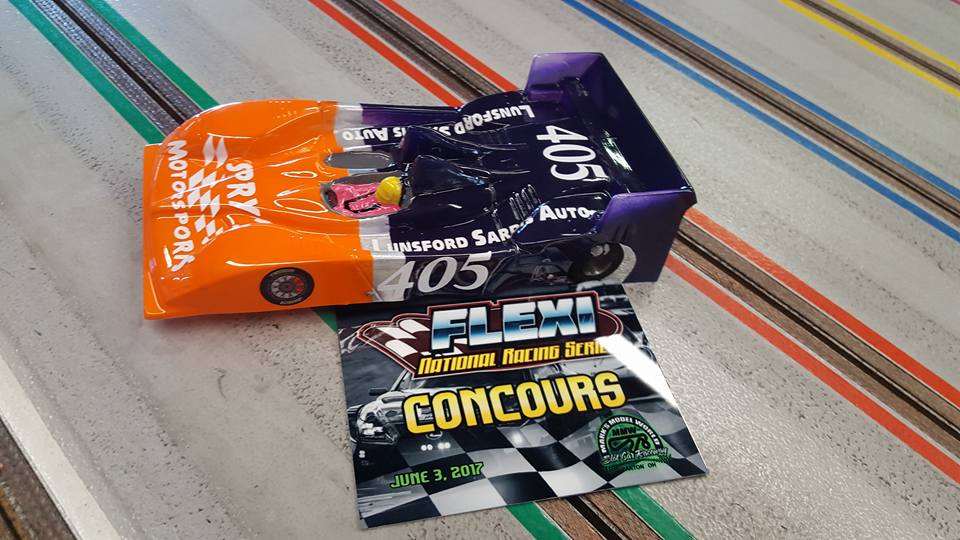 Top Qualifier in the LMP class was Greg Mayer from Pennsylvania running a very fast 3.804 and OH's Greg Fox was second quick at 3.845.
In the LMP D Main it was Jack Nickel from New York and MMW's Dave Gardiner battling it out for the win the entire distance of the race; they were within a lap of one another the whole race. Dave squeaked out 217 laps for the win with Jack Nickel second at 216 laps. Third was MMW's Bill Fulmer with 211 laps followed by New York's Jim Harter 200, George Spry from North Carolina 199, and Pete Reams from NC 195, Fastest race lap was Jack Nickel at 4.218.
The LMP C Main was a runaway win for Indiana's Joe "Dirt" Liguori with 228 laps followed by NC's Matty Haines 223, Michigan's David DeCoster 222, Bob Foster from MI 218, Anthony Brown from NC 217 & Pete Reams from NC with 195 laps. Fastest race lap was Joe Liguori at 4.052.
Off we went with the LMP B Main. James Johnson of GA, Shane Parent of NC, and Ralph Middaugh from OH were locked in a battle the entire distance with James pulling out the win with 230 laps, followed by Ralph 228.12, just beating out Shane's 228.08. Fourth went to Den Krivacek of PA with 224 followed by MMW's Jeff Middaugh 222, NC's Bobby Beauchemin 220, OH's Ross Scharf 216, and MMW's Tim Burton 45 DNF. Fastest race lap was Den Krivacek at 3.973.
The fastest seven qualifiers lined up for the A Main. Greg Mayer was the leader after heat 1 and ran into trouble into heat 2, handing the lead to MMW's Greg Fox who steadily pulled away for the win with 240 laps. Second was OH's Eric Shirey 237, followed by GA's Ralph Thorne 235.04, OH's Bud Bartos 235.02, NC's Russell Martin 233, Terry Watson from IN 224, and Greg Mayer 41 DNF. Fastest race lap was Terry Watson at 3.815
Overall LMP results
1) Fox - 240 laps
2) Shirey - 237
3) Thorne -  235.04
4) Bartos - 235.02
5) Martin - 233
6) Johnson - 230
7) Liguori - 228.15
8) R Middaugh - 228.12
9) Parent - 228.08
10) Krivacek - 224.01
11) Watson - 224.00
12) Haines - 223
13) Decoster - 222.16
14) J Middaugh - 222.05
15) Beauchemin - 220
16) Foster - 218
17) D Gardiner - 217.08
18) Brown - 217.01
19) Scharf - 216.11
20) Nickel - 216.10
21) Fulmer - 211
22) Harter - 200
23) Spry - 199
24) Reams - 195
25) Espinosa - 191
26) Burton - 45
27) Mayer - 41