Fellas,
I won one of Slotblog's own dc-65x's eBay auction a few weeks ago and in it was a really cool-looking painted 1/32 Mecom Lola. The auction mentioned something about it being in Bill Sippel's estate but I'm not really knowledgeable about all that, maybe Rick could fill us in on the details....
Anyway, the body is really nice and I finally got round to building a finished car with it.
The chassis is a Dynamic endbell-drive 16D rear motor mount. I made sure to get the guide tongue measured just right and chopped it down with my mini mitre box and hand saw that I've had since high school architecture class. Wheels are 1/32 Cox Ford GT. Guide is Cox with a Professor Motor 3/16" guide flag collar. Lead wires are Champion super flex. The motor is an unknown brand - I took it apart and replaced the stock arm with a REH Rocket 26... also replaced the stock endbell with a Tradeship. That was... interesting... the fit was not good so I spent a good hour sanding and filing the endbell to fit the can. The motor runs hot, pulls a good 2.5 amps at 4V, which I'm sure is due to my poor craftsmanship!
Tires are reproduction jobs from an eBay seller from Canada. They worked great on the Cobra GT so I thought I'd give them a go. The body mount bracket is Ulrich positive body mount. They are on eBay and look almost made for Dynamic frames - the holes line up well. Due to lack of clearance, however, instead of using screws I Ducacemented the mount to the frame. To hold the body to the chassis I used Velcro.  

Taking the pictures just now it looks like I broke the glue joint holding the mount to the chassis but luckily the Velcro stickyback is holding everything together. Quite a mess I have here, but whatever, I'm happy with how she looks. She's no Cobra, but I am happy. 


Enough reading already, here's some pictures!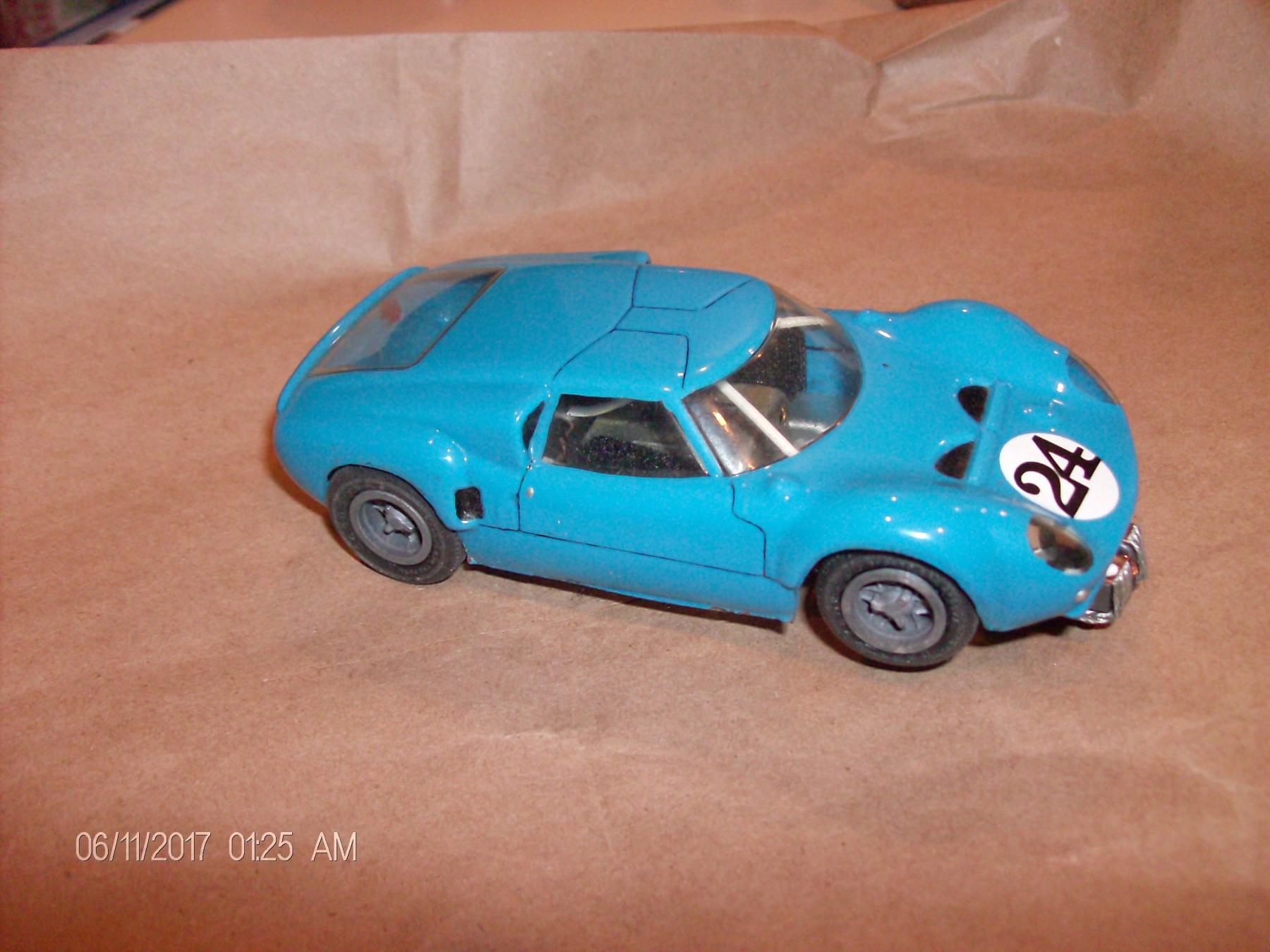 Comments and critiques welcomed gents, I wanted to have her on the track today but I chickened out. Maybe tomorrow!

Mikey