Can-Am on the Figure 8 – 9/12/17
After a three-week hiatus to allow Richard and Sue to take a much needed vacation, Retro Racing returned to MVH this week. Eight racers showed up to run Can-Am on the Figure 8. The race was run in the 4/4 format.
8 Can-Am Cars in Tech: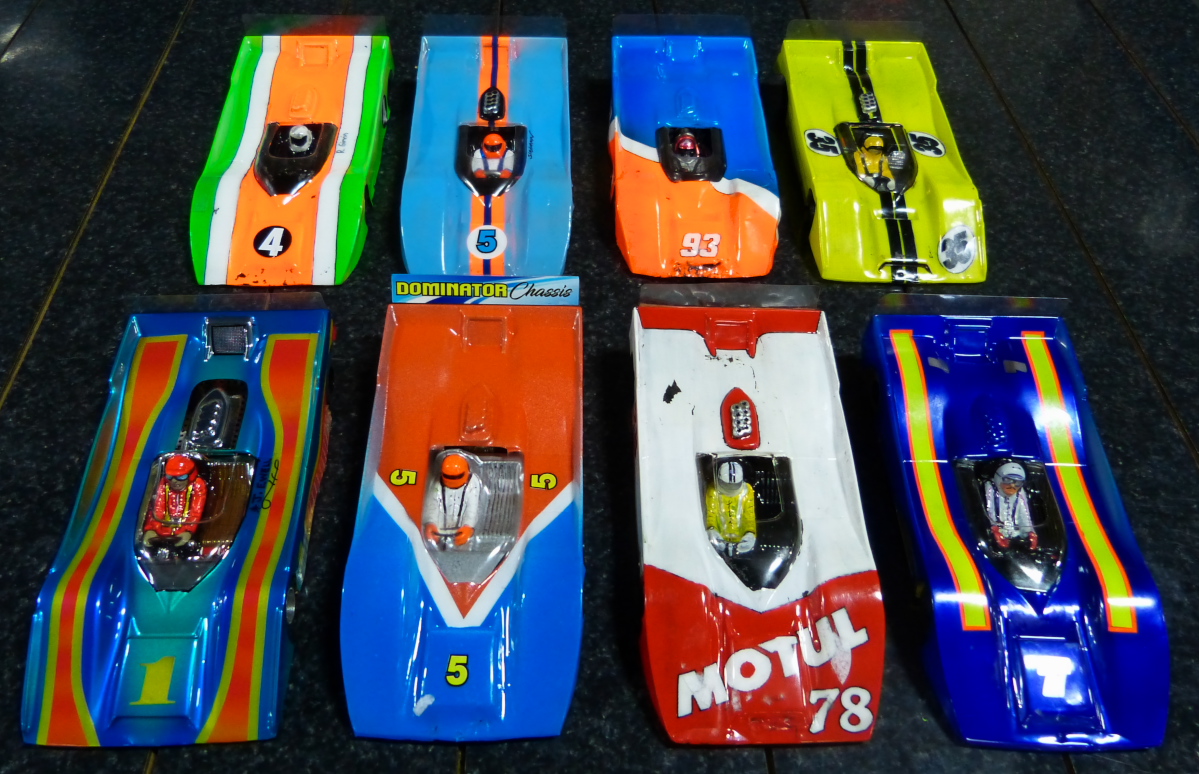 Considering the length of the layoff, the driving was fairly clean and controlled and, after some early excitement, track calls seemed to be at a minimum in several of the latter heats.
Ray Lee and Peter Lentros jumped out to an early lead with both turning identical fast laps while Dave Panich, Richard Payne and Rich Girvin were all trying to match their pace. Unfortunately, after a couple of heats Ray's motor started to slow and he fell out of contention.
At the halfway point, Peter had logged 211 laps to put him in 1st place with a 2-lap lead over Dave. Richard P was in 3rd place, 4 laps down to Dave and 2 laps up on Rich G.  Dick Griffin's car was fast and he was driving well as he logged 198 laps and was tied with Ray. Tom Smith was in 7th with 193 laps while Justin Ewell was one lap back to close out the field. 
There were several heats where two cars were side-by-side for almost the entire heat. One of the best of these races-within-a-race was between the two Richards, though Rich G. clearly had a better second half as he closed the two-lap gap between himself and Richard P.  When the checkered flag flew, they both had logged 411 laps but Richard P. held on by two track sections to take the bottom step on the podium. 
At the front of the field Peter managed to slightly pull away from Dave to take the win by over 6 laps, while Dick G. (who was very excited to log a total of 400 laps) bested Ray by 5 laps to claim 5th. Justin came back (somewhat) in the second half and managed to squeeze by Tom to take 7th place by 2 laps.   
Finishing Order, laps recorded, best overall lap time and lane:
            1)      Peter Lentros             423/3     3.241     PU
            2)      Dave Panich               416/9     3.288     PU
            3)      Richard Payne            411/10   3.288     YL
            4)      Rich Girvin                 411/8     3.296     PU
            5)      Dick Griffin                 400/8     3.351     YL
            6)      Ray Lee                     395/4     3.241     GN
            7)      Justin Ewell                386/11   3.397     BL
            8)      Tom Smith                  384/0     3.460     GN   
     MVH Tuesday Night Retro-Race Schedule for the remainder of September: 
            09/19/17    Coupes on the Royal    
            09/26/17    Stock Cars on the King
Cars on the Podium (L to R): 2nd Place – Dave Panich, 1st Place – Peter Lentros, 3rd Place – Richard Payne
Peter's 1st Place "Dominator" Chassis:
Dave's 2nd Place "Sledman JK X25R" Chassis:
Richard's 3rd Place "Jersey John" Chassis: