Testing the JK Premium tires in a new Can Am and other cars:
As most already know, the JK premium tire is now out on the market. This tire has a tighter pore structure than the standard tire and it somewhat resembles Kelly Retro rubber. I got the chance to test these new tires last weekend at Frank Sarkela's Slot Car Raceway in Rohnert Park Ca, site of the very recent Div. I Nats. I tested both the small and medium hub premiums on the fairly flat King track and the Twisty Testarossa road course.
This pic shows the TestaRossa flat track. The interconnected turns at the left side of this pic, and the second half of the downhill donut on the right, are the critical parts of this track. A very good Can Am car will run in the 5.4 sec range with 5.3 being exceptional.
This shows most of the turns on this fairly flat King track. The 90 and the donut are somewhat banked while the deadman, finger and leadon are flatter than most. A good Can Am will run 5.3 sec here on most days with 5.2 or very occasionally a 5.1 showing up when the track is just right. One of our anglewinder Coupes will go 4.9 - 4.8 with a rare 4.7 on occasion.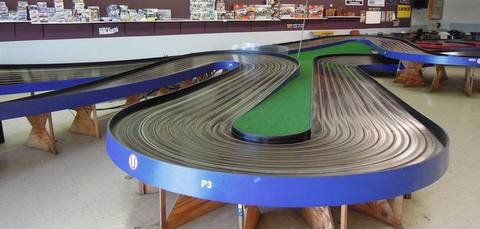 Interestingly, JK calls the 8713 standard tire a "Big Hub" while the Premium with the same hub is called a "Medium" The JK 8703 (small) and 8713 (med) have been my 90% go to tires on all the cars shown below. All tests were done with a 5 lap warm up and then 5-8 laps @ ~~ 95%. Best time and best three out of five consecutive were noted. Any "hair" laps or overdriven laps were discarded.
This Can Am is a tried and true flat track car that I've shown before. This is 8 rails/side of .047 (4 brass, 4 steel) and has a RTR weight of 108 gr with the center weight out. This car is also excellent on flatter speedways or even on a more banked track whenever a heavier car is called for. The main characteristic of this car is that it is very smooth and damp. This was tested on the King track with the center weight out and a RH motor. On the flat track, it was tested with the center weight in and both a RH and a TSR.
Baseline King Track: JK 8713PP = 5.33 best with 5.36 avg. for 3 out of 5. This is my usual setup and felt good as always. Slightly loose out of the bank and exiting the finger.
JK 8703PP = 5.32 best with best three - 3/5.38. Felt fast but a little critical on exit.
JK 8703PP narrowed = 5.29 best with best three 3/5.34. Less critical on exit.
JK Prem. Sml = 5.28 best with best three 3/5.34. More stable out of bank and finger than naturals. Faster in donut.
JK prem. Med = 5.24 best with best three 3/5.29. Best out of flat finger turn. Might be even better narrowed.
Baseline Flat Track: JK 8703PP narrowed = 5.44 best with best three 3/5.48. Good as always and just right through the twisty esses. Not super fast laps but good to race.
JK 8713 PP: Not my usual but surprisingly good today. 5.42 best with best three 3/5.49. A little critical in esses.
JK 8713PP Narrowed: 5.38 best with best three 3/5.42. Better esp in esses and downhill donut.
JK prem. Sml = 5.48 best with 3/5.53/3 Too much bite in the esses.
JK Prem. Md = 5.46 best with 3/5.55. More critical in most turns and esp in the critical areas.
Conclusion:
On the King and this car, the premiums were better out of the bank and in exit from the finger. More bite/stability without being critical in exit of the flat turns. On the flat track, the opposite was the case. The premiums exhibited too much bite in most areas of interconnected turns. Could do an occasional fast lap but had to be very careful.  
This is a new Can Am modeled after the first one. I actually finished this quite some time ago but have been so pressed for time that I haven't had time to even get a lap with it. This one is 6 rails/side of .047 (3 brass, 3 steel), and has a couple of rear weight pans that along with the center weight in place, bring it to 104 gr. This is also a shorter wheelbase and guide lead than the above car. The goal for this one was to try to get the smooth feel of the first one with a shorter and lighter car that could be a little faster on a speedway type track.
Baseline King track: Don't have a proven baseline for this car. These were the first laps on it even though I finished it a couple months back.
JK 8703PP = 5.28 best with 3/5.34. Fast right off but released quickly if pushed too hard.
JK 8703PP narrowed = 5.34 best with 3/ 5.40. Less critical on exit but too loose. Wrong direction here.
JK Prem. Sml = 5.26 best with 3/5.31. More stable out of bank and finger than naturals.
JK prem. Med = 5.28 best with 3/5.30. Best out of flat finger turn. Very consistent, might be even better narrowed.
JK prem. Med narrowed = 5.22 best with 3/5.28. Best out of flat finger turn. Best in donut, still stable out of the bank. Could be driven harder. Couple hair laps in the 5.1's
Flat Track: Tried to establish baseline with 8703 PP narrowed, and TSR motor. RH was too "hot" in this light car. Best 5.48, best 3/5.56. Could tell right off this was not great on the flat track. Added 10 gr (up to 114 gr.) and retested.  Got to best of 5.44 and best 3/5.52. Not easy to drive.
JK 8713PP: 5.46 best and best 3/5.58. Too much bite and car released too suddenly.
Premium sml: 5.42 best but best 3/5.58. Had to tiptoe in downhill donut and second half of esses. Could get a good lap but difficult to drive consistently. Not a great combo here.
Premium med narrowed: Didn't try the medium @ full width and went right to narrowed. 5.44 best but improved best 3 to 3/5.52.
Conclusion:
This car exhibited the same results as the first one. On the King, the premium tires were faster and more predictable, generally producing more grip on exit without being overly critical. This car hit the target as intended although I think it has more potential on a couple of our faster and more banked tracks. This car did not turn out to be all that great on the flat track but then again, it wasn't really intended as such. The car had a little too much grip in general and the premium tires did not improve the situation. The track on this day was perfectly set up for faster cars like GT-12 and up. On a day with more normal bite, the premiums might have fared better on both cars on the flatster.
The last test car is a 6X.039/side anglewinder. I've shown this car before and would say that it is potentially very fast all the time but it is also a little critical sometimes as well. This car is often the fastest in the field through the turns but can also react negatively to track changes. We run these on speedway tracks and very occasionally on road courses. Motor is a Pro Slot "Big Dog" in a JK Hawk setup. We run these with coupe bodies and I usually gear them around 5:1 to help manage the power in the not very high downforce package.
King track baseline: I usually run 8713 narrowed by maybe .050". This car is usually very good with times in the mid to low 4.8's common depending on the day and a little faster on that rare day. Today, it ran 4.83 best with best 3 avg = 3/4.86 and was little loose off and exiting the bank. I tested it as shown here with the center weight out and could have raced it just like this.
8703PP: Ran these at full width with no discernable difference vs the 8713. Times were similar.
Premium sml hub: Ran the pair that I had narrowed thinking that it'd have too much bite @ full width. Actually slightly loose esp out of the bank and exiting the finger. OTH was really good in the donut and leadon. Pretty similar to 8713 narrowed in times.
Premium med hub: Ran full width and was surprisingly fast. 4.73 best with best 3 = 3/4.78. It was very planted out of the bank and on exit of the flat finger turn but a little touchy there. Overall, it was slightly harder to drive but quite a bit faster than any other combo. Probably could have narrowed just a little but didn't try that b/c time was getting short.
Flat Track…..a shot in the dark:
We seldom run these on flat tracks but the TestaRossa was so good for GT-12 etc, I thought I'd try it. I ran it with the center weight in place along with a change to a 7t pinion for the flat track. Since I didn't have much time and no established norms at all, I took a stab with the 8703PP narrowed as a baseline tire.
8703PP narrowed: Set up properly, this car is not all that hard to drive on flat tracks. This tire ran 5. 19 best with a best three of 3/5.26. The TestaRossa was set up so well that I probably could have gone faster with some adjustments to my timing.
Premium sml hub narrowed: This was a guess and it turned out well. While the premiums were too bitey on the inline cars, this tire was very good with the hotter anglewinder and the very low gearing. With this tire, the car ran a 5.16 best with a best three of 3/5.25. With more time, I would've added some weight, narrowed the premiums a bit more, or tried a 5.4:1 – 5.6:1 gearing over the ~~ 5.3 that I had in it.
Concluding the conclusions:
So far, I'd say that while the JK premium is not a "magic" tire that is better at everything, it was clearly better on the King track today with three different cars. With the premiums in place both Can Ams and the anglewinder came out of the bank with less shake and could run the flatter turns faster but without a penalty of being unforgiving. I think that it will show very well on the more banked venues that we often race on.
On the flat track, the results were mixed. I think that for my driving style, the premiums had a little too much bite for the inline cars. I try to run the interconnected turns leading into and through the esses smoothly and with a little slide or "flow" through the transitions. For someone with a more "point and shoot" type of style, this tire could work out in their favor. This tire will definitely have a place in my tire quiver.