The September 2917 edition of Doghouse racing is in the books, and it was a favorable showing for track proprietor Richard Sylvester. This month, we had a smaller group, as this time of year brings numerous other events. You know, football, family, and more football.
The lineup of racers for this month's competition:
(Richard Sylvester, Dan Parker, David Erickson, Jim Beasley)
This month's specialty was Flexi races, and each racer brought their Cheetahs ready for battle.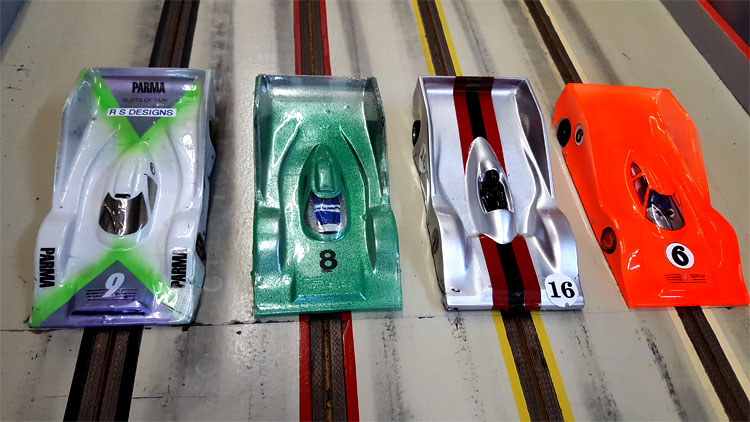 From L to R: Richard, Jim, David and Dan. We leave the choice of chassis, motor and gearing up to the individual racer. The only stipulation is that, at the end of the race, you need minimum rear clearance of .050. (We're very picky about preserving the track, and don't want to do any damage to the braid. It's a real pain in the a$$ to re-braid, as you know.)
As stated earlier, it was a good day for Richard. Although I challenged him early -- in fact, we both had exactly 207.77 laps, our cars side-by-side at the end of the first round -- I just couldn't keep up in the end. A little chassis and motor trouble in the second round forced me to fall behind.
The final totals:
Our race on Oct. 28 will feature IROC!  We have cars for each lane, built to the same specifications. As we switch to a different lane, we take use of a different car. It's very challenging -- and a lot of fun, too.
If you can join us, drop us a line. We always enjoy having other racers join the fold.
Good racing to all, and to all a good night.
jb