I got the call to build-up some nifty old Champion parts and wind an arm to fit.  A minty Champion end bell kit with all the bulletproofing and whatnot, along with a black Champion 16D can and a set of Blue Dots with my favorite can shim round out the package.

The details are that a bearing should be installed on both ends, the can end screw holes should be reinforced/beefed-up, and then a spicy arm wound.

For the can, I got one of the ones that had been hacked for axle clearance in an anglewinder, with one of the few pieces of metal back there removed. 




I didn't like that to begin with, so I used an "intact" one to start with and then removed a notch that resembles more of what the can notches up top look like.  Then, I cut up some metal from the one supplied and formed a second piece of steel to back up what was left, actually...half of the entire backside, effectively doubling (plus, when you count the epoxy) the metal back there, and really strengthening it all.  This was epoxied-in and while at it, I filled the outside of it to not only beef-up the screw holes, but the whole important back end...the motor is to be can-drive.


The big honkin' can bushing was removed, had it's oil boiled-out several times, thinned-out and reduced in diameter, then soldered-in.  Afterwards, it was reamed-out to accept a 2mm x 6mm ball bearing and epoxied-in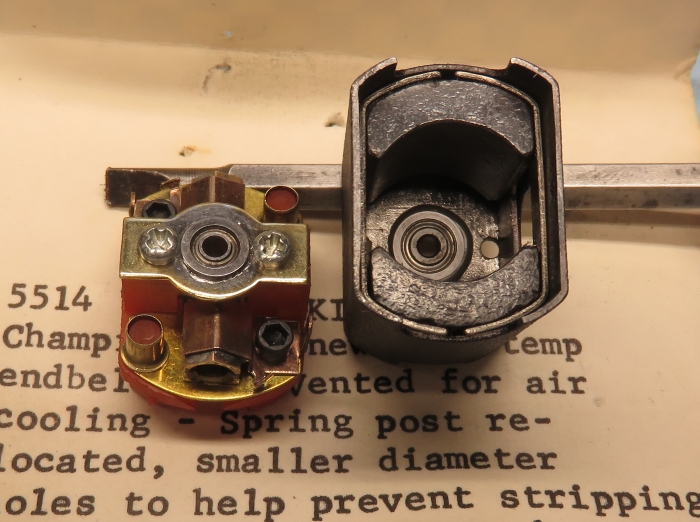 The end bell bushging hole was reamed out JUST to fit a 2mm x 5mm ball bearing that was soldered to the bushing strap (*which was also reamed out).  Then, two screws had their heads turned down so they wouldn't hit the ball bearing's flange...which would be a "no-bueno".  To finish, the hoods were silver soldered to the brush tubes, and the whole shebang assembled.

***Thank goodness, everything lines up perfectly, with a test shaft sliding right through the can and end bell bearings.  Unfortunately, the original paint got scorched, so a strip and repaint was necessary, but I think it's at least as spiffy as before.




With the setup done, I removed the old epoxy from the back of the Blue Dots and tried a test-fit to see what kind of hole we get.  It's pretty right-on with it being about .526-7".  Now I can get the mags and shims permanently installed.  With a .518" arm, I can have it ground even as far down as around .513-ish, and still be right there.  If you're going to do an old 16D, this is the way to do it.