Found these scarce Lancer "Porsche 917" bodies in an auction with a bunch of other stuff. I recommended to the owner of the LASCM museum to buy the lot because the museum did not have one of these in its original box. They are not hard to find loose, but this is a museum, not a hobby shop, we collect BOXED items! 


So the lot arrives, and the irrelevant corroded chassis (right side on the picture)  go in the trusty tumbler to see if they are worth any of my time, since they appear to be quite well built. There is also a chassis under that red battle scarred Porsche body with period Mylar air control stuff, that thing was raced hard. The body shows hasty repairs from a major crack bear its cockpit area... Mylar and staple city!




Then the surprise as I remove the body: it is not only a genuine 1973 Tony P chassis, but a real "Da Spyder", a chassis with the rear axle supported by 3 bearings, with the "Diamond" front axle, a clone of the types with which I did some serious clean up in 1972 and 1973 major races. I had never seen a "live" one, so this is kind of a prize for me and the museum, as we have now a copy by Lee Gilbert and a copy by Tony, which is extremely flattering to me. Thing is, these chassis cut lap times by 3/10th of a second with doing little else, so they did work. I wonder how many of these Tony built. This one says "Built by Tony P # 1397", but this encompasses of course all the chassis he had built for years before. As usual with Tony's stuff, it is beautifully built, somewhat stronger construction than my own actually!




My own to compare:




I washed the body from the grime in solvent, then with a toothbrush, soap and water, so it is now absolutely free of dirt or oily stuff. I plan to assemble the car with a genuine Camen/Pooch Champion C-Can motor (it's got a "20" in it but I got plenty of Pooch arms from that time), and all correct parts used by Tony at the time.
Great find, so I am not so unhappy with the price paid.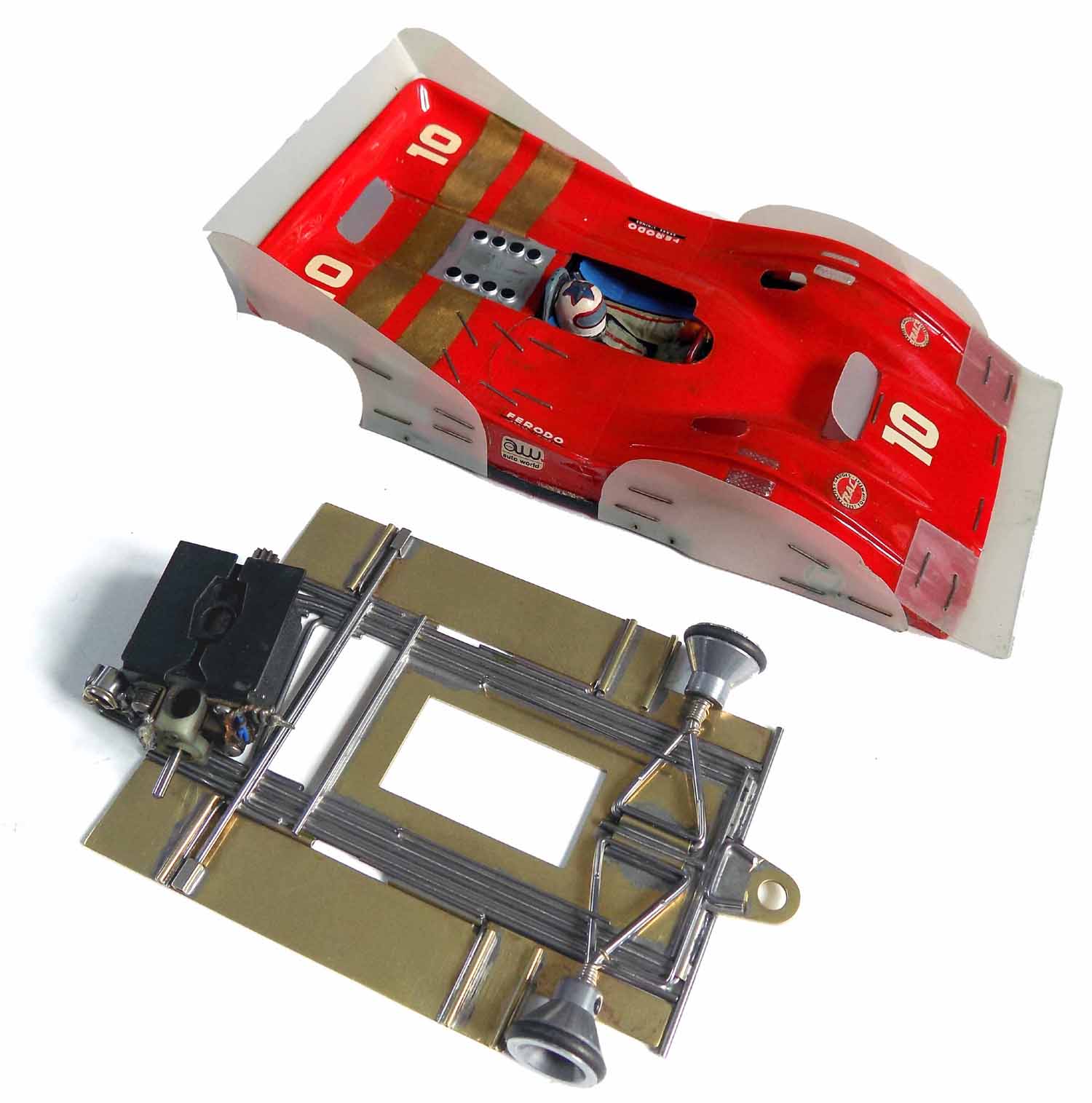 There are four other chassis, three looking like built by the same fellow, two quite conventional 1972 designs, combo of Steube and Gilbert, the other a bit more unique but likely by the same fellow, with a steel center and an "ISO" front acle lifting from there. It weighs a ton and might have been effective against massive on-track glue...




The last one must have been built in 1976 or so, and features one of the earliest forms of drop-arm center hinge I have seen.




Would be great if one of the older East Coast racers still having all his teeth and not yet in a wheelchair, could light some info as far as who this car belonged to, and who built these chassis,as they are really well constructed, no amateur jobs here.