The continuation build. Felice Bonetto's and Giuseppe Farina's Alfa Romeo 159, #40 at the 1951 Italian GP at Monza (where else?). 
I still have to give one more gloss coat, (I found out that you could do a base coat with Tamiya Gloss, then apply the decals, darken shut lines, etc. Then spray Tamiya or Testors matte, and add louvre and exhaust weathering.
Then
give a few more coats of gloss to get that 1950s lacquer look, all without wrinkling the decals.) it still needs a couple of heated thin coats to finish it off (but winter came yesterday).  
Anyway I digress... this was originally Felice Bonetto's ride, but the 'Ace' Farina was an early retirement in car #34, and he was later able to take over driving Bonetto's car. He was very quick but the fuel tank was leaking and so he had to make an extra two more pit stops, but he was still able to finish a commendable third. Alberto Ascari in a Ferrari 375 was the winner. 
Initial stages of getting everything to fit. After I removed several louvres, blunted the tail, and generally cleaned her up. 
A little bit of cockpit detailing has to be done, and oh yes... it's a modified George Turner body with a great Richard Mack rattle plate chassis, (that's what you see under the car).
Oops
I almost forgot, and the usual fantastic Peter Seager-Thomas wheels. And Indycals decals; thanks, Michael. The driver is an Immense Miniatures, Tamiya, George Turner, Le Man's Miniatures mixture. 
She still needs a little extra work, maybe some suspension detail, and hood handles, louvres are shadowed but the directs lighting bleaches out the subtle effect. But you can see the sheen on the bodywork.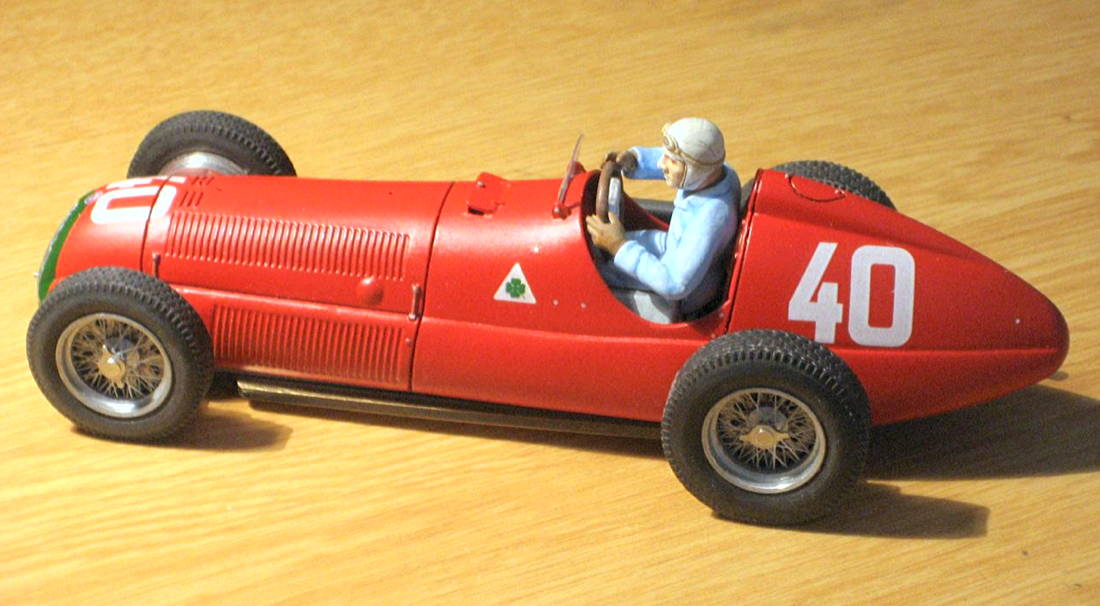 Note the rattle pan. Alfa need one more coat of gloss. 
Driver displaying hard work (all elbows). 
Final dash work and internal mirrors yet to be installed (they are internal, mounted on the dash).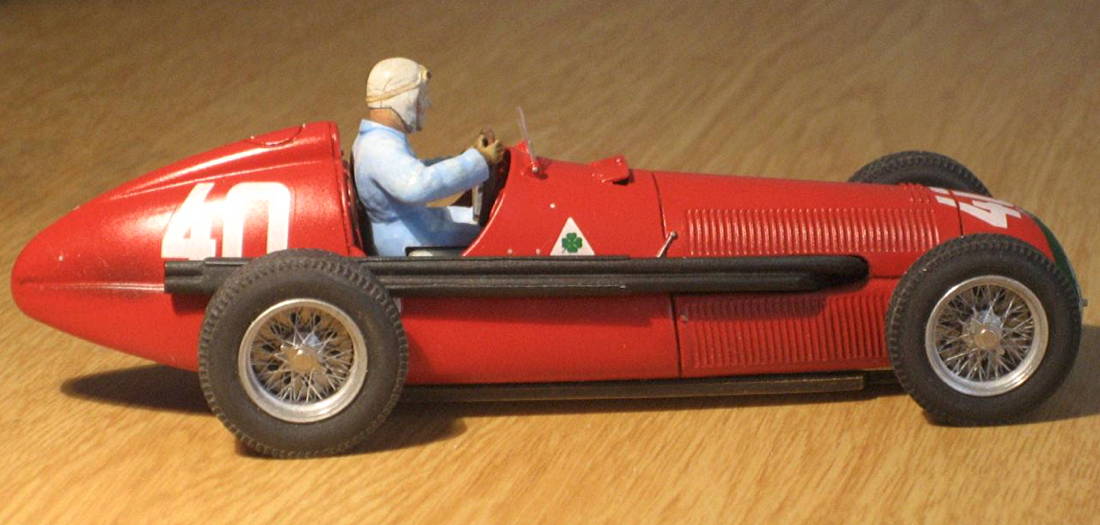 Great shot of Peter's custom wheels. Note how much the motor intrudes into the cockpit. I may try running it with and without the heavy rattle plate.; at least I darkened it with "Brass Black."