Joel Montague '73 Nats replica with Havlicek Mura power
Started by
Pablo
,
Nov 13 2017 07:36 PM
158 replies to this topic
Posted 26 January 2018 - 09:51 AM
that car rocks! 
Maurizio Salerno
---
Posted 26 January 2018 - 10:19 AM
Very nice Paul! 
"Tha's a Sweet Ride"!
---
Posted 26 January 2018 - 10:50 AM
Yes, it looks good! Have you had the opportunity to track-test it yet?
Bill Fernald
 
"I'm not short, I'm just down to earth."
---
Posted 26 January 2018 - 06:40 PM
I'm only on the 1st lesson on my Roseta Stone, please translate!
" I like your first vintage style wing car."
Sam Levitch
 
"If you have integrity, nothing else matters, and if you do not have integrity, nothing else matters."
     Robert Mueller, special counsel (2013)
---
Posted 11 February 2018 - 08:02 PM
Track test results, I give it three thumbs up
-Great handler, very stable, no bad habits, everything worked fine
-Gobs of horsepower but it's easy to manage. I used my regular controller, no choke was needed. Motor runs cool as a cucumber at 12 volts.
I'm sure it would be ballistic at 14 volts and still run pretty cool
-Despite 8/42 gearing, it still needs shorter gears. In glue, it might be fine. But the test was in spray glue.
If the car sees a track after it leaves my hands, it will probably be run with spray glue. So, I'm changing the 8 pinion to a 7.
-I smacked the Dead Man (due to lack of brakes) and both forward body mount holes on one side tore through.
So I added bulletproofing over the double holes on both sides.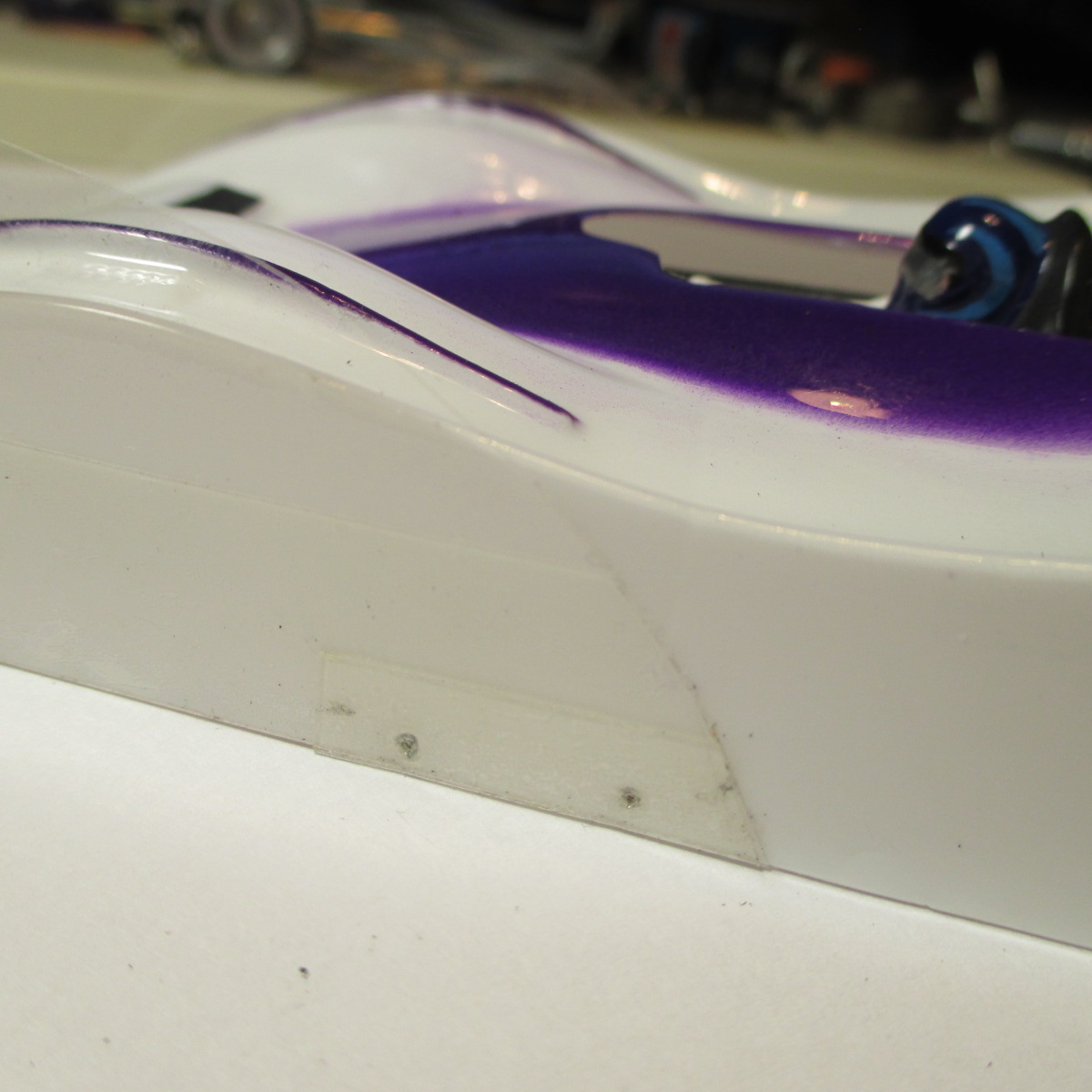 Jencar17 and Tom Katsanis like this
Paul Wolcott
---
Posted 11 February 2018 - 08:54 PM
Successfully swapped pinions without the introduction of acid by pre-soldering the new pinion onto a dummy shaft using acid
Removed and cleaned it, reinstalled with paste flux. Worked fine
Paul Wolcott
---
Posted 11 February 2018 - 10:52 PM
I was able to make the gearing change happen with very slight axle spacer changes
Pinned the body back on and I'm confident enough to say, this car is done. Yes, I'm very happy with it
Thank You, Joel Montague

Jencar17, havlicek, Justin A. Porter and 2 others like this
Paul Wolcott
---
Posted 12 February 2018 - 07:36 PM
She is now for sale in Swap Shop and the starting bid has been reduced.
Paul Wolcott
---
Posted 26 February 2018 - 10:45 PM
Joel deserves a huge thank you from all of us for winning this race in a convincing manner otherwise we'd be hearing "Ah Am The Greatis" constantly since 1973. In fact I think this hobby owes Pooch & Camen for being the longest running class act under the direction of Joel Montague, if we had a solid racing organization I'm certain he would receive a lifetime achievement award including a Nobel prize. But then that is my opinion and there are those who disrespect my opinions when it comes to guys that won big races getting credit for their accomplishments. Joel on the other hand is the consummate professional that cannot be argued by delusional would be racers.
Jesse Gonzales
---
---