I won this monster at auction on Slotblog, from the Tom Scott collection.
Received it today and was pretty happy. No doubt I can make this into a nice car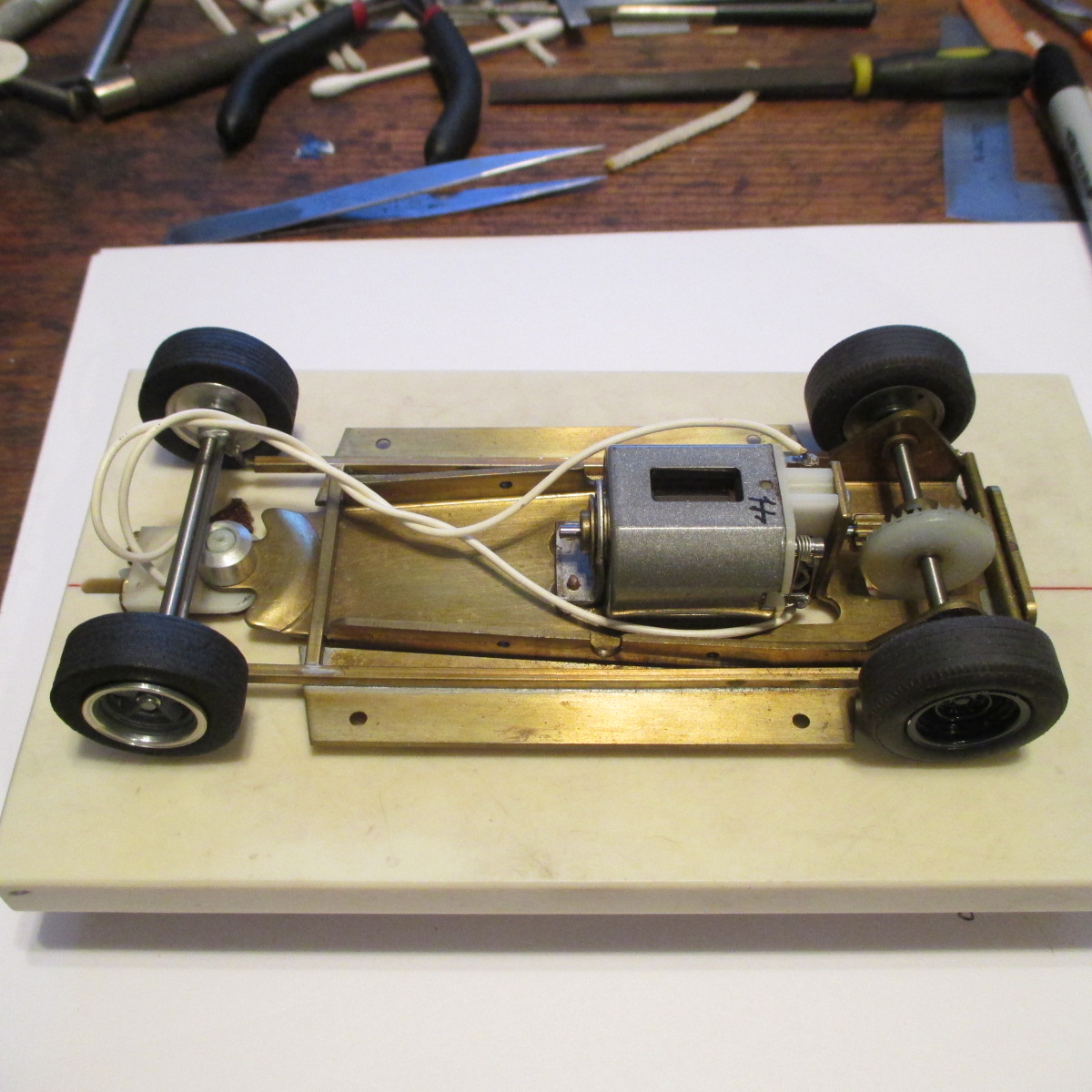 Here was the writeup:
"I can't remember where I got this Iso-fulcrum chassis which was planned for a hardbody Dodge Ramcharger body but never did end up getting it finished. The chassis is almost a drop-in for just about any static model 1/24 model car... sedan type.
The motor is by John Havlicek, a built-to-the-hilt Champion 36D.
Beautiful front American mags. Nice rear stocker tires that are still real soft and give great traction."
Let's see what we have here:
American Line 1927 Model T Chassis center section with custom ISO outer section
WB 4 5/8" (!!)
GL negative 3/16"
Widths < 2 3/4" front and rear
Wheel OD's front 1", rear 1 1/8"
Clearance, approximately, rear 1/8", front 3/32"
Weight: 213 grams (sans body) (!!)
Motor: H Power 36D 65T of 29
Gears: 10/36, brass pinion/Wilson's crown
Chassis workmanship is expert quality. I'm guessing maybe Jack Beers was the builder, but who knows?
The ISO section is a nice work of art and quality engineering:
-Twin .063 plates connected via 3/32" square brass tubing
-Countersunk body mount holes
-Double ISO Fulcrum hinges at the rear
-Adjustable wheelbase up front
-Custom front axle assembly strengthened with wire wraps
Motor: you can't go wrong with a Havlicek powerplant - it won't need anything
That's the good. Here is the bad:
-Clearance - mile high in the rear, half a mile in front. Both ends need to go down, and be level.
Currently the flag is plowing, giving a nice car the kiss of death for handling.
-All four tires are badly out of round due to age.
-As much as I like the ISO outer section, it's way too heavy and only serves to make the front wheels dig in to the track.
Maybe I can just lighten it.
-Gearing is way wrong; 10/36 with 1 1/8" OD rears with a custom 65T/29 motor isn't even close.
Also, this powerful of a motor needs a steel pinion and a better crown. Wilson's crowns and brass pinions worked OK with stock 1966 motors but won't cut the mustard here.
All of this is correctable, and I look forward to finding a good body for it