I have often mentioned that my uncle Henry Benech worked for Aurora as a manager. He also had a plastic fabrication factory in Brooklyn where he molded track during the big boom in the 60's. He also made Lucite displays for other companies.
I was going through my attic and found a box from my mom's house. This was in it.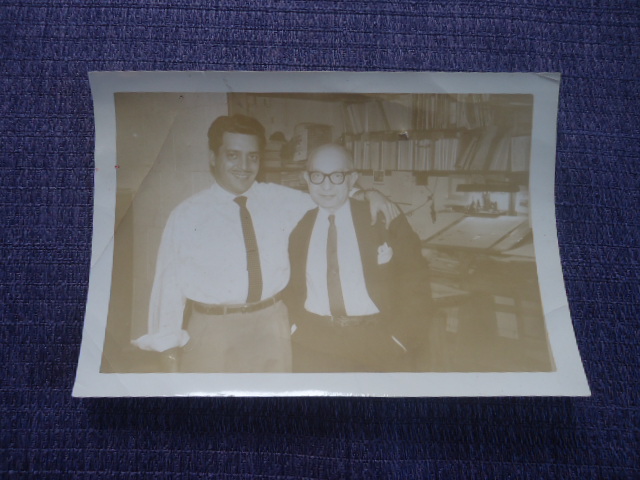 That's my uncle ( looking quite dapper I must say ) on the left standing with Abe Shikes the founder of Aurora. 
You can see a drafting table in the rear of the shot. Not sure if it is inside Aurora or my uncles factory. I only went there a couple times.
My uncle and my cousin John, both sadly deceased were master model builders. My uncles office was lined with beautifully built and detailed Aurora kits.
Although I was not into military my favorites were the Rat Patrol and Anzio beach built ups. 
My uncle was ahead of his time and even had a Kaiser Darrin and a MG roadster. 
Abe actually would come to my uncles house and have dinner and play cards with my dad and uncle among others.
I really did not know who he was at the time as I was about 8 or 9. He just looked like and old guy to me 

My mom told me that they all used to go dancing in Harlem and in Roseland in the city. My dad was a champion dancer.
Hope I did not bore you guys with all this but I want to keep the memories alive.