Stock Cars on the King – 12/5/17
December retro racing at MVH will feature just two classes, Stock Cars and Can-Am, and we started the month off this Tuesday running the stockers on the King.  A field of ten presented their cars for tech inspection with the race run on the middle 6 lanes with four marshals.
Stock Cars in Tech: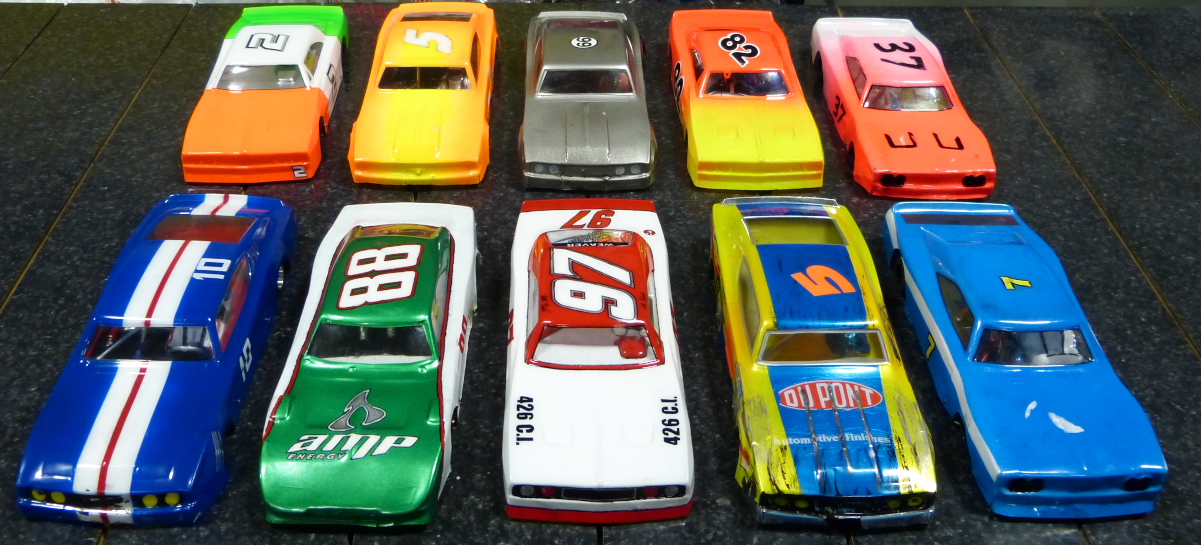 Recently absent from Tuesday night retro-racing, John Weaver stopped by and borrowed a car from Peter Lentros. After a motor swap and some set-up adjustments he proceeded to post the fastest lap of the night and run away with the race, taking the win by a 9-lap margin. The race for second was between Ricky Pratt and Peter Lentros. Although Peter was a full tenth of a second faster, a more consistent Ricky prevailed to claim 2nd.  The gap to 4th was 8 laps where Dave Panich found himself somewhat alone, four laps up on an epic battle between Rich Girvin and Bobby Blanchette. Bobby was significantly faster, but Richard outdrove him to squeak by for 5th place by just two track sections. 
Doug Uhlman led the remainder of the pack, taking 7th by 3 laps. Richard Payne won a close race with Dan Savage for eighth by one lap while Dick Griffin closed out the field. 
Finishing order, laps completed, best-lap time and best-lap lane:
            1)      John Weaver             221           4.765      OR
            2)      Ricky Pratt                 212           4.983      WT
            3)      Peter Lentros             210           4.890      GN
            4)      Dave Panich              202           5.156      OR
            5)      Rich Girvin                198/7         5.265      PU
            6)      Bobby Blanchette      198/5        4.999      GN
            7)      Doug Uhlman            194           5.108      WT
            8)      Richard Payne          191           5.374      WT
            9)      Dan Savage              190           5.219      GN
            10)    Dick Griffin                178           5.601      BL
Upcoming Events:
     MVH Tuesday Night Retro-Race Schedule for December: 
            12/12/17    Can-Am on the Aristocrat
            12/19/17    Stock Cars on the Royal
            12/26/17    Can-Am on the Sovereign
     NERR Race No. 4 at Rapid Raceway in Plainville, CT:
            12/9/17      Coupes and F-1 on the Grandstand  
     MVH Holiday Hours:
     If you have any last-minute slot car shopping to do, note that MVH will be closed on Christmas Eve, December 24th.  MVH will be open regular hours on New Year's Eve.
     On the other hand, if Santa puts something slot-car related in your stocking and you want to try it out, MVH will be open from 1:00 pm – 9:00 pm on December 26 through 29th. 
Cars on the Podium (L to R): 2nd Place – Ricky Pratt, 1st Place – John Weaver, 3rd Place – Peter Lentros
John's 1st Place Chassis:
Ricky's 2nd Place Chassis:
Peter's 3rd Place Chassis: