All this stuff about drag motors got me thinking...a dangerous thing.  While building-up the drag motor for Tom, I found some pieces for another that I set aside to build another one for laughs.  This all got me to two possible directions.

     First one is from a generic FT36D that I got somewhere and came with an installed can bearing.  In the past, these things have failed on me, so whenever I get one I get rid of the bearing as being less desirable than the stock Mabuchi rotating bushing.  So I dug around and took the large oilite from an industrial Mabuchi round can 36XX sized motor.  These bushings are oversized for what's left of the Mabuchi bushing carrier after removing it's innards, so it got turned-down to fit (*with a taper to fit the ridged pocket).  The same industrial Mabuchi comes with a set of very strong ceramics that are a close-to-perfect fit for the FT36D can, although a bit tall.  Grinding off around .035" from the top and bottom of each magnet to fit the can also thins out the thick tips of the magnets.  So as much as I hate grinding magnets, it does some good things beyond just getting them to fit.  These magnets are shorter than the Mabuchis or the Champion Arcos, but considering the magnets are one of the two biggest contributors to the weight of an FT36D, a lighter magnet that's as strong or stronger than Arcos is probably a good thing.  The other major contributor to the FT36D motor's weight is of course that big ol' thick-web-and-crown armature...BUT...a shorter pair of magnets means a shorter stack as well, so I made one up to fit. 
     Going on a diet should help this motor to spin-up faster, and a shorter stack should shift the torque-vs-RPM equation a little in favor of RPMs.  No doubt the motor will still have plenty of "OOMPH" in any case.

     The last little bit I decided to take care of was to get rid of the extra hunk of brass on the outside of the can, figuring these things can often go full-sidewinder, so the slight shortening of the overall motor's length might be a help.  Leaving the grooved portion of the bushing carrier means mounting can-drive is in no way affected...so why not?  Mounting the can in the mill, the deed was done.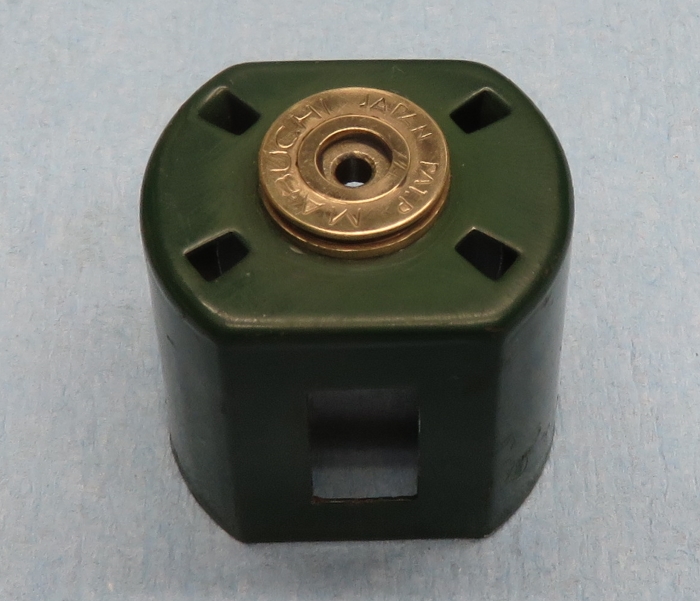 The second opportunity for a possible build that caught my eye was for a 26D.  Why?, because I have a set of those goofy-strong solid neos that are a "pretty much" dead-bang fit for the 26D can.  When I say "pretty much", I mean that the height and arc are spot-on.  They are too long for the can though...so cutting them to length would be necessary.  GAK!  Still, a fire-breathing 26D drag motor would be pretty cool.