Last time I did one of these, I got sidetracked/distracted and walked-away from the motor while the magnet epoxy was curing...forgetting to lock them in position.  Naturally, one of the magnets shifted, making the setup useless.  For anyone who isn't sure how well JB Weld holds magnets, I can tell you that...with good prep, getting the magnets out of a can pretty much means destroying them, the can or both.

     This time, I started with a chrome Champion 26D can and end bell.  The can got thinned-out on the four sides to bring it more into the same weight range as the Mabuchi 26D cans.  Having only a single oval hole on the top and no hole on the bottom is a giveaway as to the can's heritage, but it got painted green afterwards, and I installed an adapter and an "actual" can bearing...as opposed to those wannabe bearings Mabuchi used. 
  

     I shortened another set of those stoopit-strong solid neos and installed them with an Arco magnet shim so that anything magnetic in the same zip code gets stuck to the can.  Even with a still-large air gap, it's really difficult to spin a .560" diameter arm in the setup by hand...like REALLY difficult.

     The end bell is the standard Champion 26D with the pentroof hoods soldered to the brush tubes and a set of spring post sleeves, nothing out of the ordinary.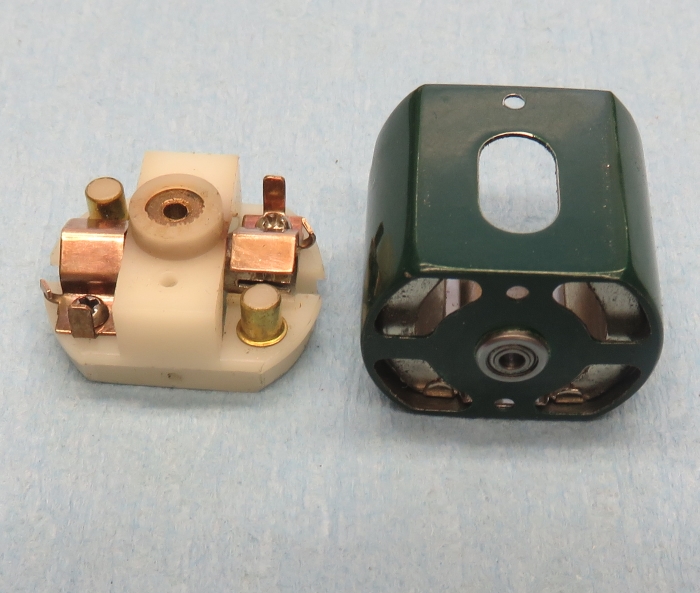 With this motor intended for drag racing, I wanted to do something as "stoopit" as the magnets.  Then again, I was a little "back and forth" about all this because this is still after all basically a "Mabuchi"  (*well, a Champion, but pretty much the same thing).  In the end, I settled on a "go big or go home" thing and did a reverse-wound a 19/24 in three layers.  By #24awg  standards, 19 turns is a lot of wire and I could easily have gone with fewer turns, but I figure this is appropriate, if you can call any #24awg wound armature "appropriate".