Mystery, funky motors - Pittman?
Started by
Ted Bier
,
Jan 10 2018 03:29 PM
Posted 10 January 2018 - 03:29 PM
I have a couple funky motors from the mystery box. No markings, but they are very cool!
Pittman maybe?
Thanks!
---
Posted 10 January 2018 - 03:49 PM
Both Pittmans. Silver one is 703/704, black one is 706. You can turn axle bracket to face out for different weight distribution.
John Austin
---
Posted 10 January 2018 - 03:51 PM
Your 706 has a 16D arm in it.
John Austin
---
Posted 10 January 2018 - 04:16 PM
The black one is certainly a 706. 
The silver one? Perhaps a 704 (the 703 pole pieces were black and the 703 had a plastic spur and the axle was not threaded) or perhaps a Pittman lookalike (Challenger?).
It was not easy to reverse side plates on the 703-5 Pittmans. They were swaged in place; the other motor came that way.
EM
Alan Schwartz
---
Posted 10 January 2018 - 07:36 PM
The 704/5 also had a strombecker clone.  The Ram version had different plates allowing different gear ratio combinations.  Lots of vintage chassis kits for these.
Larry D. Kelley, MA
retired raceway owner... (for now)
race directing around Chicago-land
Diode/Omni repair specialist
USRA 2017 member #404
USSCA  member
Host 2006 ISRA/USA Nats
Great Lakes Slot Car Club member
60+ year pin Racing rail/slot cars in America
---
Posted 11 January 2018 - 05:35 AM
With the magnet out in front that's a Pittman DC705, or maybe a 704A - the original 704 had the axle running through the middle... and in fact, both of these motors look like they have Mabuchi arms. Don't think Pittman ever had a green commutator! All of these PIttman motors had 5-pole arms. 
As EM says, these were derivatives of the original 703, a train motor with a long shaft and a nylon spur gear. The 704 and the DC196 came out in 1963, and were a godsend for scratchbuilders, because of integral gear and the integral axle bracket on the 196. 
Ram did a very similar motor, the DC426 (and 426A). Larry, you're thinking of the DC222, which had a 7-pole arm and adjustable mounting brackets, without the integral gear-axle assembly. Hard to tell the difference between some of the Rams and Pittmans! Ram had welded com tabs I believe, while Pittman's were soldered. 
Don 
---
Posted 11 January 2018 - 06:56 AM
PS, a small array of these motors with integral gears/axles, from an old photo... not at all funky motors, these were really the basis of the hobby for several years! 
Don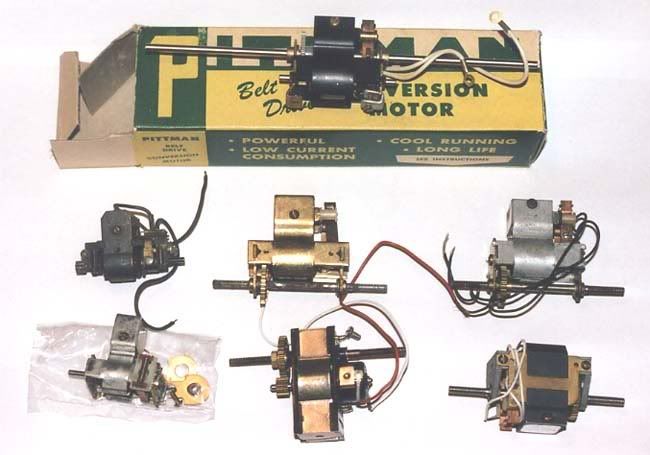 ---
Posted 11 January 2018 - 10:30 AM
I have used 5 of the 7 motors pictured (exceptions - middle and lower left)  With two exceptions, the applications have been 1/24 scale models.
!/32 300SLR  (ground clearance was "modest" at best:)
and a Pink Kar GTO powered by a K&B sidewinder (bottom row, center)
An ironical note on the DC 703:  It was intended, as the box declares, as a "conversion" motor to replace the cheap Japanese can motor (Mabuchi) supplied with the HO gauge Hobbytown diesel locomotives.  The shaft extended over the trucks at each end and power was transmitted by a twisted rubber band. I came upon this motor while searching local hobby shops for a substitute for the original tinplate Scalextric sidewinder motor.  I was using the latter to power my 1/24 Merit conversions but it could not be described as robust in this application.
One of the DC 703's failure modes was slippage of the nylon spur gear on the axle.  This could be remedied by cross-drilling the hub and axle and fitting a small steel pin.  For a more detailed account of adventures with early Pittman motors see: http://www.ecuriemar...com/history.htm
While I know that volumes have been written on the topic and opinions vary, my early experience left me with an enduring preference for these motors and, by extension, current sidewinder configurations.
EM
Alan Schwartz
---
Posted 11 January 2018 - 10:50 AM
It's also worth noting, EM, that the first two commercial slot car set manufacturers, Scalextric and VIP, both chose sidewinder configurations... 
Your Hobbytown reference rang a bell: I seem to remember having a rubber band driven loco in my brief model train career, but that would have been in the 60s, and it was a very small loco, no idea what motor it used, but the DC703 was much longer than the loco! 
Don 
---
---