I started off a nice batch of motors headed to Italy, and got permission to document the builds.  The first four of the group are all Mabuchi FT160 (*Hong Kong Mabuchis), the best analog...really the only close analog for the FT16D.  With their slightly better magnets and drastically better end bells and bushings, these motors can be built and rebuilt numerous times up to "pretty hot" and stay together well.

These four are going to be raced less frequently, and the order was for more heat.  The setups got taken apart, cleaned-up, drilled for end bell mounting and reassembled.  These motors are for racing, so clean and serious is all that's needed.  I tossed the stock arms and pressed up four new ones at a stack length of around .460" compared to the .500" stock stack.  The .518" lam diameter is a full .018 wider than the stock lams and will yield the equivalent of a .018" total set of shims (2 x .009"), for another nice performance bump.  For the wind, I went with 55/29, which along with the shorter stack and lighter lams will make for much improved performance, but not inappropriate for the magnets here.  For coms (*because of the smaller...close to FT16D sized brushes), these all get the Tradeship.  These coms will be faster with the same wind and smaller brushes than with a modern-diameter (around .200" or so) com.




Two of the four arms are wound.  This wind makes for a nice full 6-layer coil on these lams, and I hit on a good pattern right out of the box and just went with that.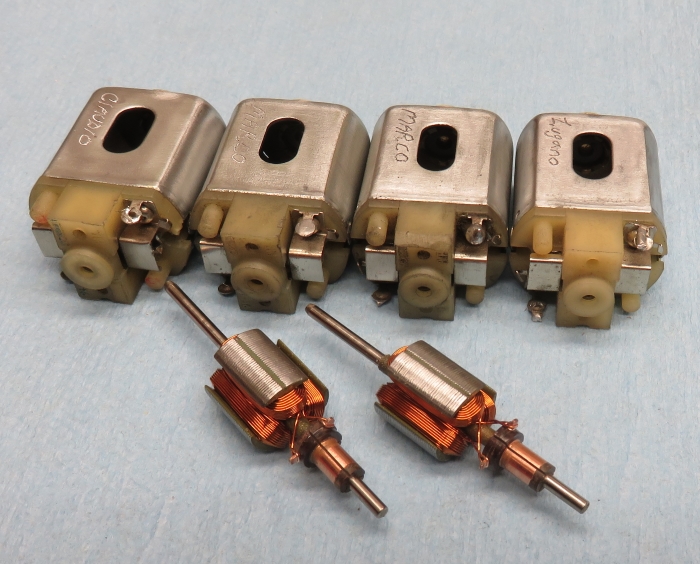 Moving right along.  With the setups done, these four won't take very long.