MG Brown's post of an article about racing at long-gone Bullet Raceway in Gainesville, GA, made me think that I have never posted this picture I have carried in my slot box for almost 20 years and I am going to do that now.

Ray Gardner, who should be well-known to most older racers as the art director of Champion of Chamblee in its heyday, was honored by his friends at a 'going-away' race at the original location of Mark and Linda Taaffe's Bullet Raceway in Gainsville, GA. Ray had lived in the Atlanta area for decades but he and his latest wife were moving to Palm Coast, FL, where he still resides today.

This group photo is dated Aug 15, 1998, on the back and was not taken by me, since I am in the photo, along with some well-known slot racers, several of whom have passed away. Best guess is that Mark Taaffe's then-wife Linda took the pic.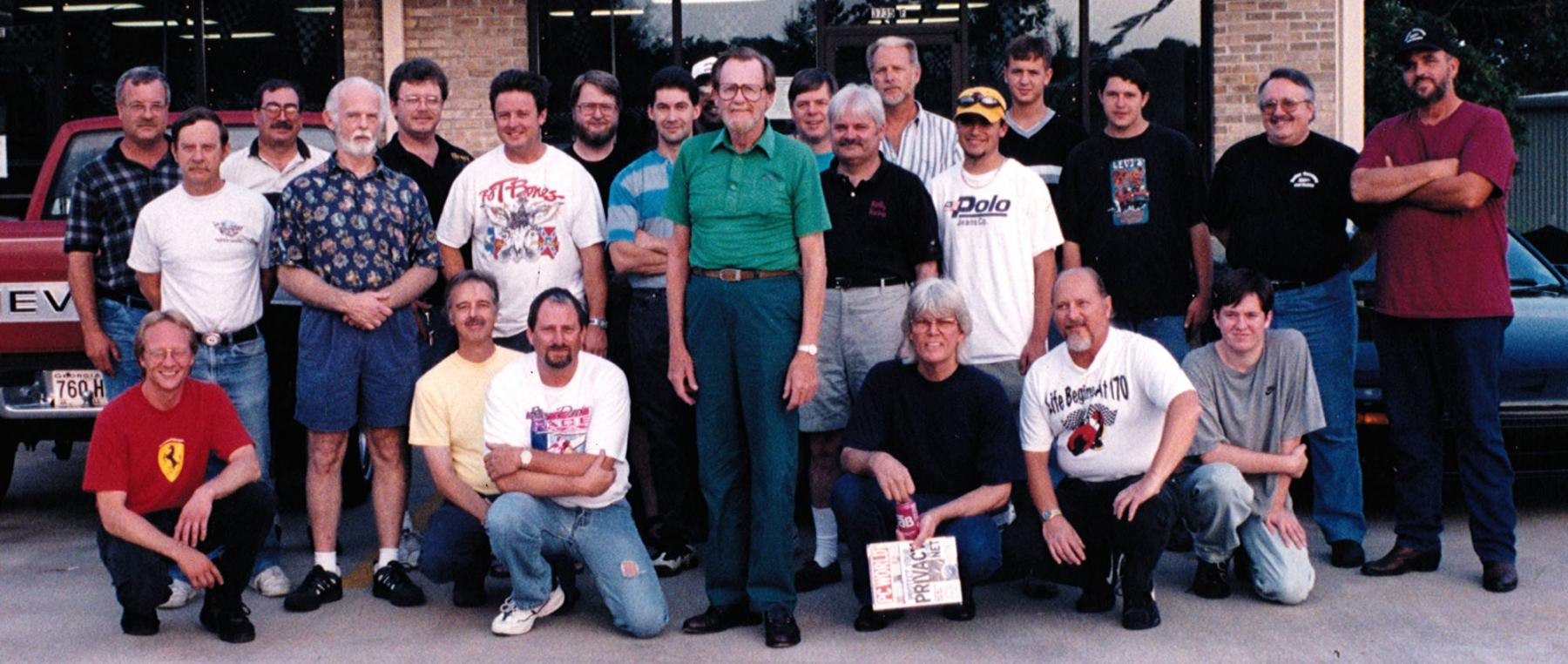 Front row, kneeling: Tim Ferguson (former owner of Georgia Hobby Center), Rodney Rasnick (former owner of Grand Prix Raceway in Smyrna, GA) Wayne Clayton (who worked with John Force for a time), Ray Gardner (green shirt, standing) unknown, Greg Montfort (former Champion of Chamblee employee), unknown.

Second row, standing: unknown, Bob Cozine (deceased), Mike Asher (my traveling teammate for many years), Tony Powell (a USRA Natl champ), Terry Kelly (a USRA Natl champ, multiple times I think), unknown, Mark Taaffe (owner of Bullet Raceway in the background), Danny Sailers (Kelly Racing's body mounting guru, deceased).

Third row: Unknown, Ron Jones (who I met at Ga Tech the first weekend I was there in 1972), Kerry Champion, me, a barely-visible Tommy Flythe (I think), Chris Barnes, Phillip ??, unknown, unknown.

(Unknown doesn't mean I don't recognize any of them, only that I cannot recall the names. Maybe others will post to help fill in the blanks.)

FWIW, five or six of the 24 people shown still race slot cars, either actively or occasionally, to the best of my knowledge.