I haven't done one of these in a while, but I remember being impressed with these motors. I don't think the Buehler was distributed here in the States, but the historians can make the correction.

Basically, the Buehler is a 16D-sized motor that superficially resembles the Mabuchi, but with some important distinctions:

 The can is formed out of a much thicker metal, probably around the same thickness as modern C and D motors, but is still a one-piece design with very nice crisp edges, a durable paint finish, and an outer can bushing holder made from aluminum with the same "circlip" type mounting as the Mabuchi, but lacking the last outer "bump" that the Mabuchi has, because the can bushing is fixed in this motor.

The magnets here are thick, long, and very strong, about as strong as say those in two-hole Mura B and C-cans, but with an additional groove in their back angle cuts (most likely to make sure they sit well with the inner slight radius of the can). I don't know/remember if these are indeed the stock magnets, but they are a huge step up from anything that came in the Mabuchis, and slightly stronger than the Arcos.

The endbell looks at first something like a Mabuchi (without the standard molded-in markings), but the hardware is unique. The hardware looks at least like it's machined from fairly thick metal, and sits in a molded recess in the endbell. Also the leadwire tabs and spring tabs are of a second piece that screws down over the hoods. It's all still a "one-screw" type hardware like the Mabuchi, but the way the hoods are located and what they're made from makes them virtually immovable. The brushes are very small, as small (maybe smaller?) than those in the Mabuchi FJ13UO, but the endbell itself is molded out of a material that seems noticeably harder/more durable than that of the Mabuchi motors. Unfortunately, the endbell oilite is small and similar, and the bushing strap is too narrow to fit a replacement unless one is turned-down from a larger oilite.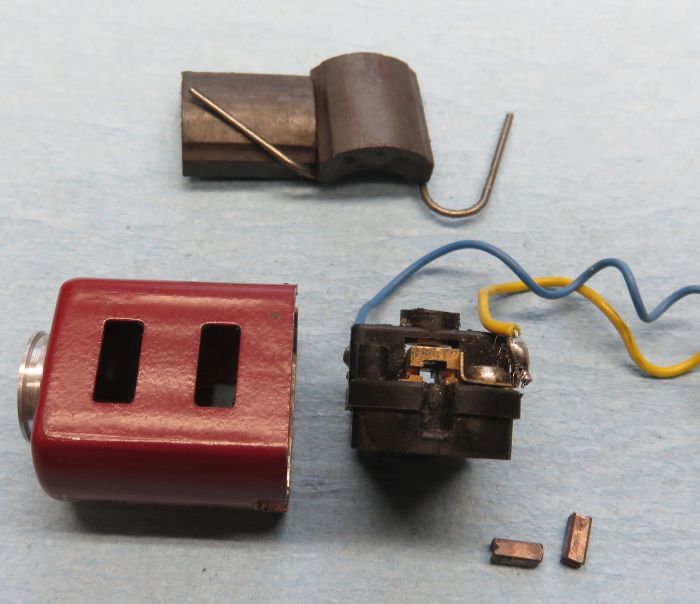 The armature that came in this one seems to be a home-brewed rewind that was "gash-balanced" within a micron of the coil windings. The stack looks a lot like earlier Chinese 16D arms had, but with a different comm that somewhat resembles an old Tradeship 16D comm.




So, a very cool motor, but still one that has some things that could/should be improved. The magnets alone, as well as the endbell plastic make this motor a real "potential" race winner.