F-1 on the Royal – 5/8/18
For the first time in almost a year (two weeks shy of 11 months, actually) the American Royal hosted retro F-1 cars at MVH. A field of six presented their cars for tech inspection. Racing was in the 4/4 format in 16 heats, as only three drivers were running at any given time to allow adequate marshals on the corners.
F-1 Cars in Tech: 
Ray Lee had the superior power unit (in F-1 lingo…) and jumped out to a quick lead. Dave Panich was in the hunt but couldn't complete a pass without some form of contact and a de-slot. Meanwhile, Dan Savage and Richard Payne were in the closest race of the night. Dan had the faster car, with his best-lap time over 1/10th quicker than Richard but couldn't shake him for most of the race. Tom Smith was also slightly faster than Richard but had some handling issues and fell off the pace.
By the time the checkered flag flew, Ray had opened a 10-lap lead on Dave who claimed the second step on the podium despite a slightly bent chassis after a couple trips to the floor. 16 laps back, Dan managed to stay just over a lap ahead of Richard P to take third while Tom was another 12 laps behind. Dick Griffin completed the field.
Ray was the only driver to post a sub-4 second lap on his way to the win.
Driver, laps completed, best lap time/lane:
            1)      Ray Lee                       345/8         3.948   WT
            2)      Dave Panich                335/22       4.058   BL
            3)      Dan Savage                 319/16       4.118   BL
            4)      Richard Payne             318/6         4.281   YL
            5)      Tom Smith                   306/9         4.278   YL
            6)      Dick Griffin                  283/22       4.400   YL
Upcoming Events:
     MVH Tuesday Night Retro-Racing Schedule for the remainder of May:
            5/15        Can-Am on the Aristocrat
            5/22        Coupes on the Figure 8
            5/29        Can-Am on the King
     May 19th – NERR at 1010 Raceway in Bristol, CT:
            Coupes on the King followed by the Awards Banquet
                    NOTE:  Track opens at 7:00 am, power will go off at 9:15 for Tech
Cars on the Podium (L to R): 2nd Place – Dave Panich, 1st Place – Ray Lee, 3rd Place – Dan Savage
Ray's 1st Place Chassis: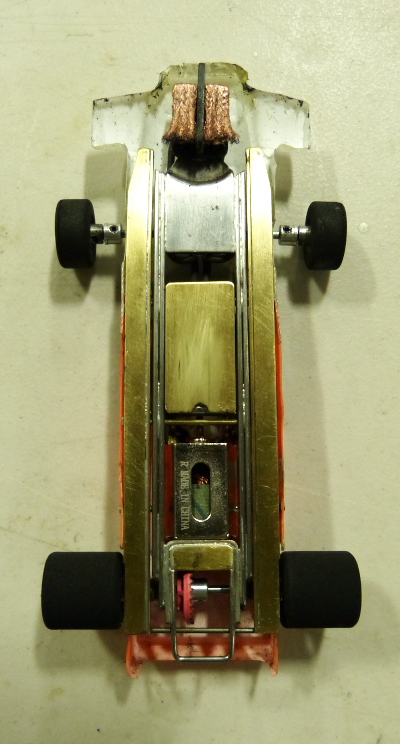 Dave's 2nd Place Chassis:
Dan's 3rd Place Chassis: