Formula 1 on the King – 7/3/18
F-1 Cars in Tech:
Rather than head out for some 4th of July fireworks MVH retro-racers took to the Gerding G-7 King to celebrate the night before the Fourth with a little F-1 action.  Due to holiday travel and all the other holiday activities, the field was somewhat limited but the racing was close and offered some fireworks of its own.  With six cars going through tech the race was run on all eight lanes with only three cars on at a time to allow for three marshals.
Ray Lee and Ernie "The Ernstigator" LaChance came out of the gate fast, setting their fastest laps on green while Dave Panich was running a bit slower but a bit steadier to take the early lead. In the first half of the race Rich Girvin was winning the battle of the Richards, running faster laps and putting some distance between himself and Richard Payne. After a long hiatus, Brian Wright returned to Tuesday night retro racing. He showed decent pace but struggled to stay in his lane and was running at the back of the field by the mid-point of the race.
While Dave, Ray and Ernie were running almost identical lap times, Dave managed to take the win in spite of struggling to pass other racers (ask Ernie and Richard P!). Ray set the fastest lap of the evening but had to settle for 2nd, trailing Dave by 3 laps while Ernie finished another 3 laps back to take 3rd. Green was the fast way around the track tonight with 4 out of 6 racers setting their best time in the green lane.
Final Standings, laps completed, fast-lap time:
Dave Panich             301/8      4.609      BL

Ray Lee                    298/8      4.608      GN

Ernie LaChance       295/9      4.609      GN

Rich Girvin               280/7      4.765      GN

Richard Payne         270/17    5.163      GN

Brian Wright             257/4      4.992      BK                  
Upcoming Events:
     MVH Tuesday Night Retro-Racing Schedule for July:           
            7/10        Coupes on the Figure 8
            7/17        Can-Am on the Aristocrat
            7/24        Stock Cars on the Royal
            7/31        Can-Am on the King
Cars on the Podium (L to R):  2nd Place – Ray Lee, 1st Place – Dave Panich, 3rd Place – Ernie LaChance
Dave's 1st Place Chassis: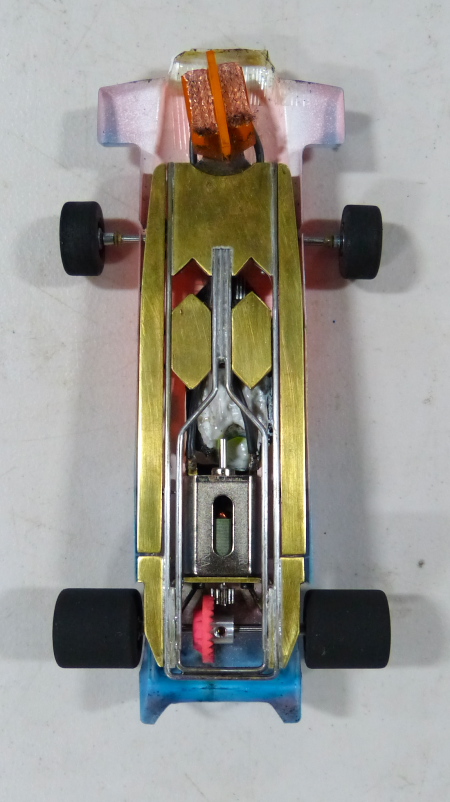 Ray's 2nd Place Chassis:
Ernie's 3rd Place Chassis: