This event was held at Bill Pinch's Raceway.biz facility in Melbourne, FL, on July 21.
 
Let's start with the pre-race celebration - Terry Tawney's 70th birthday! If there's a nicer guy in all of slot racing, I don't know who it would be. The GRRR guys brought him a great chocolate cake and here Terry is cutting the first piece.
 


 
Terry and I were talking to try to figure out when we first raced against each other and our best guess is early '90s, maybe around 1993 or so. That's 25 years!
 
The eight teams running in the enduro were:
 
Team T-M-L:  Matt Boman, Louis Satterlee, Terry Tawney,
Team Evil Bucks:  Grant Goerner, TonyP, Danny Zona
Team SERRA:  Taylor Davis, Jay Guard, Greg Wells 
Team Paw Braid:  Ed Bauer, Don Bonanno, Jeff Bonanno
Team BRT:  Brian Ambrose, Tracey Dickenson, Roger Whobrey
Team Mellow Yellow:  Ed Hoffman, Donny Caron, Shaun Naughton
Team DMRB:  Doc Dougherty. Ralph Josey, Marcus Ramos, Bob Rondinone
Team J.A.R:  Mike Bresett, Kyle Hall, Aaron Rothstein
 
Couple of team notes...

There was another racer who was scheduled to run as a member of Team DMRB but he had a last-minute conflict and was unable to make it; Ralph Josey took his place. Bob Rondinone was race director for most of the enduro but wanted to run a heat, so Team DMRB accommodated his wishes and trackowner Bill Pinch rode the spacebar when Bob raced. 
 
Nice to see two other raceway owners running in the GRR 4-hour enduro: Ed Hoffman, who runs Fast Eddie's Slot Cars & Raceway in Pinellas Park, FL, and Marcus Ramos, owner of P1 Lot Car Raceway in Winter Garden, FL.
 
No one ever qualifies for enduros and that was the case here. Lane choice was made somehow, probably by draw, but I wasn't paying attention so I am not sure.
Here's how the racers lined up for the first of sixteen(!) 15-minute stints.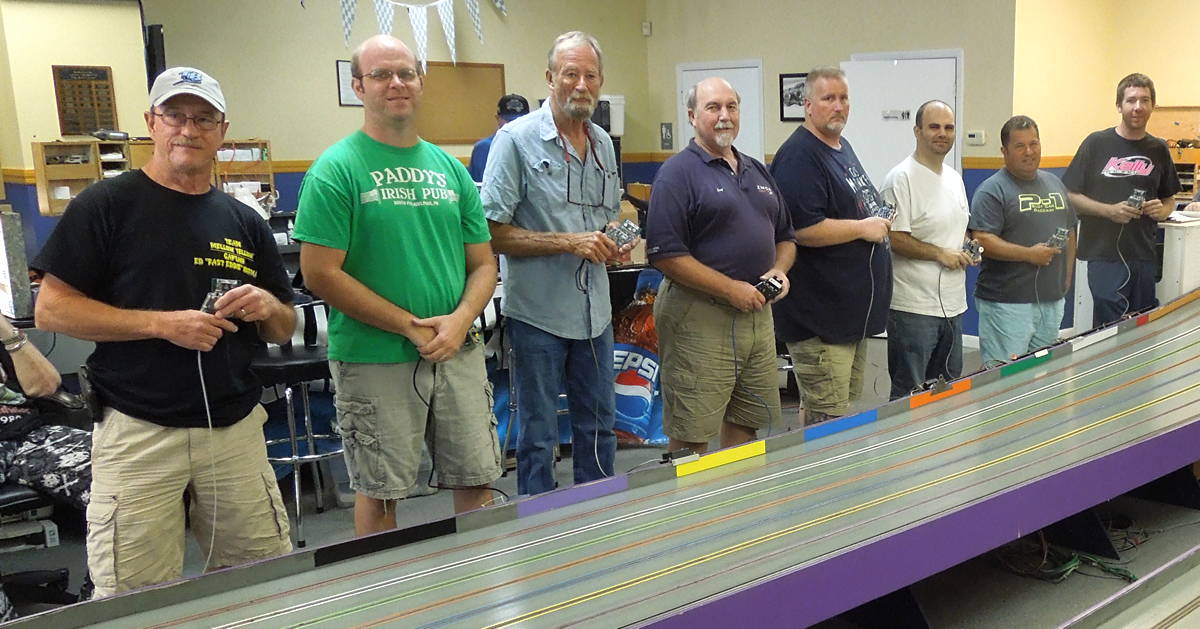 L-R, Ed Hoffman, Grant Goerner, Terry Tawney, Jay Guard, Brian Ambrose, Jeff Bonnano, Marcus Ramos, Mike 'Biscuit' Bresett.
 
Here is the starting line crowd just moments before power on:
 


 
Trackowner Bill Pinch was tapped to vote concours and the cars' positions below indicate his first through third choices. Bill then did something I've never heard in all my years of watching concours be selected: he explained his criteria for making his choices.

 
The concours winners were:
 
First - Team Paw
Second - Team J.A.R.
Third: Team SERRA
After four hours and sixteen heats of racing, here are the final results:
1) Team J.A.R - 2,846 laps
2) Team Evil Bucks - 2,786
3) Team T-M-L - 2,762
4) Team Paw Braid - 2,694
5) Team DMRB - 2,692
6) Team SERRA - 2,674
7) Team BRT - 2,669
8) Team Mellow Yellow - 2,573
Not listing the normal 'best lap time in which lane' info, as there were a number of best lap times that were clearly riders, of which there were quite a few during this long race.
Grant Goerner, GRRR race reporter extraordinaire, emailed me a PDF of the heat-by-heat printouts from the SRT lap counting system and it is attached to the bottom of this thread, if anyone is crazy enough to want to see how the enduro progressed in detail.
I am not aware of anyone 'blowing' one of the Hawk Retros. Team SERRA changed a motor because it had slowed a bit after a couple-three heats, but the number of walls it had experienced by that time may have had something to do with the situation. I did hear one racer warning a teammate that their motor's brakes had dropped off in one particular lane, but that was about it.

My digicam's battery went south on me before I could get all the podium shots I had hoped to take. There were others present who took the pics I missed and if they can email those to me, I'll add them to this thread.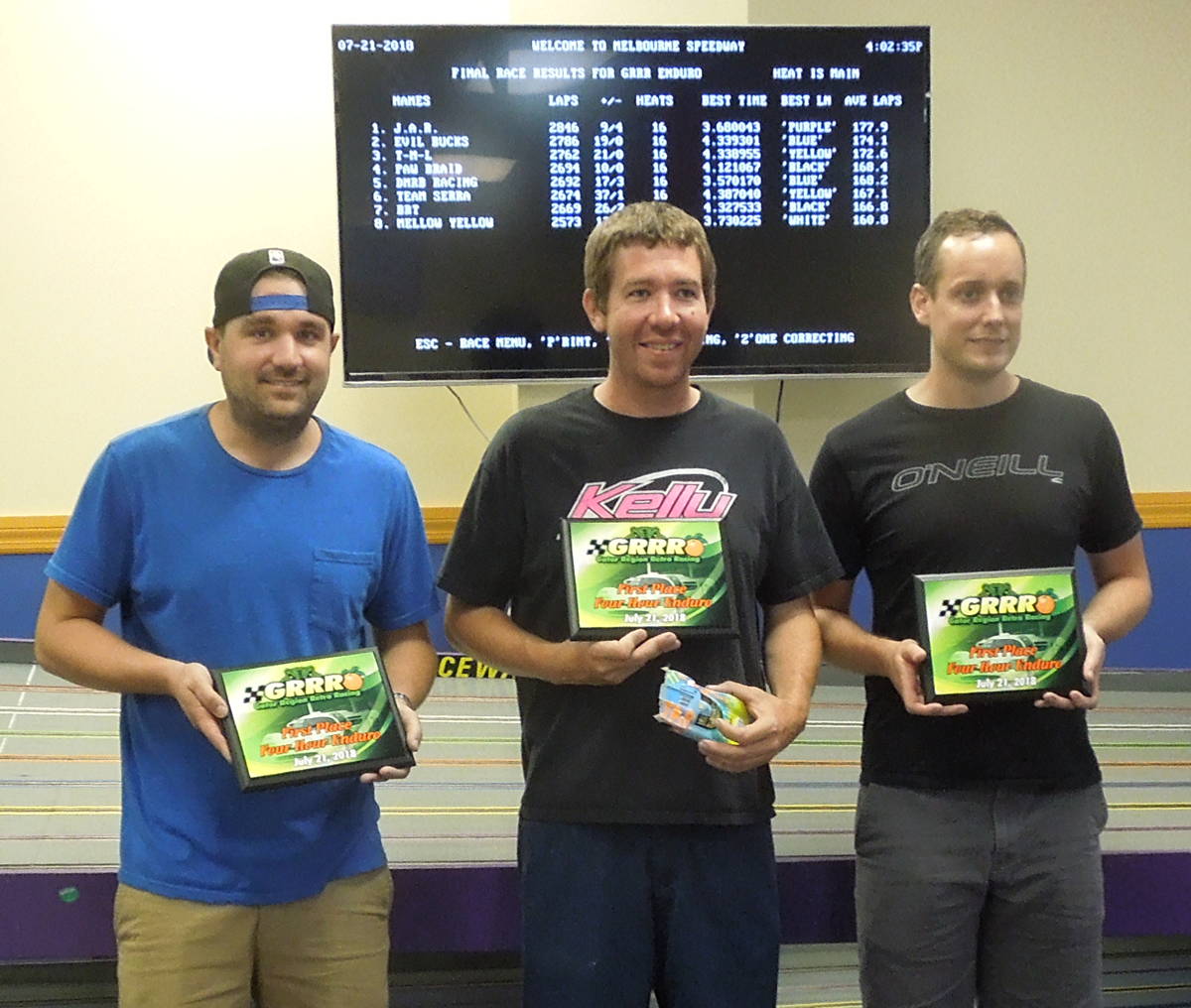 Team J.A.R:  Kyle Hall, Mike Bresett, Aaron Rothstein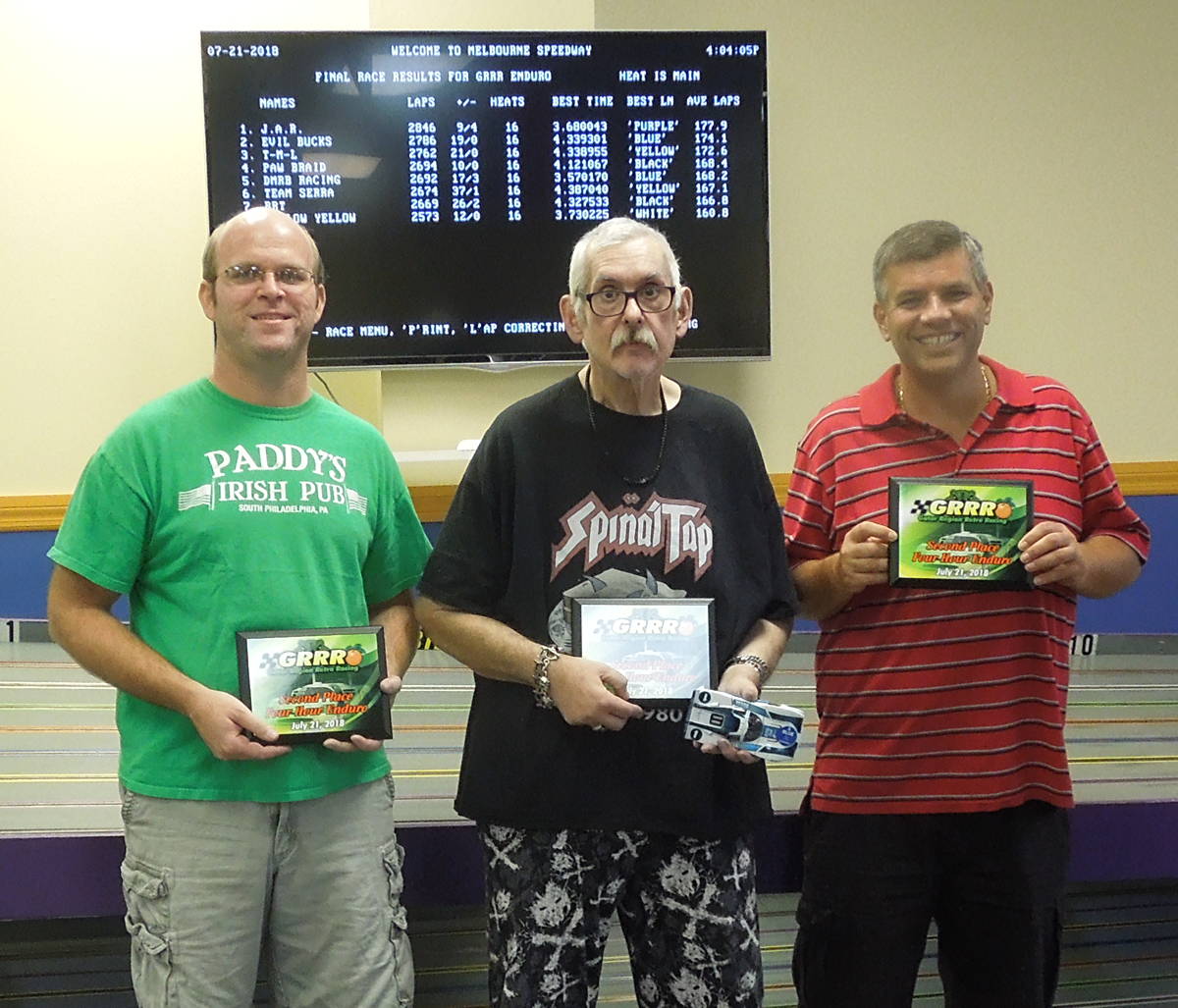 Team Evil Bucks:  Grant Goerner, TonyP, Danny Zona
Great, fun day of racing, even if my teammates worn me out about being so 'old n' slo' (apologies to Ray Gardner.) At least I kept it in the slot better than one of my partners in crime! LOL...
A word about Bill Pinch, who has been a raceway owner for over 35 years. I'd term his operation the prototype or poster child for a sustainable slot car raceway operated by a someone who clearly knows how to run a business. If you're in the area, don't miss paying Raceway.biz a visit. 

GRRR Enduro Heat Breakdown.pdf 738.48KB 63 downloads