Retro Stock Cars on the Royal – 7/24/18
About every six months the MVH Tuesday night retro racing series runs the 95' American Royal with stock cars…and this was the week! Seven racers went to tech with the race run in the 4/4 format with three marshals on the corners.
Stock Cars on the Tech Table: 
Dom Luongo made a rare Tuesday night appearance and showed the rest of us how it is done. Besides setting the fastest lap of the evening (4.273 seconds) he had opened up a five-lap lead by the mid-point of the race logging 157 laps. Dave Panich was pedaling as fast as he could but was unable to keep up, hanging on to second place but trailing by five laps. Dan Savage was four laps down to Dave while holding a one lap lead on Ernie "The Ernstigator" LaChance in the battle for the final podium place. Another five laps back Richard Payne had put up 142 laps and was sitting comfortably in 5th with a three-lap lead on Rich Girvin.  Dick Griffin finished out the field.
Some racers came alive after the move to the inside lanes while others suffered a drop-off in pace but Dom kept chugging along. Matching his first half lap total, he took the win with 314 total laps. Dave struggled on purple resulting in his second half lap total dropping by two and leaving him 12 laps off Dom's winning pace at the checkered flag but securely in 2nd. The battle for 3rd place went down to the wire with "The Ernstigator" coming on strong to get past Dan, clinching his spot on the podium by 10 track sections. Rich G had the best second half of all the racers, posting 4 laps more than his first half effort in his quest to get around Richard P to claim 5th place but came up less than a lap (18 track sections) short.
Driver, laps completed and best lap time:
Dom Luongo              314/17      4.273       YL

Dave Panich              302/16      4.336       BL

Ernie LaChance         293/9        4.499      YL       

Dan Savage               292/24      4.554      YL

Richard Payne           283/11      4.656      YL

Rich Girvin                 282/18      4.671      OR

Dick Griffin                 267/6        4.734      BL
Next Week's MVH Tuesday Night Retro-Race: Schedule for the remainder of January:
            July 31             Can-Am on the King
MVH Tuesday Night Retro-Race Schedule for August:
            August 7          Coupes on the Figure 8
            August 14        Can-Am on the Sovereign
            August 21        Coupes on the Aristocrat
            August 28        MVH WILL BE CLOSED for VACATION!
Podium (L to R):  2nd Place – Dave Panich, 1st Place – Dom Luongo, 3rd Place – Ernie LaChance
Dom's 1st Place Chassis:
Dave's 2nd Place Chassis: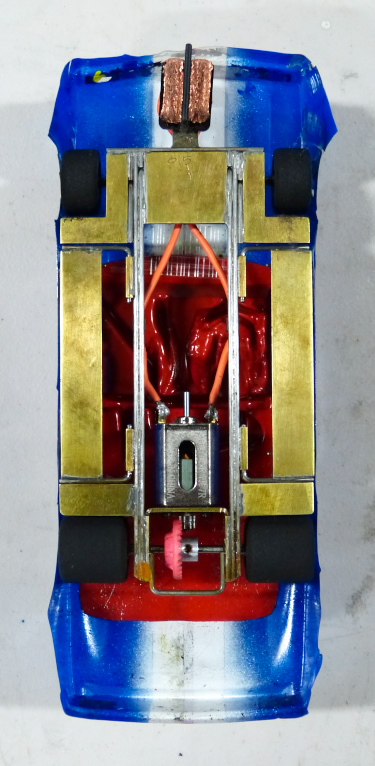 The Ernstigator's 3rd Place Chassis: