In an unusual turn of events, the gang at The Doghouse chose to hold a race on a Wednesday night. (Truthfully, something came up to cause us to postpone Saturday's scheduled race. So, we waited until our regular weekly get-together.)
Hail hail, most of the gang was there...
(from l - r: Bob Arneson, John vanDuesen, Richard Sylvester, Dan Parker, Jim Beasley)
Conspicuously absent this particular night were Don Weaver, who had another commitment, and Marty "Dr. C" Cwaikala, who was running the family coffee shop while his wife was out of town.
Back to the important matters. On this night, we decided to run Parma Flexi-2s with LMP bodies. As you can see, LMPs have a great, realistic appeal...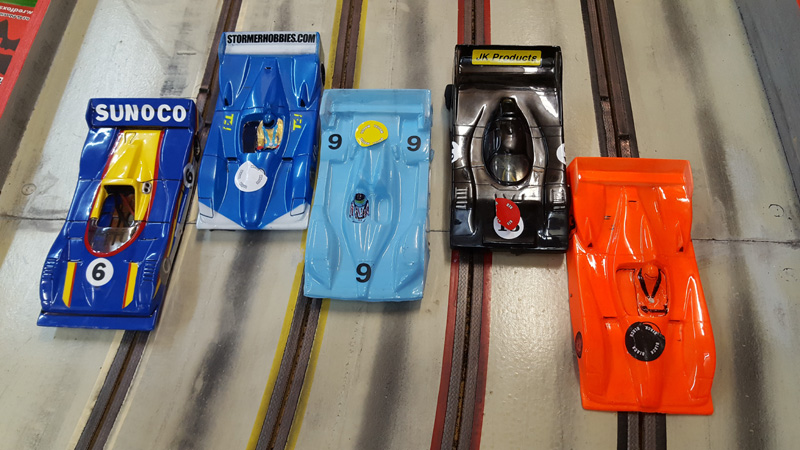 (from l - r: Richard, Bob, Jim, John and Dan)
Since he only recently returned to the hobby, John didn't have an LMP body so we let him run-what-he-brung.
All in all, another fun race -- with plenty of trash talk and occasional crashes due to laughter. In the end, the host of The Doghouse, "Fast Richard" Sylvester, lived up to his name, besting the field of racers...
We have yet to decide what to race next -- could be Can-Am, F1, Jail Door, or maybe another IROC race. Whatever we choose, you can expect another report then.
Oh yeah, one last thing: if you see Dan (or, Rocky the Flying Squirrel, as he's known in our circle), be sure to wish him a happy retirement. He finally called it quits on July 31. Well-deserved.
Until next time, good racin' to you. And as the old saying goes, "if you're not a little out of control, you're not really racing."
jb