Truthful danger sign
Started by
Phil Hackett
,
Aug 24 2018 06:43 PM
Posted 24 August 2018 - 06:43 PM
NSwanberg, garyvmachines, C. J. Bupgoo and 2 others like this
Click
HERE
to contact Sonic Products. The messenger feature on my Slotblog account has been disabled.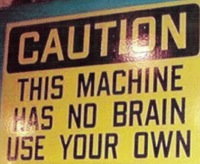 ---
Posted 25 August 2018 - 12:43 PM
Reminds me of my ex wife.....

Jesse Gonzales likes this
Dennis Dominey
Lifelong half-assed slot racer
---
Posted 26 August 2018 - 06:36 PM
i have a sigh on the 5 foot security fence that goes around my house with a sign that says, Beware of Dogs. This fence is not for my protection it's for your protection. I have another that says DANGER Bad *** dogs on duty. your sign would make a great addition. I could also put a small version of it on the Dogs when they go out for a walk.
I really get tired of strangers asking if the can pet the dogs. My usual reply is "If you older then 12 years old and  think you can get by with one hand for the rest of your life you could give it a try. At your own risk " The Dogs both have no problems with young kids, Teens and adults not so much. 
GVP  
Jesse Gonzales likes this
---
Posted 27 August 2018 - 12:36 PM
Mine has a picture of a Colt Model 1911 automatic, and says, "No Dog. Beware of Owner".
Jesse Gonzales likes this
---
Posted 27 August 2018 - 01:31 PM
The house beside me has had a "Beware of Dog" sign on a tree for a couple years. The couple who recently bought the house added a sign below it reading, "Ignore the dog, beware of the owners."  I'm thinking of putting up a sign that reads "Beware of the Bear", or "Don't feed the Bear", but its only shown up once this summer.
Bill Fernald
I intend to live forever!  So far, so good.


---
Posted 27 August 2018 - 08:39 PM
Mine has a picture of a Colt Model 1911 automatic, and says, "No Dog. Beware of Owner".
Dave, 
I have never had a need for my fire arms pistol, shot gun, or rifle. No one has ever made it past the Dogs. My white Shepard has even been stabbed once that guy went out feet first. That dogs name is Ace he is called that for good reason. He received Military training and he is 100+ pounds of muscle. He kills everything that moves unless told not to.
My wife has been attached by Pit Bulls that were running loose while walking him several times. If threatened we were told by the trainer to just let him do his thing. Poor Pit Bulls never knew what hit them. The last time he had the other dog by the head and shook it like a rag doll. When he finally let it go as it was no longer a danger to my wife it crawled off into the bushes. Never to be seen again. If you want him to be nice you just need to say one word to him, until it's time not to be nice.
Best Dog we have ever had. Hope he lives forever. He even tries to kill all the bugs when he goes out in the yard. Best judge of people I have ever seen, knows at once if someone is a dirt bag.  
I would love to introduce him to all the scum bags in the world.
GVP        
MarcusPHagen, boxerdog and Jesse Gonzales like this
---
Posted 28 August 2018 - 12:59 PM
There is one problem with some dogs. Sometimes they attack people they are not supposed to. Not saying yours would, just
that it happens. A handgun in my hands is unlikely to shoot someone it wasn't supposed to.
Jesse Gonzales likes this
---
---