As I have to take pictures of a dozen or so "pro" cars for the last lingering chapter of that "Book from Hell" (no snide comments please), I am busy restoring and assembling some truly historic survivors. I have a pile of historically important chassis, motors, complete cars, some with original bodies, some for which the body disappeared a long time ago, but fortunately there are some talented painters out there, and at this time, the most qualified person to do the job when a body is needed is a guy who was there as a teen, and already painting for the pros. You can all guess his name, yes, it is none other than "The Noosester", AKA Joe Neumeister.

So I had to repair and restore this car from the damage inflicted to it by its ace driver, to whom the car builder, the kind and gentle Robert Emott Jr., one of the greatest slot car racer/builder of all time, loaned it. How foolish can one be?


Actually, the car was loaned to Ursaner by Emott in an effort to boost the points tally for Howie, as he was clearly in contention for an overall win in the combined races.
Well, Howie Ursaner did do it justice, as he finished in second place with that loaner at the 1967 "Arco Nats" in Atlanta. No less than 47 years later, the chassis surfaced, albeit in rather poor condition and very corroded, and in need of a few repairs as some of its joints had failed as it had suffered minor crash damage.
When it was found, the astute Slotblog readers identified it for me, because there were clear pictures of it in Morrissey's rag in January 1968. What luck, and that saved me some research time!

But what did it look like as a complete car, and what body and motor did it have? Howie remembered that the motor was a modified Russkit "23" with that gold painted can, likely a Team Russkit motor supplied to him at the time. So, I built one, using a set of Arco magnets, a period armature wound by Doug Henline and a stock Mabuchi endbell, since the motor/axle bracket had not been enlarged on the chassis, and the Mabuchi FT16D endbell was the only type that would fit. Since the armature shaft was too long to fit inside the can with its blind bushing, I did what they did then and punched it through with an .078" drill bit. A pair of shunted brushes and stiffer springs over brass posts and... voila.
But what body? Howie did not remember...

Bob Rule to the rescue: Bob sent me many pictures taken at that race, and sure enough, there is a picture of several of the top racers holding their NASCAR machines to Bob's camera. There you can see Bryan Warmack, John Cukras, John Anderson, Howie (with "our" car) and kneeling, Terry Schmid, with their machines.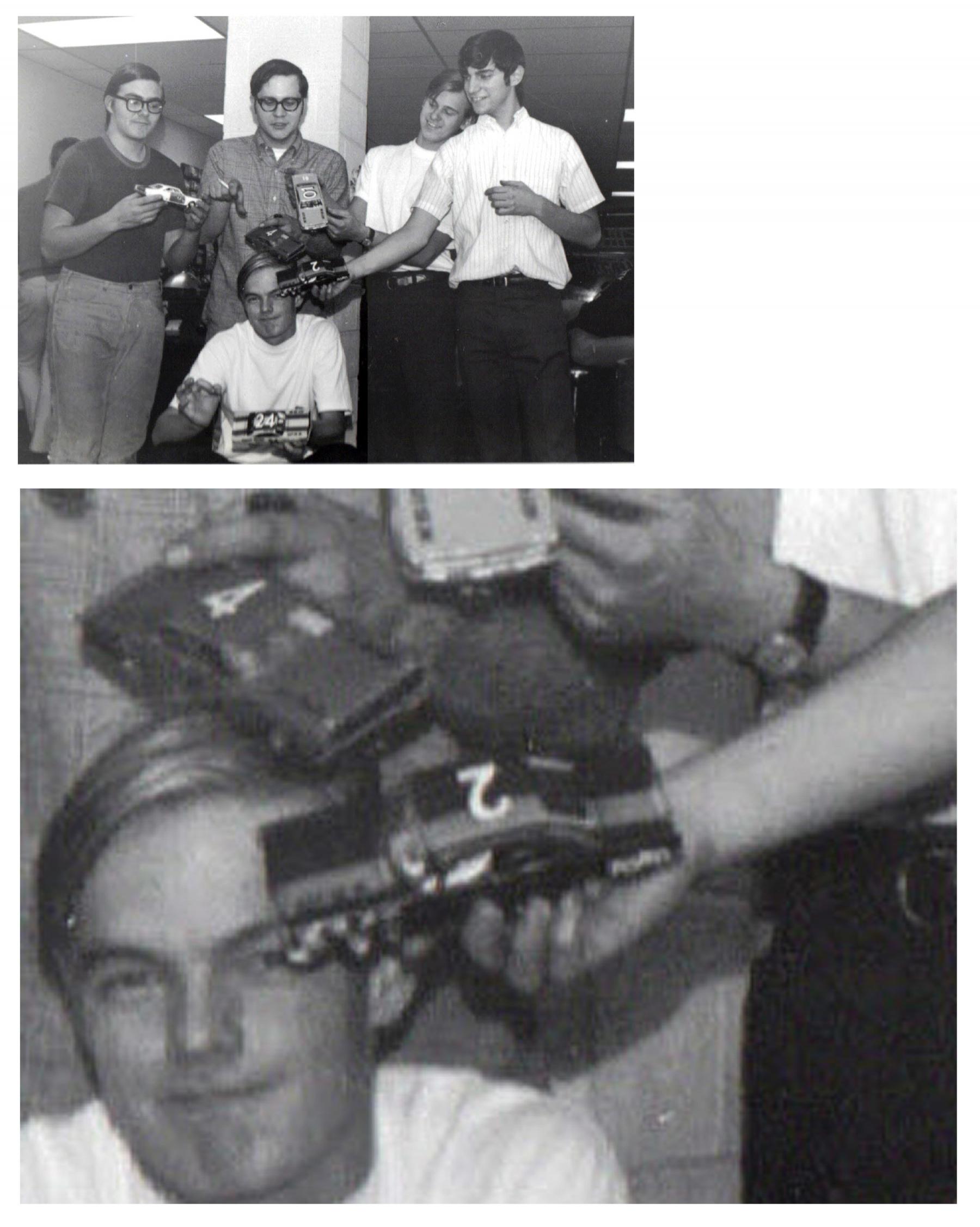 More enhancement...




Missing in that picture is the race's winner, Pete von Ahrens, seen here looking at his winning entry after the race. Pete concentrated on building the best NASCAR car he could for that event, thinking that others would likely neglect the class to concentrate on the "noble" categories, the sports cars and F1s. Smart move as he smoked everyone, except for Ursaner who gave him a good fight for his money all the way to the end.




While the picture was not exactly clear, a bit of detective work allowed me to figure out that the body was a Pactra Ford Fairlane, a rather scarce version with a rear spoiler and NASCAR rear-window bars.
A bit of luck on an eBay auction and I got one, sent it to Noose to match, and decaled it with the very same Cox NASCAR stuff it had then.

A set of Champion lead wires and rear tires, some Russkit fronts, the ubiquitous Cox guide and a Weldun crown gear and pinion, and I can say that this is as close as the car was that Christmas weekend in 1967 in Georgia.
So here is that Emott-built car, now restored back to life. By the way, for an old motor, that thing screams.




Is this not a truly cool car? The next NASCAR restoration I will show you soon, was a Team Champion car built and owned by Ray Gardner. Its body is quite freaky and likely would be banned in IRRA or SCRRA racing today...