Recently the SCRRA announced that it was allowing 2 new bodies for our yearly Boola Bash NASCAR Enduro coming up at the end of next month. The JK Chevy # B125B and the vitually identical JK Ford # B126B and BPR now has these bodies in stock. The old Mercury Cyclone is still legal and several racers have informed me of other comparable Mercury Cyclones which are available.  JK makes one and the number is B137B and the other is made by Outisight and the number is O/S 653. If you want to try these bodies you will have to get them from the manufacturers as Debby at BPR is ordering only the JK Chevy and Ford to keep it simple for only a yearly race.  Make sure any body you get is .010 thick or it will NOT be allowed. Even though the old Cyclone and the new JK's are very different in appearance, I ran some tests at BPR the other day with both bodies on the same car, back to back, and they both felt the same and handled great and the times were exactly the same!
      In the past we've allowed the Cyclone  (above)  to run a 1/2" spoiler on top of the small built in spoiler and the overall height of body and spoiler is about 1 9/16"  (1.562).............so, to keep things simple and the bodies comparable the new rule will be........."MAXIMUM Rear Body Height of 1 9/16" inclusive of spoiler when measured on a test block.  Spoilers may be as wide as the body."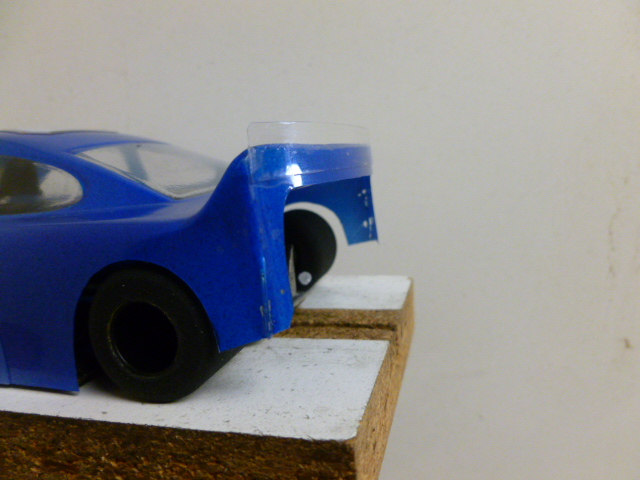 Here is a JK Ford with a small spoiler bringing the MAX height to 1 9/16".  As pictured here the rear may be cut out and the Cyclone may be cut out also.  The JK bodies can be mounted much higher than the maximum of 1 9/16" so keep this in mind.
      Interiors must be run and must fully cover all parts of the chassis when viewed from above and a 3D driver must be present.  I think BPR has Nascar and Drag interiors that work and Parma has all sorts to choose from. The car pictured here has a piece of .005 lexan for an interior with an F1 driver glued on.  Windows may NOT be cut out
      More to follow shortly in the Boola Bash race announcement and if anyone has any questions please feel free to ask!