Coupes on the Figure 8 – 1/8/19
For the first MVH Tuesday night retro-race of 2019 a group of seven regulars pitted their retro coupes against the Figure 8. Racing was run in the familiar 4/4 format with only two marshals as one racer had to man the computer.
John Weaver jumped out to an early lead while the rest of the field gave chase. You'd think with the lack of marshals there would be plenty of track calls but the track was well prepared and for the most part the drivers were respecting each other.
At the move to the inside lanes Weaver had logged 220 laps and opened a 6-lap lead over Dave Panich who was running comfortably in 2nd place. 10 laps back, Peter Lentros was leading a close race within the race, holding a 4-lap advantage over Richard Payne who was 5 laps ahead of Rich Girvin with Dan Savage another 4 laps back.
With lap times in the low three second range, a couple of bobbles can shuffle the standings quickly and it looked like Dave might just be the one to make those bobbles. His first mistake was trying to pass on the outside of the banking which resulted in hard contact with the wall while another errant pass attempt put him into a different wall. But the icing on the cake was an airborne pass (somehow) on the straight that put him into the bridge which resulted in structural damage to the chassis. After a little solder and flux he was back on the track but the handling of his car was somewhat diminished.
In the end, the standings didn't change from the first half to the second. The closest race of the evening was between Richard P and Peter for 3rd place. With a 4-lap advantage Peter won the battle while John cruised to a 9-lap victory over Dave to win the race. Rich G ended in 5th, trailing Rich P by 7 while Dan was another 7 laps back. Wayne Secore closed out the field.
Weaver turned the fastest lap of the race with a 3.023, but it was his opinion the time was a rider.
Finishing order, laps completed, best-lap time and best-lap lane:
            1)      John Weaver            440/6        3.023      OR (rider)
            2)      Dave Panich            431/4        3.124      GN
            3)      Peter Lentros           407/8        3.234      BL
            4)      Richard Payne         403/11      3.397      PU
            5)      Rich Girvin               396/11      3.343      BL
            6)      Dan Savage             389/8        3.398      BK
            7)      Wayne Secore         362/10      3.596      RD
UPCOMING EVENTS at MVH:
     January's MVH Tuesday Night Retro-Race Schedule:
            January 15      Stock Cars on the Royal
            January 22      Can-Am on the Sovereign
            January 29      Coupes on the King
     January 26th – NERR at Modelville Hobby in Ashland, MA:
            Stock Car on the Royal
            Formula 1 on the King
Podium (L to R): 2nd Place – Dave Panich, 1st Place – John Weaver, 3rd Place – Peter Lentros
Weaver's 1st Place Chassis: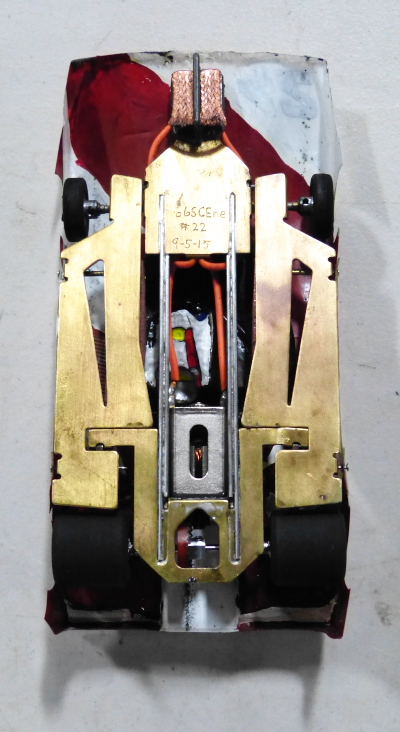 Dave's 2nd Place Chassis:
Peter's 3rd Place Chassis: