Marco Carvalho's masterful Can-Am result, at arguably one of the most competitive Retro events in the entire genre, so impressed me that I asked him to tell the tale of his history in slot racing, as well as let everyone know how he prepared to put the smack-down on this year's incredible field of Checkpoint Can-Am class entrants. For better visibility, I'm posting this thread in the General Slot Car Racing for now, and will relocate it to the 2019 Checkpoint Cup archive at a later date.
Here's Marco's great story...
* * * * * * * * * *
Greg Wells, who maintains this excellent blog/forum, invited me to write a piece about my incredible win at the Can-Am race at the Checkpoint Cup. Indeed it was extraordinary. This is only my third time racing with the SCRRA group. Just to be in the same race as Duran, Sam, Mill, Dale, Craig, Eddie, and Bryan is already a big achievement for me – imagine how I felt taking the pole and winning the Cup? I'm still not believing in it. But, to be honest, this is not my first rodeo.
Since last Saturday I've been overwhelmed by a lot of texts, Facebook messages, emails, and phone calls congratulating me on the win. Thank you all very much. It's getting bigger and bigger. Which proves how great the slot car community and the people are here in SoCal. It's crazy to think that now I'm one phone call away from people that I used to admire from afar when I started to race slot cars in Brazil back in the '90s.
To make a long story short, I got my first slot car from a schoolmate. It was a used and beaten to death 1/32 car with a Ford Escort body in navy blue, an inline chassis with a 26D Oxford motor in it. My friend gave it to me in parts and with no tools, and I had to figure out a way to solder the motor in using some old pliers and a very hot burner cap from my grandma's range. It was archaic. But it was the way I got into the hobby.
Months later there was a big change in Brazil's economy. A new currency was introduced and the exchange rate against the US dollar was way better. We started to get parts from Mura, Alpha, Limpach, RJR, Parma, and Koford. New commercial tracks were launched and I started to get a taste of the competitive world of slot cars. But keep in mind that we're talking about the Southern part of Brazil, far away from São Paulo and those incredible innovators like Gugu, Paulo Parolu, Zé Mário, and Lineo Fernandes.
My father was supportive and did what he did best: charming people. We were completely broke. I remember when I got involved in my very first championship. The track was an eight-lane King-like track. I attended six races with a used Parolu chassis and one set of PSE Tuna tires. The grid was composed of something like 20 racers. My father somehow convinced one of the top guys at the time to build me a car and "rented" a spare motor from another guy. Don't ask me how it worked. The body was a Lexan Mercedes C9 painted in some mix of pink and black. And I still hear him saying: "Please don't crash, we don't have a spare body." On the day of the first race, he handed me a brand new Parma Turbo controller, with the pink 1.5-ohm resistor, inside of that cool checkered box. I still don't know how he bought it. But I recall that it was March and he was very specific in saying: "That's your Christmas gift." Those were tough times. 
That eight-lane King-like track where I got my first championship racing a Group 12 car.
Beating all the odds, I won that championship. I didn't take a single victory, but accumulated enough points to secure the trophy. 
My car is the pink-black #5 on the bottom.
After that period, I started to work on my cars. It was hard to get proper tools, but I was as creative as any good Brazilian. Months later, one of the great motor builders of our community opened up a track very close to my house. This guy knew everything about motor building. He owned the only comm lathe outside of São Paulo, which automatically made him a semi-god to all of us. But he didn't know shit about building a chassis or tuning a car. A few weeks later, I was hired by the store to work on customer's cars, doing at least 40 to 50 cars per month. I was working hard building cars, fixing chassis, and tuning them but it wasn't too long before he wasn't able to pay me anymore. I was around 14 years old.
His debt kept growing until my father intervened. Did I mention that he was a charmer? After one meeting, he found out that the guy had made a bad investment, he was running from his debt, and the only reason he didn't close the store was the building's lease agreement. So, my father got himself a track and a new business. The raceway was called Turborama, the original name. 
Turborama's logo. Designed by a random guy who came into the store and offered to make a front sign. 
Mom and Dad at a big race day.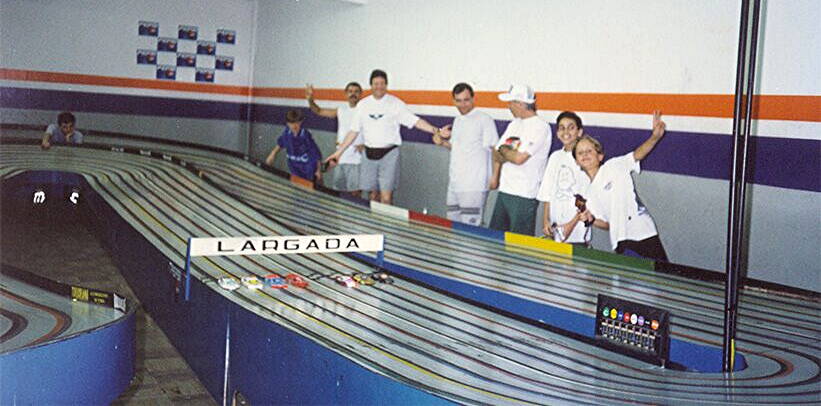 The track at my father's raceway.
Another view if my father's track.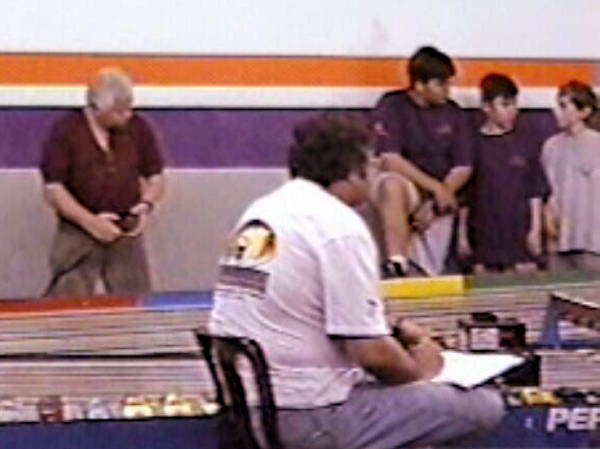 My father race-directing a qualifying session. At the back you have myself (around 16 years old), my brother, and my great friend Christian Castro.
We worked there for almost three years. I came straight from high school to build cars. My fingers were always burned and my fingernails always black. From Sunday to Monday; there was no excuse. But it was my high school years – I had parties to attend, girls to meet, and there was a lot of conflict. I remember one Sunday morning that my dad opened the door to my room at 6 AM, saying something like, "There's a guy coming at noon. He's bringing his sons and nephews, and we need eight new cars ready and we don't have any." Dad was nice but sometimes annoying. I learned a lot from him but my advice is that you shouldn't do business with your family. 
The crew back in 1995 (myself and my father under the red arrows). I don't know why or how, but I have
an LA
Raiders cap on. 
My mom put an end to it in the summer of 1998. Business were not the same. The internet was getting big down there. Also, I was about to start college, the track couldn't go on without me, and my father didn't want to keep it open by himself. I think the track represented a way to keep us close together. He tried a couple of in-house mechanics but it never worked. My father passed away six years later.
After Turborama closed, I sold all my tools and parts to my good friend Christian Castro, which really hurt. Everything was gone. I needed the money to pay for my college tuition. Christian, who's still a very close friend, became a Stock Car driver (1:1 cars), and still races slot cars, competing in ISRA on the highest level.
After a long pause in my slot car activities, my friend Christian invited me over to see a new raceway in town. They had a small four-lane track and the racers were very competitive. Some new guys and some old dogs, too. Christian gave me back my Parma controller (which was highly modified over the years) – the same one that my dad gave me as an Christmas gift – and convinced me to join the program. They were racing Group 12s and it was shortly after that I moved back to Brazil from Los Angeles, after completing a postgraduate program at UCLA. Which gave me the chance to call Dan DeBella to order some commutators and other stuff. I was hooked again. Over the next two years, I got all my tools back, won some races, and had fun for a while until It became an obsession. It was taking most of my day and compromising my career. I was fortunate enough to realize what was happening and to step back from slot car racing.
In 2014, when my wife and I decided to move back to California, I was looking for an activity to practice my English-speaking skills. So, I went to the Culver City Senior Center as a volunteer. No luck there; I tried several times and apparently everybody wanted to practice their English. I found out about Big Lou's slot car track. They race 1/32 cars, mostly using magnets. That was my way back into the hobby. I thought it would be only a one-car thing, some tools on the side – but after less than a month, my mom was shipping my box of tools to me here.
Later I discovered the great Farrout club and started to race among those guys. I really enjoy the non-magnet 1/32 hard plastic genre. Finally, Eddie Shorer invited me to come race at Buena Park in the 2017 Summer Western Classic. Eddie handed me an old Kamo chassis and I did what I could at that race. Later Eddie introduced me to the Hardbody group, managed by the amazing Keith Tanaka and I really enjoyed racing with them. With much room for innovation, the cars are great to drive and the group of racers is extraordinary.
After seeing his race reports and pictures, I called Lineo Fernandes, who's a slot car builder/legend in Brazil. He's our Tonyp, our Dennis Samson. I exchanged some info with him and he came up with a very nice chassis. I tried and tried but it wasn't that good. Two months later, he had a new concept, based on my reports. That one worked very well and I was able to break the total lap record and win my first race at BPR. We continued to exchange information and he sent me a third chassis. With it, I won the GTP race at the Nats, breaking the total laps record again, tying in again with my friend Ed Shorer. 
2018 Hardbody Nats - Lineo's third generation chassis.
The Checkpoint experience was really amazing to me. I got a nice chassis kit from Bryan Warmack several months ago, but I was only able to work on it this month. As soon as I realized that it was an easy kit to assemble I offered cars to Jim Wiseman, Ed Shorer, and Phil Nyland. Bryan sent me three more kits. I hit the track for the first time two weeks before the race, but only my car was ready. It was a nice shakedown. I had the opportunity to try different sets of tires, in different sizes. I also experimented with the chassis, trying to make it stiffer. I was able to use everything I learned that day on the other cars – they are all very similar. On Friday, the day before the race, I was there doing more testing. The track seemed a little faster and I was able to hit some 3.8s with my and Eddie's cars. Jim's car had a slower motor, but it was doing 3.9s. Phil kept his car and developed it with Mill's help.
I stayed late and finished my car on Friday. So I just had to break-in the motors and find a good one the next morning. I was the first one to arrive on Saturday. I got the motor from Eddie at the counter and before starting the break-in process, I measured the RPM at 6 volts. Two motors were at 23,000 and one was at 25,000. After two hours (I never used the water/liquid/Simple Green trick), I installed my "25" motor in the car and ran for four laps. It was the only lap bellow 4.0 recorded at the computer. I pulled it off and said to myself, "That's it."
This car was not built only based on my knowledge. I was fortunate enough to have Duran Trujillo sharing his precious experience with me. Sam Rackham also answered all my questions regarding measurements, distances, parts, and everything else at trackside – no hesitation. Thank you very much, guys! Mill Conroy gave me a side note on a gear from Ukraine that was lighter. So I drove 100 miles round trip on a Wednesday morning to Ventura to pick up the crown gear that turned to be 0.2 grams lighter. Everything counts, right? Eddie, who has become a great friend, was there during testing and specially during the race, helping me with great pit work and rooting like an ecstatic cheerleader. Same thing for Jim Wiseman, who's probably more happy than I am.
So, I am telling you all this to assure that this victory at the Checkpoint Cup was not out of thin air. Slot cars are an important part of my life. Besides the technical aspects and the craftsmanship that I learned at a young age, which I use every day, slot cars are always teaching me that discipline and dedication can help you win in all aspects of life. It helps me to grow confidence in stressful moments and to conquer whatever challenge I have in front of me. It was decisive in the development of my professional career. At this point in my life, I don't know if I am gonna have a son, but if I do, I'm pretty sure that he will be racing slot cars.
My car at the Checkpoint Cup 2019 – notice the colors on the body?