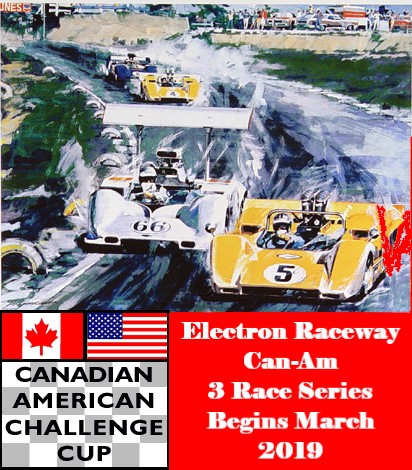 Electron Raceway will host a fun three race Can-Am series in conjunction with its regular Triathlon Events. The Series will begin in March (dates will be influenced by weather conditions and number of participants). A few details are listed below.


Both OSCAR and True Scale Can-Am cars will be eligible (Other classes of cars will not be allowed).


Cars may be technically inspected at random prior to each event.


Each race will be one time through with three minute heats. Ample time will be provided between heats for detailed scoring and allow drivers to prepare their rides for the subsequent heats


Overall finishing order will be determined by the number of points accumulated by each driver. Points will be awarded in each race as follows. 20, 15, 13, 12, 11, 10, 9, 8 etc. for first through eighth respectively.


Drivers will qualify (one minute - any lane OK) for seeded positions in the initial race only. Seeding for subsequent races will be determined by finishing order in the prior event


Trophies will be awarded to top five overall Series drivers (See image below)


Trophy for Concours d'Elegance will be determined by secret ballot and awarded prior to the initial race.


Since each Can-Am race will be part of the normal Triathlon Events, two other True Scale races will be included. For the initial event the other two classes will be Sports Car (No Gran Sport or other classes will be allowed) and GT1.