OK, guys finally got to it and really sorry for the delay. I've been working hard at order deadlines, dealing with snow and of course the mystery malady from last Sunday so I've been really busy.
Our first race of the 2019 season at Motown produced a record turnout of racers and made for a long day As usual Dave Cummerow punched in all the names and built the races and Randy Keil helped out with getting the huge sign up list going while I was wrenching away on some new racer's stuff and some loaners right up to the last sec. This month, we had a total of 20 different racers with 18 Can Ams, 12 Pro Coupes and (I think) 17 F-1s. The group from Fast Track Hobbies in Rocklin Included Jeffry Cone, Richard and Buddy Matthews, Gary Brown, Mike (Pops) Cassar and Randy Keil. The Motown Crew turned out big with Dave Cummerow, John Mohrle, Jerry, Wilson, Richard Freeman, Gene Braham, Rocky Rommel and Anthony Varner. In addition, we had at large racers Herman James, Chris Crofts, Mark Bauer from Eddies, Mike Andrews and Howard (Third Eye) Smith.
I started my Can Am run with a mundane 33 lap run then followed with a 34 and then started a string of 35s and 36s. There were a lot of fast cars and good racers who were running very well and there was no clear leader for quite a while. Chris Crofts (in his first Can Am race with his own car) started with a couple of slow heats but then started to fly. I think if he had run the 1st half of the race as well as he did the 2nd, he might have won the thing.
Jerry Wilson is always fast but he is also snakebit  sometimes and he took a hit in the track's blind spot that eventually put him out. That same spot was to get me at the very end too. Herman came in with a 35 and followed with a 36 but then had a few bad heats and so as I went off track for my (10!) sitout heats I had the lead with a 34.6 average to Herman's 34.4  Herman finished out strong though and he upped his average to 34.8 as he finished his run. When I came back in for my last heat, I needed a 36 to tie and to do that, everything had to go just right. It didn't and I dropped from a possible win down to fourth.
Chris was a strong second and the fastest car on the tack at the end while Rocky Rommel took third ahead of me, John M, Dave, Big John, and Mark Bauer running very well in his first Retro Race here at Motown.
By this time I was not feeling well and although I started the Pro Coupe race, I dropped out due to some dizziness. I had to sit down to keep from falling down and regret that I can't contribute much about the results. I can say that by looking at the lap chart, it's obvious that everyone has upped their game considerably. There were 9-10 cars out there that were really fast. I think that Rocky might have been on the same lap as Herman at the end and it's clear that the field was very competitive.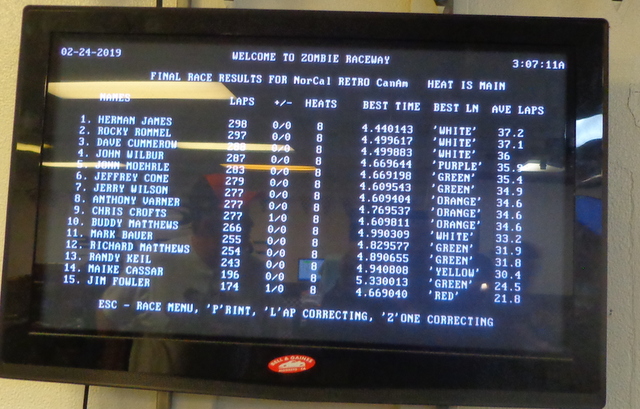 I stayed around long enough to tech the F-1 cars but elected to get on the road so that I wouldn't be driving home in the dark. With a big field and another clutch of good cars, this one could have gone any of several ways. Eventually Gene (running a car he'd never driven)held off Herman for the win. Chris was third with Rocky, Jerry, and Anthony in tow and those four were easily fast enough to win. I think that there may have been a second page to the results that Gene missed in taking the picture. Apologies to anyone who got missed.
This was an amazing turnout and thanks go to Gene and Jen for hosting us, Dave and Randy for the setup help, and all the folks that were "mother hens" when I started to feel badly. Thanks also to Gene for the F-1 pictures so I'd have something to work with.
Our next race will be at FTH on the 17th and we'll run the Coupes and Can Ams on the newly refurbished Purpla Angel track and F-1 on the flat Yellow Dragon.